The Definitive Buyers guide: How to Choose Hiking Boots
Without a doubt, hiking boots are essential in any hiker's gear. Though backpacks, proper clothing, and cooking equipment are essential, there's nothing more important than your shoes.
The wrong pair of hiking boots can leave you with injury and pain in your feet. Whereas, with the right hiking boots, you'll be floating up and down the trails.
It's important when looking for the right pair of hiking boots that you focus on your feet, making sure that the hiking boots provide you not only with crucial features but are also properly fitted for you.
Thus, we're here to help you find your perfect pair of hiking boots. In this article, we're going to show you everything there is to know when it comes to choosing the best hiking boots.
When it comes to choosing a hiking boot, you need to forget about the trends and flashy features and focus on your foot. No one's foot is identical, so, if your friend recommends a hiking boot for you, don't assume that it's going to fit your feet the same way. Instead, you need to look at specific features such as comfort, water resistance, weight, and warmth. We're going to go into further detail later on.
Think of finding the right pair of hiking boots like matchmaking. Your ideal hiking boot is out there, all you need to do is find it. When selecting a hiking boot, you need to look at how and where you typically hike. After that, take some time trying the boots on until you find the right one.
Fit: If you want to float through your trail, then fit is extremely important. Experiencing blisters, corns, or bunions can all be prevented by choosing a properly fitted shoe.
Types: There are an array of options to choose from, it simply depends on where and how you're going to be hiking.
Build: If you want to choose the best shoe for you then you'll need to understand the components which make up a hiking boot. Midsoles, outsoles, and uppers are all components which make a huge difference in a hiking boot.
What to Consider When Buying Hiking Boots
Regardless of where you're planning on hiking, the footwear you select is crucial for your experience. If you develop blisters or moist feet, then it'll definitely dampen your hiking trip. However, there are some questions that you need to ask yourself in order to help you narrow down your search for the best hiking boots.
What is the intended use?
Naturally, you're going to answer this question by saying 'hiking', however, there's more to it than that. You need to look more in-depth and think about the duration, type of terrain, and weather conditions that you'll endure during a typical hike.
There are a variety of hiking boots which serve different purposes such as for mud, grass, and stone. Regardless, you'll want a pair of hiking boots which can resist against the fine grain that can wear into the shoe's seams and rip the fabric.
By looking at the terrain and weather that you're going to be hiking in, you'll be able to select a hiking boot which will support you.
Kept trails
If you're planning on hiking mainly on manicured trails, then ideally you'll need a low to mid-cut hiking boot. They're designed with leather and fabric uppers which provide you with plenty of breathability.
Rough Terrain
For rougher terrain, opting for an ankle-high boot is your best bet. They provide you with proper comfort and protection from rugged terrain. You'll be able to wear these on day hikes or when backpacking. Choose between leather/fabric or split-grain leather, depending on the roughness of the trail. Waterproof liners will also be able to help you out during wet hikes.
Off-trail
If you're planning on going off-trail and venturing where only the goats go, then you'll want full-grain leather uppers and above-ankle support. If you're planning on multi-day backpacking or hiking, you'll want comfort and blister prevention. These type of hiking boots take longer to break in, so you need to give yourself some time wearing them before you go on a full hike in them.
How long are you going hiking for?
The duration of your hiking adventure is a huge influence on the type of hiking shoes you'll be wearing. The longer your hikes are, the more energy and pressure are placed on your feet, thus, you'll need a more supportive boot.
In addition, if you're going on longer hiking trips, then you'll need to carry more supplies which means a heavier backpack. This on its own also places more pressure on your feet. If you're planning on going for longer hiking adventures then you should be looking for a hiking boot which has a stiff midsole and support around the ankles and heels.
You may be thinking that this means you'll need a heavy hiking boot, however, that's not necessarily the case. There are some lightweight options available which can shave off between 100-200 grams of weight around your foot – and that weight makes a huge difference, saving you energy at the end of the day.
Now, lightweight hiking boots tend to be made of synthetic materials which are lighter in weight and cooler. Leather, on the other hand, tends to weigh more and holds heat, making your feet sweaty. With a lightweight hiking boot, you'll have a shorter period to break them in and they are usually more affordable than leather hiking boots. Though, one thing to remember is that synthetic hiking boots are not ideal for long, multi-day hikes.
What are the weather conditions?
We tend to forget about the weather, however, our feet are the first to feel wetness, heat, humidity and cold conditions. The weather that you're going to be hiking in will greatly determine the type of hiking boot that you're going to need. In some cases, you may need a breathable mesh shoe, however, if you're hiking in damp conditions, then you'll need a waterproof shoe instead.
If you're going to be hiking around water, then you'll need to decide whether or not you'll want a quick-drying shoe or a water-resistant shoe. If you're going to opt for the latter, then you'll need a waterproof leather shoe with sealed seams.
The hiking boot will probably come with a waterproof liner which will also add warmth. However, if you choose a waterproof leather shoe, note that it will be heavier than a quick-drying shoe. A quick-drying hiking boot is typically lightweight and durable, allowing you to wear them to walk through streams and rivers.
Which one is better? There's no right answer to that. This is simply based on your needs and what you prefer. So, think seriously about the weather and what your hiking boots are going to have to take you through.
What's your skill level?
If you've been hiking for a while, then this isn't something you need to question. But if you haven't developed the hiking legs yet, then you haven't spent much time on the trails. The muscles that hikers develop come from experience and training. Those with experience and the muscular support are able to resist against sprained ankles and knees.
Thus, if you're a beginner, you should opt for a hiking boot which has more support around the foot. The more your muscles develop, you'll be able to shed some support from your hiking boot. However, this only comes from training.
Lightweight? Midweight? Heavyweight?
Lightweight
A pair of lightweight hiking boots are designed to focus on providing the user with comfort by keeping the weight of the boot low. They have low-cut ankle collars, lower than midweight and heavyweight boots. The low-cut ankle collars offer minimum ankle support which isn't ideal if you're going to be hiking on rough terrain. These type of boots are best for day hikes where you're not planning on carrying much with you.
Midweight
The midweight hiking boot provides users with a balance of everything. They have high ankle collars, stronger midsoles, and more durable uppers which are typically made of leather. These are considered the traditional hiking boot that you'll frequently see on backpackers as they provide users with ankle stability and foot support. If you're going to be on rough terrain or carrying a backpack, these are optimal.
Heavyweight
Heavyweight hiking boots are typically heavier than the others, however, that also means they're more durable and are also waterproof. They come will full-grain uppers, TPU midsoles, and provide ample support, ideal for those hiking on rough terrain. If you're planning on multi-day hikes or carrying heavy loads, then a heavyweight hiking boot will provide you with the right amount of foot and ankle support.
Now, none of them is less or more than the other, they simply serve different purposes. All you need to figure out is which level of support you need for your hike.
What is the ideal fit?
A perfect hiking boot is about having a perfect fit. When trying on a pair of hiking boots, you want to make sure you try them on with socks that you're going to wear on your hike. Hiking socks typically provide hikers with extra cushion and temperature control that prevent feet from becoming sweaty. Hiking socks are typically thicker than regular socks which is why it's essential that you wear your hiking socks while trying on hiking boots.
In addition, your feet swell up throughout the day, especially if you've been on them all day. This is why the best time to try on shoes of any kind is in the afternoon. You'll have a better idea of how the hiking boot will actually fit rather than trying them on in the morning.
When thinking about the ideal fit, that may be a foggy image for you. What does an ideal fit actually feel like? Well, ideally, you want your hiking boot to be snug around your foot, which means that you want your foot to be stable while you're walking in the boot.
At the same time, you also want your toes to be able to comfortably wiggle around without them touching the tip of your shoe. Now, not all feet are fitting standard sized shoes, as standard sizes are meant to suit the general public. If you're finding that you can't seem to get the right fit, then you may require insoles that can help you go up half a size. In addition, if you suffer from flat feet, insoles can also help provide you with arch support which will make for many pleasant walks.
12 Features You Need to Consider Before Buying Hiking Boots
When looking for a hiking boot, there are some additional features that you need to pay attention to. This will help you narrow down your choices for the right hiking shoe.
Uppers
This is the part of the boot which is designed to protect and support the foot when it comes to fit. Uppers are typically waterproof or water-resistant but at the same time, allow the foot to properly breathe. The material of the upper drastically determines the hiking boot weight, breathability, and durability.
Full-grain leather
A full-grain leather boot offers hikers exceptional durability and resistance against water and abrasion. They're usually used for backpacking trips as they're designed for long-distance hikes and heavy loads. They're not as breathable as the other materials such as split-grain and synthetic leather. In addition, you'll need some time in order to break them in as well.
Split-grain leather
This type of leather, as you can see by the name, is mixed with nylon or a nylon mesh. This gives the boot a lightweight feature with additional breathability. Split-grain leather essentially splits the inner section of the cowhide from the exterior. What results is a less expensive, but, also less water-resistant and abrasive boot.
Synthetics
This category covers various synthetic materials such as polyester and nylon, as this is considered synthetic leather. They're now found more and more in hiking footwear and have many good qualities. Synthetic materials tend to be more lightweight, easy to break in and dry faster than leather. In addition, they're usually much cheaper than leather as well. However, they tend to wear out quicker than leather, specifically around the outer seams.
Nubuck leather
This is a type of full-grain leather which has been fixed to have a suede-type appearance. They're extremely durable, water-resistant, and abrasion-resistant. In addition, this material is also fairly flexible, so you won't need too much time in order to break them in.
Waterproof
If you see a pair of hiking boots which are labelled as waterproof, then they're most likely constructed with waterproof membranes such as Gore-Tex or eVent. These membranes will keep your feet dry during cold and wet conditions. However, the downside is, they reduce breathability in your boot, thus, they're not ideal to wear on hot, sunny days.
Animal-friendly
These are vegan-friendly hiking boots which are made without any animal ingredients or byproducts. If you want to be eco-friendly – these are the boots for you!
Insulation
With many mountaineering boots, synthetic insulation is added in the inside for additional warmth when hiking through the snow and ice.
Midsoles
The midsole is what gives you that nice cushion when you're walking. It's the middleman between your feet and the boot's stiffness. Though you may think that stiff boots aren't good, in fact, if you're going off-trail or on rugged terrain, they're amazing for comfort and stability. When wearing a stiff boot, you won't be able to feel all the little rocks and roots that you'd feel in a lightweight boot. Midsoles are usually made out of either EVA or polyurethane.
EVA (ethylene vinyl acetate)
They're typically more comfortable and lighter in weight. The density of the EVA can vary and provide hikers with firmer support if needed in specific areas. They're also less expensive than polyurethane.
Polyurethane
Polyurethane tends to be firmer and more durable in comparison to EVA, thus, this type of midsole is typically found in backpacking and mountaineering boots.
Internal Support
Internal support is essentially what divides your foot from the ground. It provides you with extra protection so that your feet aren't battered from sharp rocks.
Plates
These are thin and semi-flexible inserts that you place between the midsole and outsole. They're placed below the shanks if you're using them. What they're designed to do is protect your feet from being bruised by rocks and other sharp objects.
Shanks
These are typically 3-5mm inserts which are placed between the midsole and outsole, providing the hiker with more stiffness in the midsole area. They can vary in length with either full coverage or half coverage.
Outsoles
All hiking boots use rubber outsoles. Depending on the boot, some add in carbon to increase the stiffness of the shoe. This is typical for mountaineering and backpacking boots. Hard outsoles make for a durable shoe, thus, your feet won't be sliding off the trail. There are two areas of outsole:
Lug Pattern
A lug pattern is designed with traction bumps on the outsole. On backpacking and mountaineering boots, the lugs are deep and thick, providing more grip for the hiker. Generally, widely set lugs provide decent traction and allow mud to be shed with ease.
Heel Brake
This is the area in which the heel zone is distinctively different from the arch and forefoot. The pattern used in the heel brake is designed to prevent the hiker from sliding down steep hills.
Crampon
If you're wanting to do some mountaineering or backpacking during the late fall/winter, you'll want to make sure that your boots have crampons. Crampons are an absolute necessity when you're travelling on snow or ice. They come in aluminum or steel and can attach to almost every hiking boot. These are a definite investment which you'll be happy to have along with you in your pack.
Injury protection
If you're a beginner hiker or need more support around your ankles, many hiking shoes, such as heavyweight ones, are designed to provide you with ankle and foot protection. For toe protection, make sure your shoes are fitted properly in the toe box. For ankle protection, ensure that you have thicker collars around the ankles for stability.
Arch Support
When you're walking, you want to make sure that your arches are fully supported. If not, you run the risk of developing painful foot injuries. Look at the type of arches you have. If you have flat feet or high arches, you'll need to look for insoles which will support them.
Waterproof
You do not want water in your hiking boots. If you're on a multi-day hike, this could potentially ruin your trip and even catch you a cold. In addition, water in our boots opens the possibility for blisters and odor build-up.
Rands
The rands are a tough guard that is made of rubber. They're located around the outer edge or just in the front of the shoe. Generally, they're in areas which are prone to impact. They're designed to protect your boot and add toe protection. If you've heard of the term "toe rand," well, that's when the toe cap is protected by rubber. In essence, rands protect your toes.
Linings
This is essentially a waterproof membrane. It's designed to provide your feet with breathability during high-temperature hikes or if you're in direct sunlight. Some linings come with moisture wicking features, including water-resistance. In addition, most linings are designed to be anti-microbial and anti-fungal to prevent odor.
Gusseted Tongue
Not the nicest sounding name but it certainly does the job. The gusseted tongue is the formal name for the tongue which is connected to the upper. What the gusseted tongue does is prevents dirt, rocks, debris, and water from entering into your shoe.
Padded Collar
A padded collar is the thick collar which wrap around the ankle area of the shoe. What the padded collar does is provide extra ankle support and comfort when you're hiking.
Types of outdoor footwear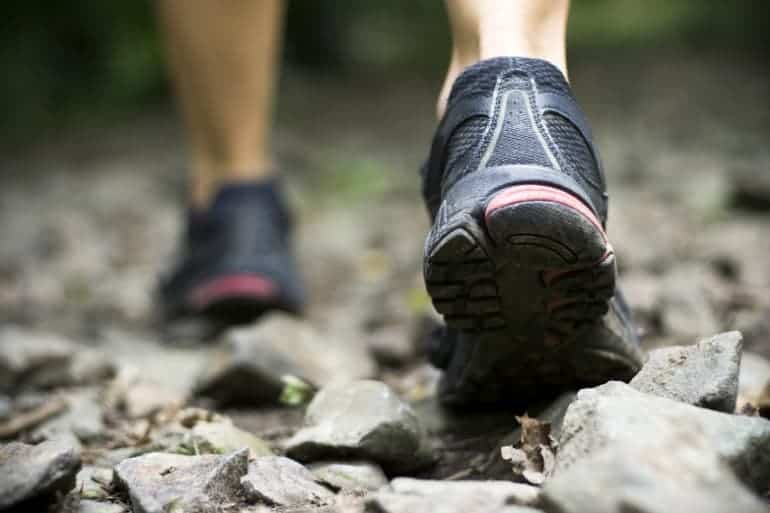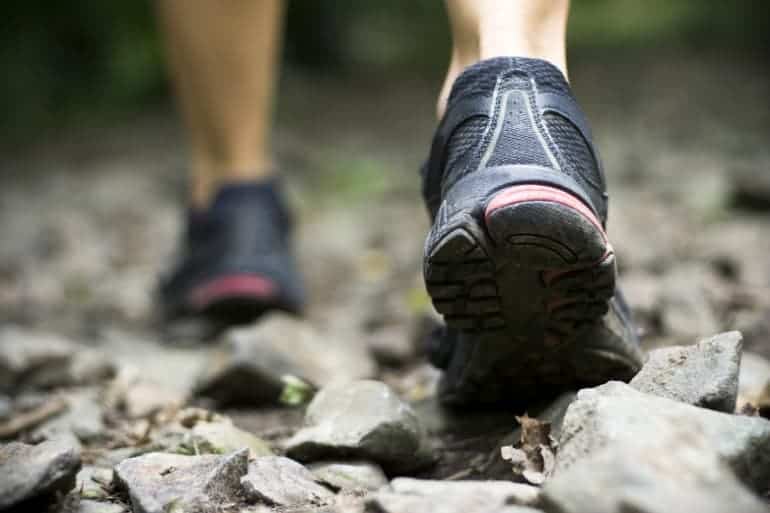 As you've already learned, there are a variety of hiking boots available to you, but that's not the point. Knowing that there are different types doesn't help you much if you don't know what each type provides its user. There are four main categories of outdoor footwear that you'll want to select your hiking boot from. While reading these, make sure that you think about the terrain that you'll be hiking on, the support you'll be needing, and the weather conditions. That way, you'll be able to narrow down your search even more.
Hiking Boots
Isn't that why we're all here? The hiking boot is designed to provide hikers with stability and ankle support. Many of the fears that hikers have are sprained ankles and knee injuries, thus, this is where the hiking boot plays a crucial role. Aside from the mountaineering boot, they're more durable and provide ankle and foot protection for rough trails.
They range in cuts, from mid to high-cut, thus, you have some say with how much ankle and foot support you would like. They'll do a great job of making sure your feet are dry and comfy as they're usually waterproof and made of a leather/fabric mix.
Trail Runners
It's fairly clean cut when it comes to the name. A trail runner is strictly designed for running off the pavement. They're low-cut and are also lightweight, however, have enough traction to handle the non-pavement paths. What's important to know is that they're highly breathable which means they're not as durable.
Typically, trail runners have a thin midsole, thus, you'll be feeling any sharp rocks you land on. If you're an experienced backpacker, you may use these to relieve yourself from weight, however, you'll lose stability and durability in exchange.
Mountaineering Boots
Mountaineering boots are typically large, stiff, and chunky as they're designed for cold weather conditions. They come with full-length shanks, high ankle collars, and a sturdy leather construction. In addition, they also come with integrated gaiters for grip.
Now, mountaineering boots can be used by hikers who are carrying heavy loads in harsh weather conditions, however, the stiffness from the boot will not make for an overly comfortable hike.
Hiking Shoes
The hiking shoes are essentially the middle sibling between the hiking boot and the trail runner. They're lightweight, like the trail runner, however, are more durable. These shoes usually come with waterproof linings while the soles are more durable. In addition, the uppers tend to be heavier, like the hiking boot as well.
Experienced hikers tend to opt for the hiking shoe instead of the boot as it's lighter in weight. However, those that choose to do this typically have strong feet and ankles which support them through any terrain. The lack of ankle support though will be a problem if you're not used to hiking, thus, they're best for day hikes.
How to increase the lifespan of your hiking boots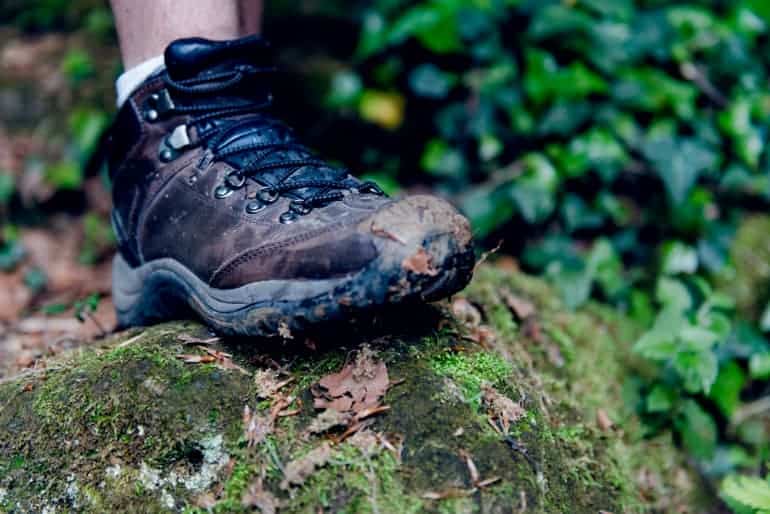 When we pay for a product, we want to make sure we get the most out of it and it's no different for hiking boots. Once you have a fresh new pair of hiking boots in your hand, you'll want them on the trail with you for many more hikes. This means you're going to have to know how to preserve them so that they'll be able to go the distance. Here are some helpful tips for making sure your shoes are well-kept.
Check them before the hike
Before you even go on your hiking trip, check your boots and make sure everything is in top condition. Many problems can be solved prior to your hike if you simply give your boots a proper check. Look at the laces, if they need waterproofing, and if there's any cracked leather.
Clean them after a hike
After a hike, make sure that you wipe off your entire boot. Remove all mud and debris from them, shake them upside down and use a sharp tool to remove any stuck debris. Wipe the boot to also make sure you remove any salt stuck to it as that will eat away the leather. If you need to wash them, take a damp cloth and gently wipe them.
Waterproof them
If you've been on a rainy hike, you'll want to make sure that you use a waterproof spray before and after. You can also use a leather conditioner which will help the boots from drying out and may also include a waterproof agent in them as well.
Store them properly
If you want to prolong the lifespan of your hiking boot, you'll want to make sure that they're stored properly. Naturally, you probably won't be using your hiking shoes all year round, thus, you'll want to store them in an area which isn't humid. If you do, you'll experience issues with mildew growth. Make sure you do not store your hiking boots in plastic as that will prevent them from breathing.
How to test hiking boots at the store
Now, we're not telling you that you can't buy your hiking boots online, of course, you can. However, before you do, you may want to go to the store and try them out for size first. The description of the boot may be everything you're looking for, but that doesn't mean that they're going to fit your foot perfectly. Remember, you're looking for a shoe that fits your foot and not the other way around. Here are some tests you can do at the store when trying on hiking boots.
The Finger Test
This is a basic test when seeing how a shoe fits. Place the boot on your foot, leaving it unlaced. Now, try to slide a finger behind your heel. Ideally, it should slide down and fit nicely in between the back of your boot and heel.
The Stride Test
Walk around the store in the boots. What happens? Does your heel slide? Are your toes jammed in the front? If you're feeling these things, they will become huge issues when you're hiking. Jammed toes can cause bruising and other foot conditions while slipping heels can cause painful blisters.
Slant Board Test
If possible, ask the sales clerk for a slant board as this will help you see how the boot functions on an incline. Try to walk up and down the slant board, seeing if your toes are jamming in the front. If so, try half a size or a full-size up. If it still doesn't feel right, change the model.
Final Tips
Now that you know the tests to do when trying on hiking boots, there are also a couple of other important tips you should follow. That way, you have a smooth experience and find your pair of hiking boots without too much hassle.
Wear the right socks
This is an easy thing to forget, however, makes a huge difference. You want to wear the socks that you're going to be wearing on your hiking trip. Hiking socks tend to be thicker than regular socks and this will influence the fit of the boot. Here's a hint: choose synthetic socks over cotton ones, they're less likely to cause blisters.
Spend time in the boots
When you're at the store, don't be so quick to buy them. Take some time walking around the store, get a real feel for the boots. Do they fit well? Are there are problem areas? Are they snug enough? If you can find an incline, walk up and down it, that's the best way to notice any potential issues.
Go shoe shopping at the end of the day
Your feet tend to swell up towards the end of the day after you've been running around for hours on end. Your feet will be the largest at the end of the day and your shoe needs to be able to comfortably fit your swollen feet. By going shoe shopping at the end of the day, you'll prevent yourself from buying shoes that are too small.
Bring along your orthotics
Whatever you're going to be wearing in your shoe, bring them along with you to try it on. Your orthotics will drastically change the shoe, thus, it's essential that you bring them with you. If not, the minute you put your orthotics in, you won't be able to wear them.
Break in your boots before hiking
This is such a crucial step, however, many eager beginner hikers overlook this important tip. After buying the shoes, wear them around your house for a couple of days. Your shoes will need to relax and mould to your foot – this takes some time.
Hiking shoes are an essential component of your hiking attire. In fact, without them, you won't be going hiking anywhere. So, take your time and heavily research the hiking boots you're interested in. Of course, you should look at the features that each hiking boot offers and select ones that suit your needs. But more importantly, you need to test them and spend some time standing and walking in them.
That way, you'll truly get to feel what they're like on your feet. You want a fun and memorable hiking trip, right? Then you'll need the right pair of hiking boots.
Start your next adventure!
Now that you've found yourself a great pair of hiking boots, it's time to set out on the trail! Recently, I've started to use Hikideas brilliant walking route planner to plan my routes before heading out for a hike. I recommend you do too!