STRATOS'MORES S'more Roaster – Full Review
The STRATOS'MORES S'more Roaster: perfectly roasted s'mores – do I need to say any more?
Looking for other cooking gear? Check out these other popular cooking products:
My Verdict
Professional Camping Rating
Usability Score
Weight & Size Score
Durability Score
9.6

★

★

★

★

★

★

★

★

★

☆

★

★

★

★

★
When people go camping, they're looking forward to enjoying the wildlife around them and getting to pig out on traditional camping food such as fire cooked hot dogs, chilli and of course, s'mores.
In essence, most of the planning around your camping trip is regarding what you're going to eat and the kitchen supplies you'll need. What can I say? Everyone loves food!
But, there's an easier way to cook one of your favorite campfire treats without overloading your trunk with supplies. This is when the Stratos'more S'more Roaster comes in.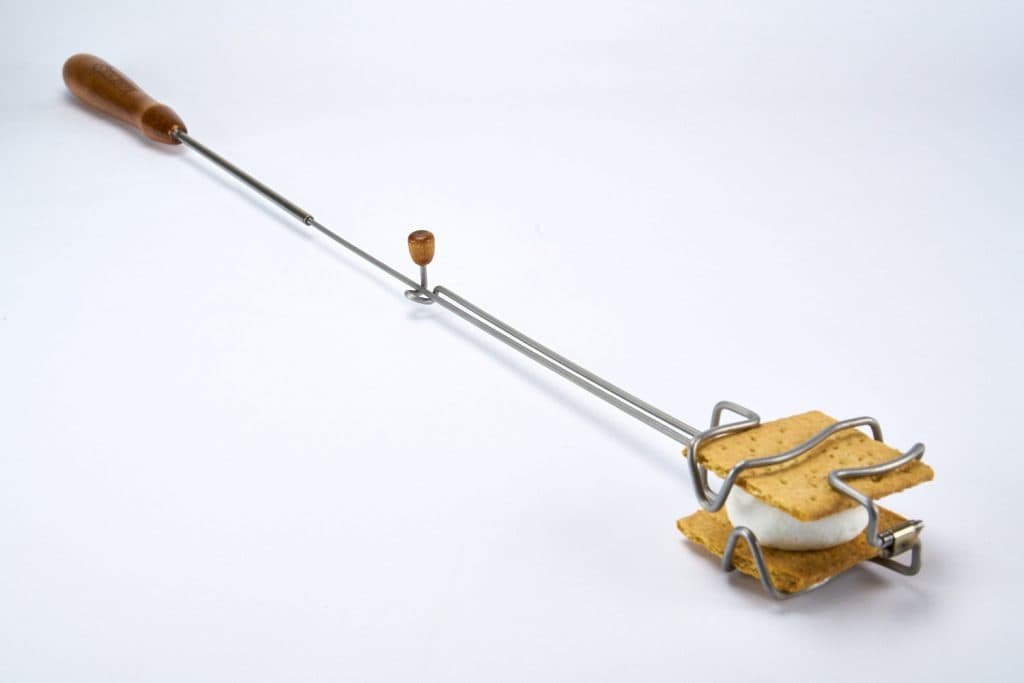 Features
Everyone love s'mores when they're on a camping trip. Whether you're an adult or child, preparing and watching the chocolate melt with the marshmallow in between two graham crackers is enough to make anyone salivate.
Though, usually, when making s'mores, it tends to be a precise task, making sure that the marshmallow is evenly roasted without letting it catch on fire is much harder than it sounds.
The is where the Stratos'more S'more Roaster comes in, as it changes the way you cook your most loveable and favorite camping snack.
Handle Safety
When it comes to roasting food over a fire or firebox stove, people's major concern is not to get burnt. Which, of course, makes complete sense and is even more of a concern when with regards to children. You want them to be able to roast their s'mores without getting themselves injured.
The Stratos'more design is made with two collapsible parts as the handle is removable. The handle attachment is made of stainless steel while the handle itself is made of Maple wood.
There's an ample amount of extension between the s'more holder and the handle, allowing you to lean back from the fire, instead of having to place yourself closer to it.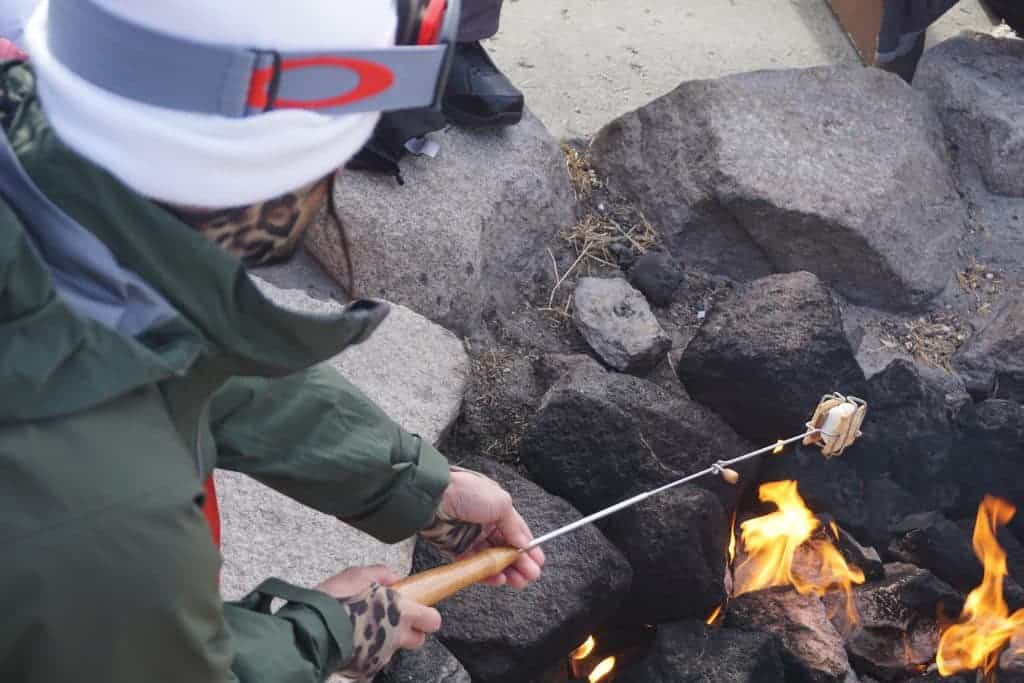 Easy-to-use Design
Its revolutionary design is simplistic, yet, genius. The s'more roaster is designed to perfectly roast your marshmallow and melt your chocolate while they're wedged between two graham crackers.
The Stratos'more roaster is essentially two stainless steel rods which are fully connected. At the end of the rods, the steel is bent and twisted in an s-shape, making the perfect shape to hold your graham crackers.
This allows you to simply place your cracker, marshmallow and chocolate on the device without it falling or tipping off. Then, you simply place the second graham cracker on top and close the upper portion which locks together with the second rod using a clasp.
The Stratos'more roaster also breaks down into two parts which can then be stored in the canvas carry bag, making it easy to transport and store when you're not using it.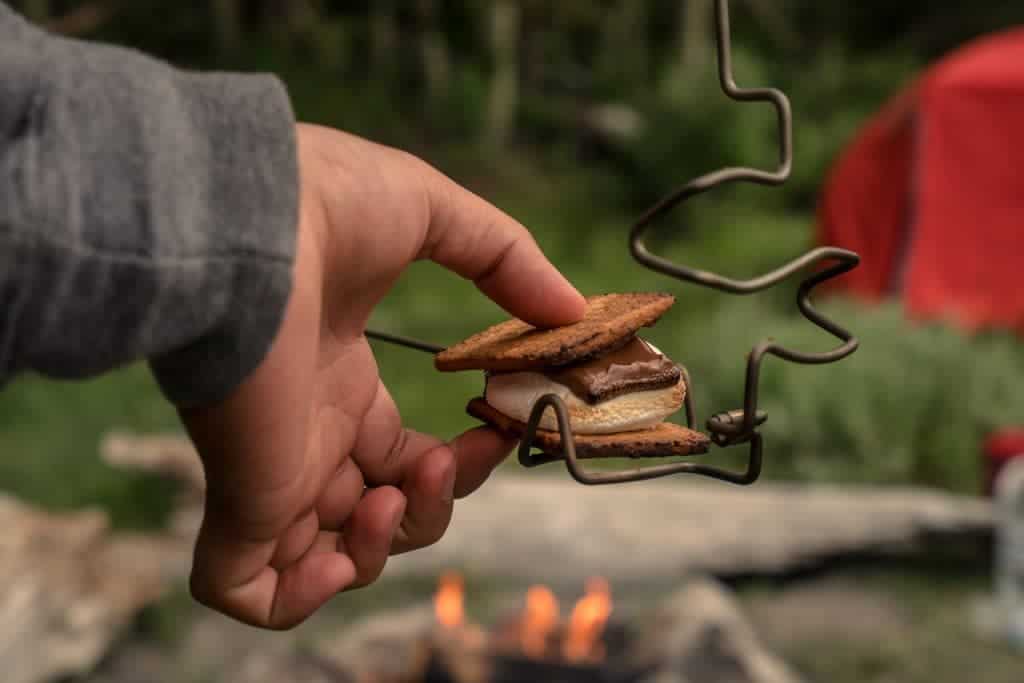 S'more Holding Area
The S'more holding area is s-shaped, allowing the graham cracker to be perfectly held and supported while being roasted.
The construction of this area is thin as well, thus, you'll be able to have your s'more fully roasted on all sides, making sure the marshmallow and chocolate are cooked to perfection.
The locking clasp at the bottom of the roaster, ensures that the s'more holding area is locked in tightly, so your s'more won't be slipping out of the cracks.
Locking Clasp
While using the s'more roaster, the most important thing is making sure that your s'more stays in one place. When you're using a rod to roast marshmallows, they usually have a tendency to slip up and down the rod, creating a mess and destroying your marshmallow.
However, with the Stratos'more s'more roaster, your s'more is held in place with their revolutionary clasp. The clasp is located at the bottom of the roaster, close to the handle and applies the perfect amount of tension to ensure that your roaster keeps your s'more in position while you rotate it.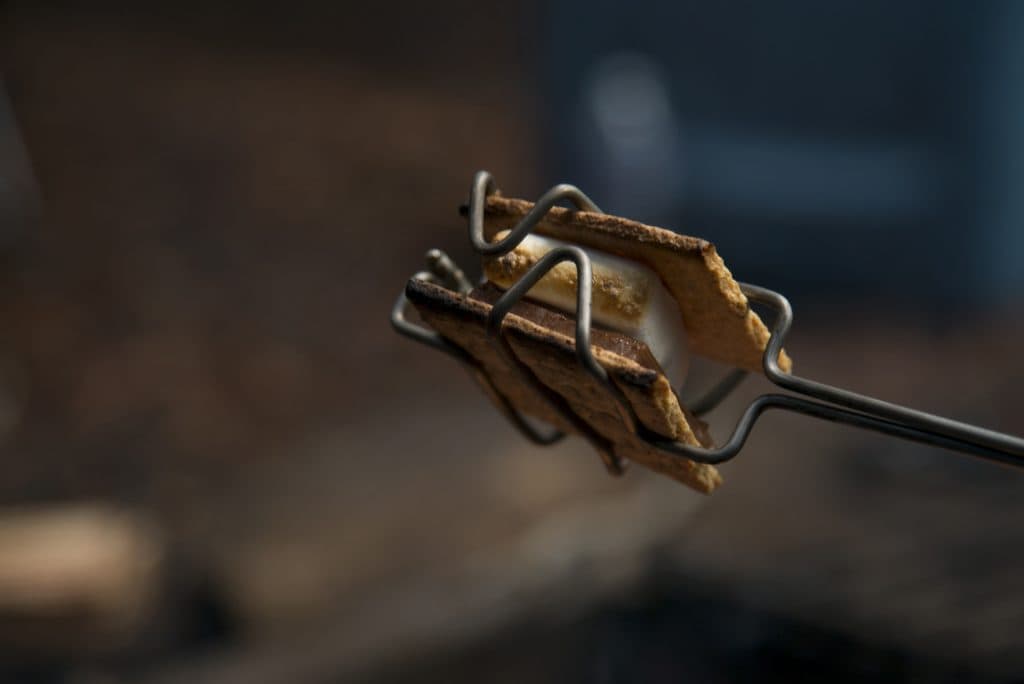 Carrying Case
If you've used a marshmallow roaster before, then you'll be aware of how messy it can get. Your marshmallow roaster is usually covered with sticky, dry marshmallow and usually, if you're not able to fully clean it, you place it into your car at the end of the trip which causes even more of a mess.
The guys at Stratos'more understand what it's like to go camping and all the mess that comes with it, so they include a canvas carrying case to not only keep everything organized but to also reduce mess as well. With the carrying case, you can easily transport it and also store it for the next season.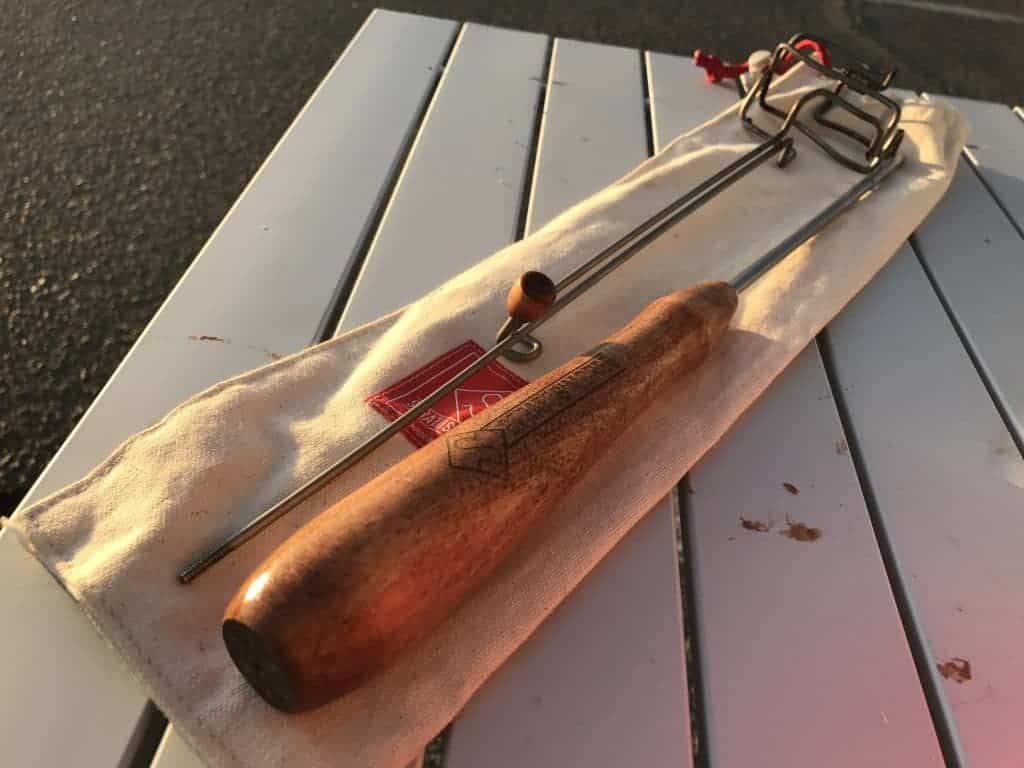 USA Made
Nowadays, you never really know where a product is manufactured, nor can you trust that it'll actually do what it claims to do. The Stratos'more S'more Roaster was designed and produced by campers who, over a campfire, decided that there needed to be a proper s'more roaster – this is how the idea all started.
Knowing that the creators of the s'more roaster are avid campers also means that they know exactly what's lacking and needed in a s'more roaster. In addition, if you're concerned about the quality of products you're taking with you on your camping trip, you'll be pleased to know that the S'mores roaster is made in the United States of America.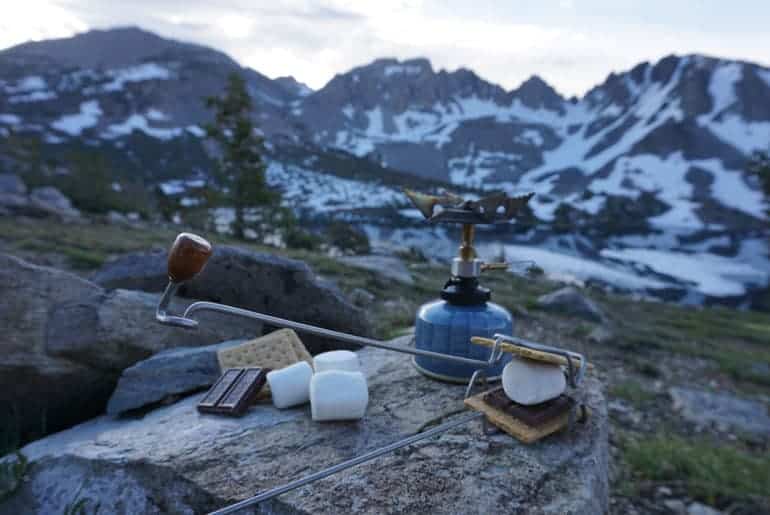 Weight, Size & Build Materials
The materials used for the Stratos'more S'more Roaster are simple, yet are high-quality and made for efficiency. The main body is made out of stainless steel, ensuring that its durable enough to be able to withstand scorching flames.
The maple wood handle gives you the comfort needed while using the roaster. The handle is 8" long and when the body is fully extended, it's 32" long. In addition, it's relatively lightweight as one Stratos'more S'more Roaster weighs 10.8 ounces.
Since it comes in a canvas carrying case, you'll be able to easily attach it to your backpack or throw it in the trunk of your car. If you're a solo backpacker, the weight is easy to manage and the device comes in handy if you're in need of a mid-day or evening snack.
Value
When looking at the Stratos'more S'more Roaster it's simplistic yet extremely well-built. The body is made out of durable and fire-safe stainless steel which will be able to endure the flames of a fire while the handle is made of Maple wood, giving your hand the perfect resting spot.
The s-shaped holding area makes sure your s'more isn't going anywhere which is one of the most important features of the roaster. On top of all of that, it's not only collapsible into two parts but it comes with a canvas carrying case for easy transportation and storage.
When compared to the other s'more roasters on the market, they seem to fail at producing a s'more roaster which holds the s'more properly in place and lacks at offering proper safety for those handling it.
When looking at what the Stratos'more S'more Roaster offers, it'll be able to withstand years of use which is what you want in a s'more roaster and it's what you want in any product you buy. For the quality and design, it's definitely worth every dollar.
Conclusion
When you're camping, you want to enjoy every second you have. You're surrounded by nature and wildlife and are able to spend quality time with friends and family. Of course, we all know the best quality time spent is around a warm, cosy fire. So, why not bring out the graham cracker, marshmallows and chocolate?
Whether you're a child or adult, no one can say no to a warm freshly roasted s'more. Though, it does help when you have a proper s'more roaster with you. For the features included, the materials used and the crafty design, the Stratos'more S'more Roaster is definitely a great addition to any camping trip.
Ready to show everyone how to make a great roasted marshmallow?, head over to STRATOS'MORES and pick one up for your next camping trip.