The Best Glamping in the UK – 2021
From time immemorial, Men have been laced with the desire to maximize any entertainment or luxury; How do we enjoy brilliant music, methodical movements of dancers and drama, all at once?
So Men merged it all and invented Musical theater. This same reasoning goes for Glamping (a portmanteau of glamorous and camping) invented by men to get the best out of the luxuries of two worlds: yesterday's amenities and today's technology. A phenomenal way to enjoy the superfluities of hotel accommodation alongside the escapism and adventure recreation of camping.
Glamping has never been more popular in the UK and whether you're looking for a yurt by the seaside or tipis in the mountains, there'll always be a site in the UK that is right for you. Some of Our favorite campsites in UK are:
The Yurt Retreat
Somerset
It has been duly noted that if you are looking for an uncommon luxury holiday, The yurt retreat, with its three luxurious Yurts, a Roundhouse and a Treehouse, is one of the best glamping destinations in the country. This luxury camp site is tucked in a beautiful part of somerset, on an organic farm outside of crewkerne.
Its amazing location provides: the opportunity to be in direct contact with the essence of nature like an abundant wildlife; easy accessibility to road, rail, and comfortable country pubs; A remarkable view of sunset from each property.
Luxuries have been put in place for adults seeking to unwind, like: private bathrooms, luxury showers, woodland Sauna and a comfortable lounge. Asides offering ultimate relaxation, The Yurt Retreat provides activities like foraging tours, archery, polo, Golf and luxury spa to mention a few.
Find more information and book here: https://www.theyurtretreat.co.uk/
Ekopod
Cornwall
Ekopod, which is an excellent base for camping and exploring is located in Bodmin Moor and provides relaxation in luxurious pods, nestled in a beautiful landscape.
It provides utmost comfort (with its king size bed, crisp white sheets, cosy wood burning stoves and wonderful views) and also gives a feeling of living with nature in its simplest form since there's no use of electricity in the pods.
Glamping here encourages further exploration due to the different activities that can be found in cornwall ranging from subtropical gardens to surfing and it is also a 20 minutes distance from beautiful beaches and dramatic coastlines. Ekopod affords a luxury in food and drinks with the specially prepared breakfast hamper that arrives every morning, as well as a Menu for selecting a home cooked evening meal.
Glamping at Ekopod truly gives a sense of returning to the simpler things in life, but in comfort.
Find more information and book here: http://www.ekopod.co.uk
Longlands
North Devon
Long lands luxury glamping is nestled in a private secluded valley, bordered by streams and woods with its own private lake. It is on the Western border of Exmoor National park, overlooks the spectacular North Devon coast and just twenty minutes from the award winning Woolacombe beach.
Longlands has a boating lake and two skiffs with which you can have your own boat race, waterfalls, stream walks and nature trails in the woods, a number of outdoor games that can be played on its special games terrace and You can practice den building.
It also sets out to pamper guests for total relaxation and escapism with its amazing cedar wood hot tub and a relaxing treatment at the Spa Barn.
Find more information and book here: https://www.longlandsdevon.co.uk
West Lexham
Norfolk
If you're in search of bringing childhood dreams alive with so much glamour, then the west lexham retreat tucked away in the heart of the Norfolk country side with its stunning tree houses, bell tents, cosy log fires, yoga retreat centre, wildlife, large boating lake, chalk spring and gardens would do just that.
It has been termed an Eco friendly paradise as it is run on over 90% renewable energy. The retreats location in Norfolk also provides lovely places to visit, like the beautiful coasts of Holkham, castle acre, the green Britain center and so on.
In conclusion, west lexham is a beautiful, private estate and definitely one of the UK's funkiest places to stay.
Find more information and book here: https://www.westlexham.org/glamping-treehouse-holidays-uk/
Home Farm Glamping
Hertfordshire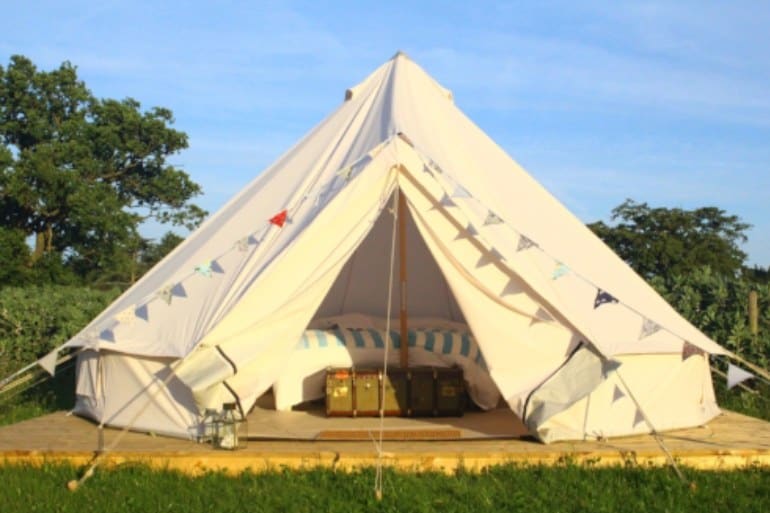 For those in central London, home farm glamping is a perfect country escape just a tube ride away! It is Known as London's nearest glamping site and is situated in 100 acres of stunning greenbelt farmland in Elstree, five minutes from the end of the jubilee and Northern lines.
This luxury glamping site works all sorts of magic and provides the opportunity of utmost relaxation from the daily bustle of city life. It has nine bell tents, three yurts, barbeques, campfires, exquisite dining options as well as open air yoga classes for guests.
Asides providing relaxation breaks for guests, it hosts corporate retreats, hen weekends and gourmet supper clubs. Home farm Glamping aims to inspire people with the glamping experience and ensures the wellness and mindfulness of its guests.
Find more information and book here: http://www.homefarmglamping.com/
The Dome Garden
Gloucestershire
The Dome Garden is a legendary glamping village for all age groups. It is set in the middle of the Ancient Forest of Dean and is a lovely collection of Eco conscious, geodesic domes.
This glamping site is unique as Children and babies are an enormous part of its glamping, it is a great place for small group bookings like Hikers, Bikers, Writers or multi generational family gatherings and also an ideal place for an inspirational and informal glamping wedding or stylish corporate glamping events.
The Dome Garden provides a stylish blend of outdoor life and luxury facilities such as 3 hotel-style rooms and 11 eco-pods with ensuite facilities, proper beds, wood burning stoves and fabulous food.
Find more information and book here: https://domegarden.co.uk/
So there you have it, our top pics for Glamping in the UK! We hope you;ve been inspired by this selected and book a visit!