Sustainable Camping: The Definitive Guide
If you're out camping, then you most likely love being in nature. You enjoy the pristine scenery, the wild wilderness and the fact that you have no one else around you. What's not to love? Escaping the everyday hustle of the city life is why we all love camping. However, it's important that we look after the environment we choose to camp in.
Many of us bring food, beverages, and equipment when going camping. Throughout the trip, we use things up, creating trash. This is completely normal and expected, however, this trash isn't something that should stay in nature. Camping is widely supported and encouraged, however, it's important that you adopt sustainable camping methods which keep the environment clean and keep it the way it was initially found.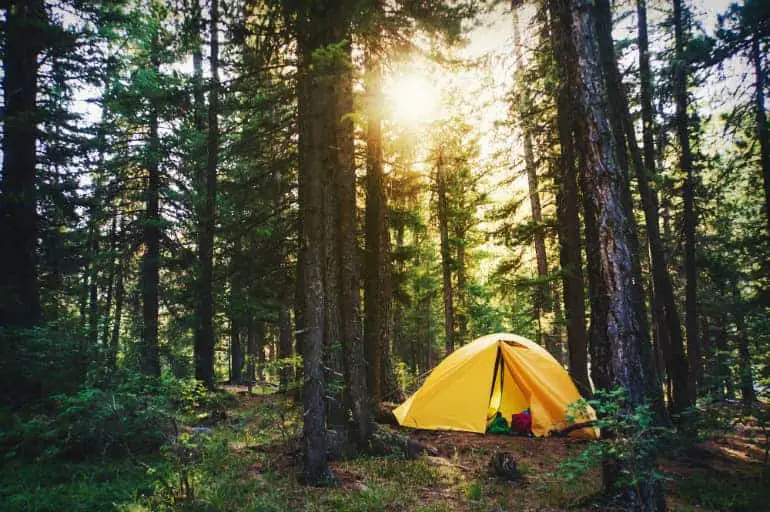 What is sustainable camping?
Sustainable camping is often referred as "Leave No Trace" or the "Ten Essentials." But just because you've heard this before doesn't mean you know what it means. The Leave No Trace Behind Principles are a set of rules which are designed to help protect nature. These rules help campers and backpackers respect the environment while enjoying nature.
In the United States, there are over 100 million visitors that come to explore the surrounding nature. Many areas are diminishing due to trash exposure, trail erosion, polluted water, and non-native species. All these issues joined together further disintegrate the environment.
Naturally, no one goes camping to destroy nature, however, sometimes we don't truly think about the impact that some of our actions have. In addition, even the smallest of things can have a huge impact on the environment. Thus, before you head to the great outdoors, it's important that you take a look at the Leave No Trace Behind Principles to better acquaint and prepare yourself.
Who Should Use the Leave No Trace Behind Principles?
Now, you may be wondering who can actually use the Leave No Trace Behind Principles. Well, these principles are typically designed for remote backpackers and those who spend nights in the wilderness. However, they can be applied to almost anyone, whether you're camping in the frontcountry, backcountry, on a day hike or overnight camping.
You may be wondering what the differences are between frontcountry and backcountry camping.
Frontcountry: these are areas which are easily accessible by car. These areas include state and national parks. These areas are mostly used by people who enjoy day hiking or day adventures which they get to by car.
Backcountry: these areas are typically accessed by foot. Thus, usually, they're accessed by backpackers only.
Now that you know who should use the Leave No Trace Behind Principles, what are they?
What are the Seven Leave No Trace Behind Principles?
1. Plan ahead and prepare
2. Travel and camp on durable surfaces
3. Dispose of waste properly
4. Leave what you find
5. Minimize campfire impacts
6. Respect wildlife
7. Be considerate of other visitors
Plan ahead and prepare
When it comes to backpacking, you need to be prepared. Not only for your own safety but if you want to be environmentally smart, you need to plan ahead. The less prepared you are for your trip, the more problems you'll face.
Without proper planning, you can place yourself in a situation which either places you in a vulnerable state or decreases your supplies ahead of time. This is when you start to make poor choices since you're in a panic.
When you plan your trip, you need to research the area you're going to be camping in and what equipment you'll be needing. Here are some of the things you need to keep in mind when researching for your trip.
Prepare for harsh weather conditions and emergencies.
Know the rules and regulations of the area you're going to be backpacking or camping in.
When planning your trip, avoid periods where it's high season.
When backpacking, go in smaller groups. They're generally easier to move with rather than larger groups.
Remember to repackage food. This way it minimizes waste production.
Always make sure you have a compass and map with you. That way, you reduce the need to mark trees or flag the area.
Travel and camp on durable surfaces
When you're backpacking and seeking out overnight shelter, you need to look for durable terrain. These surfaces include rock, gravel, snow, formed trails, and dry grass. These types of terrain are ideal and most environmentally friendly to use when overnight camping.
In areas such as frontcountry or backcountry:
Always seek shelter a minimum of 200 feet from all lakes, streams, and rivers
Make your campsite area small. You'll want to pitch your tent where the vegetation is sparse
Try not to make your own trails, stay on existing trails and campgrounds
When walking, make sure you stay single file, focusing on walking in the middle of the trail
In remote areas:
Avoid areas where you have noticed existing environmental impact. This will prevent further damage
When setting up camp, make sure the tents are spread out. That way, you prevent creating a camping ground.
Dispose of waste properly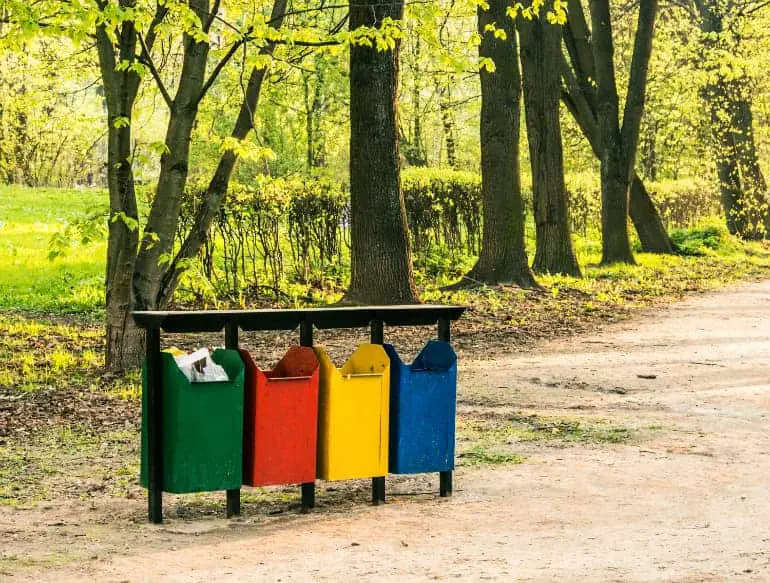 Waste disposal is always an issue when it comes to backpacking and camping. Plastic products are consumed by animals and it also deteriorates the surrounding environment. The disposal of waste applies to everything from human waste to trash and to rinse water.
Whatever you bring in, you have to take out. Upon packing up your campsite, make sure you look at it again before leaving and see if you have any leftover trash or food. You must pack up all your trash and food, making sure you leave the place just as you found it.
Many people are unsure of what to do with human waste, but it's actually quite simple. With regards to human waste, you should dig a hole of 6 to 8 inches deep and at least 200 feet away from any water source, and camps. Then, once finished, cover the whole. Though, research the area as some parks and areas make you take your trash, including human waste, out of the camp with you.
Make sure you take toilet paper and hygiene products out with you.
When washing your dishes, make sure to do so at least 200 feet away from any water source, whether it's a river, lake, or stream. Make sure with washing your dishes you use a biodegradable soap which won't harm the environment.
Leave what you find
It's tempting for us to take things that we find in nature. Maybe it's a beautiful piece of wood or seashell, however, it's crucial that you leave everything you see. In essence, you should follow the idea of "take only pictures, leave only footprints" motto. The fewer the footprints, the better.
Do not create any structures or trenches when in nature
Leave all rocks, plants, and other natural items as they are
Make sure you focus to preserve the past. There are many historical artifacts in the wild, however, they must remain untouched
Do not place any non-native species in the area. Thus, you need to make sure that all your equipment is properly cleaned from prior trips
Minimize campfire impacts
Of course, when we think about camping, we think about campfires, outdoor stoves, roasting hotdogs and making smores. These are all a part of our camping traditions. But these traditions can do tremendous harm to the environment. Fires can easily spread, destroying acres of precious wildlife and nature. But this doesn't mean you can't have a fire while camping.
There are more environmentally-friendly options when it comes to fire such as a lightweight cooking stove and a candle lantern. If you're not completely comfortable with starting fires, then it's best to stay away from them as it's easy to make a small mistake that'll have a huge outcome. Why not stargaze instead? But if you're going to create a fire, here are some things you need to know.
Keep your fire small. That way, it's easier to control. In addition, only use sticks from the ground that you broke with your hand.
Make sure you're creating a fire in areas where fires are permitted. If they're prohibited, it's for a reason. Take caution and use a fire pit, fire pan or fire rings when creating fire.
When having a lit fire, make sure that you burn all the wood and coal to ash, putting the fire out completely. Once it's turned into ash, scatter the cold ashes around.
Do not bring any firewood from your home to the area. There may be non-native species on the firewood which can ruin the existing habitat. Only create a fire from the wood in the area.
Respect wildlife
When we happen to see a wild animal, our first instinct is to approach it. However, it's important that you do not approach any wild animals. They're in their own habitat. Of course, you can enjoy the wildlife you're seeing, however, do so from a reasonable distance with your camera or binoculars.
If you're bringing your pets with you, make sure you have the properly controlled so that they don't disrupt the surrounding wildlife.
Always appreciate wildlife from a safe distance. Do not try to pet them.
Make sure that you properly protect and store your food when you're backpacking.
Never feed wildlife. If you do, they'll become relaxed around humans which can pose a risk to your own well-being and their well-being. By feeding them, you're changing their diet, natural behavior, and exposing them to threats.
Avoid being around wildlife during specific periods of time such as mating season or nesting season.
Be considerate of other visitors
You know the old saying, "treat others the way you want to be treated". Well, this can easily be applied when it comes to nature. When you're in the great outdoors, you want to make sure you're taking the steps necessary to respect the nature around you.
Have proper control of your pets.
Nature is full of sounds. Try to not make too much noise and enjoy the natural music around you.
Be respectful to other users of the trail.
Respect the other visitors and allow them to have a quality experience.
Try to break away from large groups.
The Ten Essentials for Camping
Now that you know the leave no trace behind principles, how you do live by them? Some of them are easy to follow, however, others require you to have some equipment prepared beforehand. Whenever you're about to go on a hike, it's good that you do a routine check and make sure you have the essentials with you. Now, you may not think you'll need some of these things, and you probably won't need them, however, when you do need them, you'll be happy to have them.
The ten essentials list was created to help better prepare backpackers in case of emergencies in the great outdoors. Include everything from this list in your backpack and you'll be well prepared in case anything happens. There are two lists of essentials. First, you have your classic ten essentials list and now, you have an updated version. We're going to show you both.
Classic Ten Essentials
1. Map
2. Compass
3. Sunglasses and sunscreen
4. Extra clothing
5. Headlamp/flashlight
6. First-aid supplies
7. Firestarter
8. Matches
9. Knife
10. Extra food
The Updated Ten Essential
1. Navigation
2. Sun protection
3. Insulation
4. Illumination
5. First-aid supplies
6. Fire
7. Repair kit and tools
8. Nutrition
9. Hydration
10. Emergency shelter
Navigation
There are two components to navigation. One is your map and the other is your compass. Of course, you can have alternative navigational tools such as a watch with GPS, however, regardless of the other navigational tools you have, you should have these two basics with you.
A topographic map should be in your backpack at all times, regardless if you've been on that trail a hundred times. Sometimes, even though you may know a trail like the back of your hand but when you're panicking, you can easily lose your direction.
A compass is a tool that you'll need to train yourself on. Just because you have a compass doesn't mean you'll be able to read it properly. A compass is one of the most important tools you can have with you while on a trip. If you're into high tech, bring along a GPS, but you should also have some basic equipment with you in case your high tech device doesn't hold out. In addition, most compasses comes with a sighting mirror which helps you connect with your rescuer during the event of an emergency.
Lastly, an altimeter is also another good tool to have by your side in case you would like to measure your elevation and air pressure.
Sun protection
When you're backpacking, you want to make sure that you're well protected from the elements, including the sun. You'll be able to use them during sunny and dark weather as there are even glacier glasses available for those travelling on snow or ice. You'll want to get yourself a pair of sunglasses which block 100% of ultraviolet light (UVA and UVB). If your sunglasses do not provide this protection then they're virtually useless. UVB rays actually burn your skin and permanently damage your eyes.
Don't forget about your sunscreen. Even though it may be cloudy, the sun can still penetrate through and cause your skin damage. You want to get yourself a sunscreen with a protector of a minimum of 15 SPF, though, ideally 30 SPF will work perfectly as it will block UVA and UVB rays. When it comes to reapplying your sunscreen, you should consider how much you're sweating and the time of the day you're hiking. If you're sweating a lot, then you'll need to reapply it more often.
Lastly, you should always make sure that you're wearing clothing which will protect you from the sun. There is specific hiking clothing which is designed with UPF protection. Naturally, the outside temperature will determine the type of clothing you'll be wearing, thus, if you're going to be wearing shorts, just make sure you apply sunscreen on exposed areas.
Insulation
When you're backpacking, you don't really know what to expect. Therefore, you need to make sure during wet or cold weather that you're properly insulated. In your backpack, you should have extra clothing that you can layer on in case the weather changes. A pair of thermal underwear, extra socks and a vest are good options when you're thinking of extra layers.
Illumination
When you're out in the wilderness, you need to be visible during all hours of the day. When it gets dark, you want to be able to pitch up camp with some light source.
Headlamps are ideal if you're going to be backpacking in the backcountry as it allows you to move around with full control of your hands. Plus, they're lightweight, compact and have a long battery life, so you'll be able to use it for your entire trip. Some headlights also come with a strobe mode in case of emergency situations.
There are also flashlights and lanterns which you can use as a light source. They also work very well in emergency situations. Just make sure that you're carrying extra batteries just in case as every backpacker should have their own functional light source.
First-aid supplies
When you're out in the backcountry, you never know what to expect. Now, this doesn't mean something tragic is going to happen. You could simply cut yourself on your army knife, but, you don't want that small cut to become infected as that's when you have a serious problem.
You can get yourself a pre-assembled first aid kit. That way, you don't need to worry about whether or not you included something, instead, it's already done for you. This is really the easiest way to go about it. The kit usually comes with treatments for blisters, bandages, gauze pads, adhesive tape, disinfecting cream, and regular over-the-counter pain meds.
Usually, one first aid kit is enough, however, this also depends on the length of your trip. If you're going for a longer time, then you should consider carrying a couple of extra things in your kit. In addition, you may like to add or remove specific items in your kit as well. Carrying a medical guide doesn't hurt too.
Fire
As we know from above, fire is very important but needs to be properly handled. If not, you could end up in a horrible situation with acres of vegetation destroyed. Specifically, in summer, fires are easily spreadable as the terrain is usually dried out. If you're planning on making a fire, aside from following the principles above, you'll need these tools.
Matches are always a must-have item in a backpackers pack. When you're heading into the backcountry, you'll want to bring along waterproof matches which should be kept in a waterproof container. Don't be frugal, make sure you bring a lot of them. Don't purchase yourself the matches you can get at corner stores as those are usually cheaply made and unreliable especially when using them in the wild. You can also bring also a mechanical lighter, but always bring matches as well.
Firestarters are an easy way to start a fire. Like their name, they literally just get the fire started, providing you with the opportunity to build the fire up. Of course, there are special firestarters on the market, but you can also use dry tinder, candles, chipped wood or plastic.
Repair kit and tools
You'll always want to bring a couple tools along with you. No, you don't need to bring an entire toolbox with you but having a couple of necessary tools can certainly help you out when you need it the most.
Knives or multi-tools are excellent options when you're needing to repair gear, prep food, use your first aid kit, build a fire, or when you're in an emergency. Your basic multi-tool should have a minimum of 1 fold-out blade, 1 flathead screwdriver, 1 can opener, and 1 pair of fold-out scissors. Naturally, multi-tools can be more complex than this and you'll have to consider where you'll be going, as you may want a more heavy-duty multi-tool. However, as a minimum, this is optimal.
If you're going to be sleeping on a self-inflating mattress, you should also bring a repair kit with you. It's common for the mattress to get punctured, so, if you want a good night's sleep, you should bring a kit in your pack.
Nutrition
Without food, you're not going to last very long. I don't mean to be dramatic, but your food is extremely important. Regardless of the duration of your trip always pack at least a day or two extra worth of food.
It doesn't have to be a fancy meal. It can be dehydrated food, energy bars, nuts, and dried fruits. You need food in order to give you the energy for your hike, plus, to keep you warm during the nights. Just make sure that you keep your food well protected from wildlife.
Hydration
Of course, we all know the importance of water. Without it, just like food, we won't last very long in the backcountry. You should always carry at least 1 water bottle and a water reservoir with you when hiking. In addition, having a water filtration system, including chemical treatment will come in handy when you need it the most.
Before the trip, you should look at your map and mark off where the water sources are. That way, you know where you can resupply your reserves, making sure you have water in areas which are scarce.
Emergency shelter
This is one of the new items listed on the ten essentials, mostly directed to day hikers as multi-day hikers already have a shelter with them. Day hikers should have a simple shelter with them just in case they encounter harsh weather or lose their direction. This way, they have a place to sleep and be kept warm. Of course, it's not a necessity, however, if you can, bring along with you a tarp, and an emergency blanket.
Extra Essentials You May Need
Now that you have the essentials down, there are some extra items you can add to your bag if it isn't already full. These items aren't necessarily needed, however, they're definitely a good thing to have if you're able to take them with you on your trip.
Experience and extra research
Now, this may sound funny to you, but experience is definitely an extra skill. If you have previous knowledge about backpacking or are going with someone who's experienced, well, then this will help you out. Naturally, if someone in your group knows how to use a compass, that's handy, however, it's much better if you know how to use your equipment.
Don't hesitate in taking the extra time to learn how to use your equipment, rather than relying on someone else. Just because you know and have the ten essentials doesn't mean you can effectively use them.
Insect Repellent
Now, you may not need this depending on where you're going. However, if you're planning on going backpacking in the summer months, it's general knowledge that the insects are huge pests. With that being said, it's important that you prepare yourself and avoid being eaten alive by mosquitoes and other pesky bugs. Try to get yourself either a lotion or spray-on repellent that contains DEET. This will help you keep the insects far away.
Ice axe
Of course, if you're backpacking during the spring and summer season this won't apply to you. But if you're trying your hand at mountaineering, then you need to be properly prepared. You'll need proper snow equipment, but you should also invest in an ice axe. This will help you cross snow fields with ease.
Communication device
You'll have your standard cell phone with you most likely, but if you're out in the backcountry, you probably don't have any reception. So what do you need instead? A communication device. This is typically a two-way radio or satellite cell phone which can send out messages in case you're in an emergency situation.
Whistle
When you're out in the wild, you don't really know what you're going to encounter. You may spend days in nature and not come across any animal other than an occasional bird or squirrel. However, if you encounter an animal that may pose a threat, you can use the whistle to scare it away. You can also use it in emergency situations.
Signalling device
Like we talked about earlier, many compasses come with sighting mirrors attached to them. But, there are some compasses where they're not included. In this case, you should still get yourself a signalling device which can be used to signal rescuers if needed.
PLB
A PLB stands for a personal locator beacon. Naturally, you'll have your compass and map but in case you need search-and-rescue, a PLB can help significantly in finding your location in an emergency situation.
Eco-friendly Products
There are also many eco-friendly products and gadgets available to help you to camp sustainably such as eco friendly cutlery and the Scrubba wash bag.
Other tips for sustainable camping
If you're still looking to be greener and more environmentally-friendly when backpacking, there are many more things you can do. In fact, backpackers, whether they mean to or not, are typically more environmentally sustainable than other types of campers. Here are some other things they do to decrease their environmental footprint.
Don't waste food
When a backpacker prepares their food, they make sure they have enough plus a day or two of reserve food for emergency situations. However, the food they don't use, they usually leave in hostels along their backpacking trip. Therefore, they don't throw out any food, but simply give it to someone else who may need it.
Keep your supplies limited
Backpacker don't do a huge shopping trip at Costco in order to prepare themselves. They're only taking what they're able to carry on their backs. Thus, they don't have extra soap, bedding or cooking utensils. Instead, they have a spork which can be used as either a fork or spoon and their bedding is a sleeping bag that they use every night.
Carpool
If you're heading to a specific trail, why don't you see if there are other backpackers in the area heading there as well? If you're going into the backcountry, you can't access it by car either way, so why not carpool to your destination? Not only is this an interesting way to start your trip but you also reduce not only your carbon footprint but your expenses as well. There are many websites which are designed to connect backpackers.
Only take necessities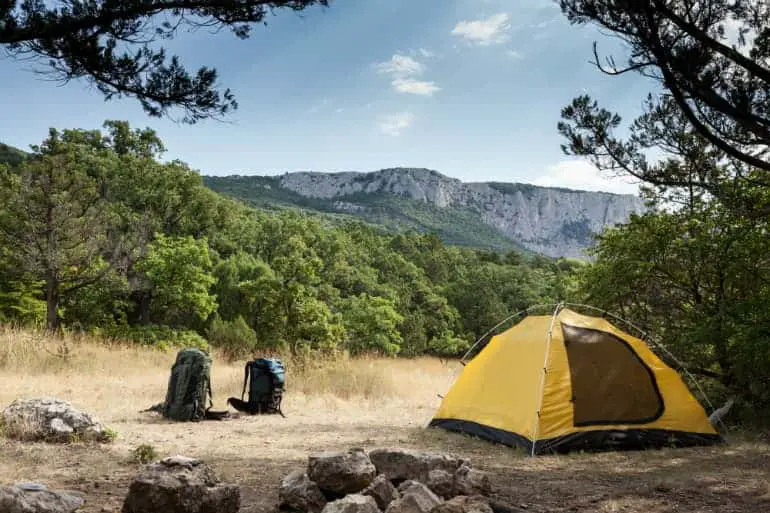 Many of us aren't used to only taking what we need. Instead, we take along many personal items that we never use during our trip. However, with backpacking, it's also impossible to do that. Yes, you can take one or two personal items, but remember, everything you take is going on your back. Only bring things that you're going to use, as this type of travelling isn't designed for you to accumulate things. It's designed for you to appreciate what you have around you.
Camping is one thing, however, to truly appreciate and respect nature there are a couple of extra steps you need to follow. The Leave No Trace Principles were created to help you not only be prepared but to also have you respect the nature around you. If you're able to follow these principles, you'll have an amazing adventure and will be able to see nature in its purest form.