The Best Camping in Iceland
If you're looking to witness wild and untouched nature, Iceland is one of the best places to do it. It's relatively unexplored by the typical tourist yet there's much to see in this dramatic landscape.
It's a Nordic Island of Europe that's located in the North Atlantic Ocean. The island has a small population of only 300,000 people, yet 100,000 km of wilderness. Though the population is sparse, this means wonderful news for those that truly want to get in touch with nature and leave the city life behind.
Camping in West Iceland
Where can I camp in West Iceland?
Bjarteyjarsandur Farm
| Accommodation | Campfires | Pets | Drinking Water | Toilets | Showers |
| --- | --- | --- | --- | --- | --- |
| Tents | | | | | |
The Bjarteyjarsandur Family Farm is an all year round farm which hosts a variety of activities and tours for those exploring Western Iceland. The farm itself has been around since 1887, thus, is full of history.
They have an array of accommodation available which range from camping to mountain cottages. The farm is a working sheep farm which allows you a taste of the Icelandic culture. In addition, the farm is run in an environmentally sustainable way, which you'll get to witness yourself.
Their campsite is cosy and friendly and is located below the farmhouses. If you're biking, hiking or with your family, you'll love this spot. Campers have the option to cook their own meals or buy from the local farm and they're able to enjoy the seashore which is a short walk from the farm.
This is a great place to make camp if you want to throw yourself into the Icelandic culture.
Tradir Guesthouse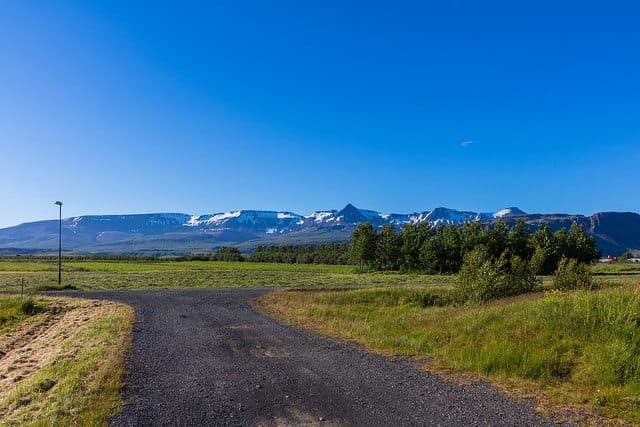 | Accommodation | Campfires | Pets | Drinking Water | Toilets | Showers |
| --- | --- | --- | --- | --- | --- |
| Tents & RVs | | | | | |
Adjacent to the Tradir Guesthouse is their campsite which is fully featured. It has a bathhouse, toilets, BBQ pits and, if you're using an RV, comes with the essential hookups as well. What's great about this campsite is that you also have the opportunity to use the Tradir Guesthouse as well as they offer a coffee house and restaurant inside.
Since they're close to the river Staðará, you'll be able to obtain fishing permits and/or ride on horseback along the stunning terrain. The campsite itself in on a flat terrain without much vegetation in terms of trees, however, you have amazing views of the mountains and river.
Some of the sites are located along the riverside as well if you're interested in having a river view. In addition, the Snaefellsjokull national park is also close by which is full of amazing scenery and history.
The Tradir Guesthouse, though deep in nature, is well located as you're situated near small towns in Western Iceland. It's a versatile campground for both tents and RVs which all hikers, explorers and families will enjoy.
Hotel Eldborg
| Accommodation | Campfires | Pets | Drinking Water | Toilets | Showers |
| --- | --- | --- | --- | --- | --- |
| Tents | | | | | |
Though it is a hostel, they also have a campsite as well. Hostel Eldborg is located along the Snaefellsnes peninsula which is approximately 50 km from Borgarnes and Stykkishólmur, on the banks of the Haffjarðará river.
This campsite is in a great location as it's in one of the best places for sightseeing in West Iceland. You'll be able to visit Snaefellsnes glacier or bird and whale watch on Breiðafjörður.
Around the campsite, you'll be able to rent horses and explore the area via horseback. It's a great campsite for those travelling in groups or solo as it's a flat terrain with many activities to partake in the surrounding area.
Sadly, the campsite is not open year round. It's only open during the summer season. Since it's only open during the summer, you'll love having walking access to the beach below and relax, catch some sun while taking in the nature that surrounds you.
Of course, if you want, you're always able to spend a night in their hostel as well, if you need a break from camping.
What's there to do in West Iceland?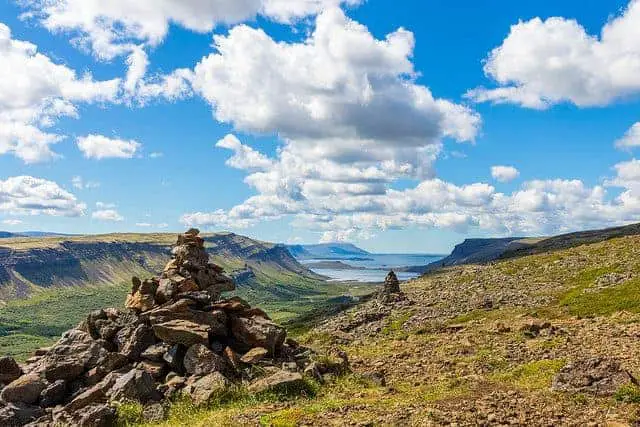 There are a variety of things to see and explore in West Iceland as it's full of small towns, fjords, valleys, craters and volcanoes. In addition, if you're into history then you'll love this area as this is where a majority of the Icelandic sagas were held.
In essence, this is where the Vikings hung out. It's known as "Little Iceland" because it has the most diverse landscapes which make it diverse and rich in exploration and photography.
Camping in North Iceland
Where can I camp in North Iceland?
Vogar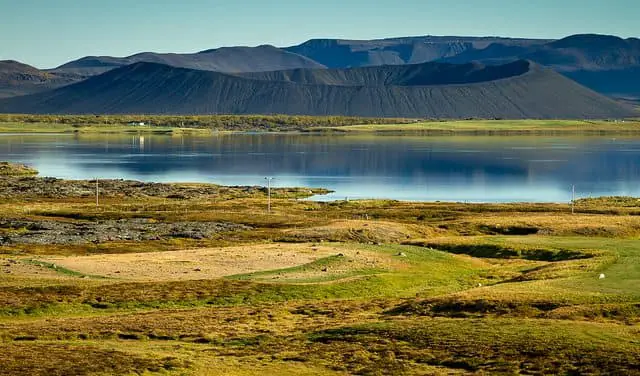 | Accommodation | Campfires | Pets | Drinking Water | Toilets | Showers |
| --- | --- | --- | --- | --- | --- |
| Tents & RVs | | | | | |
This campsite is a part of a travel service which also includes those with campers, caravans and those who wish to stay in guest housing. Surrounding the campsite are a variety of geological wonders such as the Hverfjall Crater, waterfalls, and lava.
The campsite is extremely green and luscious, great if you have children or pets that love to run around and explore. The campsite is equipped with indoor toilets and hot showers which are included in the price.
A great feature of the campsite is that they offer access to outdoor kitchen sinks, relieving you from having to carry along extra supplies. If you have an RV or caravan, you're more than welcome to use their services as they have hookups available.
They are pet-friendly, however, require that all dogs be leashed at all times while at the campsite. They also offer perks for campers that stay longer than three days as the fourth night is free of charge. In addition, you do not need to reserve a campsite, as there's plenty of room for everyone.
Tjaldevaedid Systragil
| Accommodation | Campfires | Pets | Drinking Water | Toilets | Showers |
| --- | --- | --- | --- | --- | --- |
| Tents & RVs | | | | | |
If you're looking to stay close to attractions, then this is a good option for setting up camp. The campsite Systragil is very convenient as it's situated in a perfect spot for sightseeing tours and excursions which take you around Northern Iceland.
Around the campsite, there's the Flateyjardalur valley, the parsonage Laufas (which is an 18th-century traditional farmhouse) and Goðafoss which is the waterfall of the heathen Gods of old. These are all extremely close to your campsite which makes travelling extremely easy, especially if you have small children.
In addition, Lake Myvatn is only 60 km away from you and the town of Husavik is 65 km away. In other words, you're close enough to a town, you're not completely deserted but you're far enough to enjoy the pristine nature around you.
The campsite itself is divided into sections which are on different levels of the land. There are swimming pools nearby as well as great fishing ponds and golf courses.
If you're into hiking, trails can be found all around the campsite and are great for sightseeing.
Heidarbear
| Accommodation | Campfires | Pets | Drinking Water | Toilets | Showers |
| --- | --- | --- | --- | --- | --- |
| Tents & RVs | | | | | |
The campsite is ideal for those who want to be close to the tourist attractions in North Iceland, as it's comfortably situated by Lake Myvatn, the waterfall Goðafoss, Asbyrgi, fishing river Laxa in Aðardal and the canyon of Jökulsárglúfur.
So, if you have small children, then you won't have to worry about going on long drives. The campsite is between the town of Húsavík, approximately 20 km away and Lake Myvatn.
In the campsite, it's extremely relaxing. There's a swimming pool with two hot tubs available as well as a restaurant bar for campers to relax at.
If you're interested in eating native Iceland produce, there's a garden close by where you can buy homegrown vegetables and fruits.
You'll be able to rent horses which are around 15 km away from the campground and you'll also be able to go fishing close by. If you're into sports, it's good to know that there is a soccer field, mini golf and a playground to use in the campground.
The campsites are designed with all the necessary features in mind such as electrical hookups, wi-fi, toilets, waste disposal, etc.
What is there to do in North Iceland?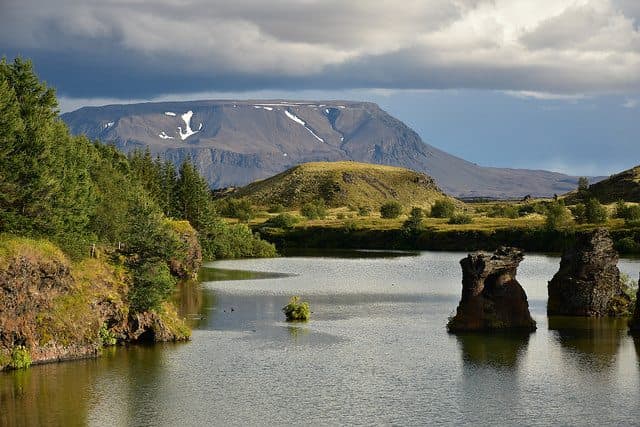 North Iceland is an extremely popular area and holds some of the most interesting attractions. Akureyri is the second largest city in Iceland and sits in the north. The area has four major bays situated around mountains and ridges.
The main areas are Hunathing, Skagafjordur district, Eyjafjordur district, Thingeyjarsysla and Lake Myvatn. All these areas are full of ancient geological formations, active volcanoes, lava fields and tuff mountains. If you're into exploring and photography, you'll love this area of Iceland.
South Iceland
Where can I camp in South Iceland?
Gesthus Selfoss
| Accommodation | Campfires | Pets | Drinking Water | Toilets | Showers |
| --- | --- | --- | --- | --- | --- |
| Tents & RVs | | | | | |
The Gesthus Selfoss is a great campsite in the heart of Selfoss. Selfoss is in the centre of Southern Iceland and located in the middle of all the best attractions in the area. The campground is close to Geysir and Gulfoss, Skogar, Vik, the Myrdalsjokull glacier and the Hekla volcano.
The campground is family run and it shows with their warm hospitality and friendly atmosphere. The campsite provides campers with a peaceful and relaxing atmosphere. It's one of the best campsites if you're looking for a fully featured campground.
It comes with access to toilets, showers, and a dining room with functioning kitchen where campers can cook if needed. It also comes with laundry service, wi-fi and a couple of hot tubs to sit back and relax in.
Around the campground, there are plenty of activities to take part in. The city centre is a ten-minute walk from the campground where you'll have restaurants and supermarkets.
You have natural beauties such as volcanoes, glaciers and waterfalls, but you also have amazing hikes nearby such as hiking the Ingolfsfjall mountain or doing a coastal walk in Stokkseyri.
You can also rent horses and explore the area on horseback which is also an amazing adventure.
Geysir
| Accommodation | Campfires | Pets | Drinking Water | Toilets | Showers |
| --- | --- | --- | --- | --- | --- |
| Tents | | | | | |
Geysir is not only a campsite but is also a hotel as well. However, aside from the hotel, they have a beautiful campsite for anyone who wants to immerse themselves in nature.
The campsite is walking distance from the hot spring area as well as the Geyser and Haukadalur forest.The great part of this campsite is that it's situated in the Geysir, where you'll see all the wonders that this area has to offer.
Opposite to the campsite are the services which are a part of the Geysir hotel such as the restaurant and souvenir store.
During the summer, there's a garden which becomes an entertainment area with live music, food and drinks, so, you can take a break from camping and enjoy a summer's night out in the Icelandic nature. In addition, you'll be able to try your luck at golf, go horseback riding at Kjoastadir, river rafting and river jetting.
If you like fishing, it's easy to obtain a fishing permit and enjoy a day fishing the Tungufljoti.
There's a lot to do around the campground as well as around the general area as it's full of rivers to explore, trails to hike and small towns to visit.
Kerlingarfjoll
| Accommodation | Campfires | Pets | Drinking Water | Toilets | Showers |
| --- | --- | --- | --- | --- | --- |
| Tents | | | | | |
Kerlingarfoll is another campground facility which offers campers the option of sleeping on the campsite or in cabins or huts. The campsite itself is quite large in size with ample amount of space between campers which is why so many people love this campground.
It's well equipped with the necessary amenities such as kitchen access, and hot tubs. In addition, on the campground, there's a natural hot spring bath which everyone can enjoy.
It's situated in a diverse landscape with nature that is second to none. Kerlingarfoll is a part of the tuya volcano system and in the Highlands of Iceland, thus, you'll be witness to numerous hot springs, rivulets and volcanic mountains.
The terrain can be quite rugged making it ideal for those who love to hike and explore unpaved lands. This area is very well-known for its hiking and trails.
The campground is open all year round, so whether you're into horseback riding or snowshoeing, you'll be able to enjoy the scenery and nature anytime you like.
What is there to do in South Iceland?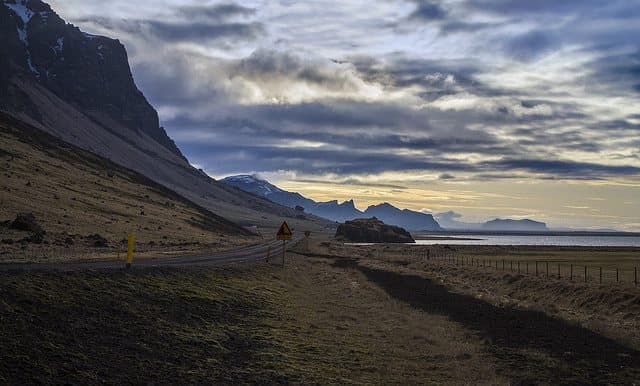 Southern Iceland is just a hop and skip away from the capital of Iceland, Reykjavik which is surrounded by diverse nature. In this area, you'll be able to explore volcanic glaciers, horseback ride along the coast and mountains, take a bath in the hot springs and photograph Viking rock formations.
Whether you have small children or you're travelling solo, you'll never spend a day bored in the South of Iceland. If you have an eye for photography, keep your camera close as there are endless amounts of photo ops for you.