Whether you're camping, at the beach or enjoying a BBQ in your backyard, you want to be protected by the sun. The last thing you want to ruin your time is a nasty sunburn. Instead of layering yourself up with long-sleeve shirts, why not get yourself a canopy that you lounge under? Not sure which pop up gazebo to get? We're going to show you the best pop up gazebos.
Looking for another size tent? Check out these other popular tents here:
How to Choose the Best Pop Up Gazebo
Ventilation
Not all canopies offer this feature, however, you may want to consider looking for a gazebo that has ceiling ventilation. It's normal that the canopy will develop condensation or humidity if it's not properly ventilated. And during the summer, a cool breeze isn't always obtainable. Vents on the ceiling will help you create airflow in your gazebo and bring the heat down inside.
Material
Though you may not be thinking about it, you should look for a gazebo that offers waterproof protection. Yes, in the summer it's warm but it's not uncommon for a light rain to appear and spoil your sunny day.
If you have food or electrical items under the gazebo, water could soak through the fabric and ruin them. Make sure the canopy is made from a waterproof fabric to prevent this from happening.
#1 Eurmax Basic Pop Up Gazebo Canopy

Professional Camping Rating: 9.0 / 10
| Price Range | Weight | Dimensions | Frame | Waterproof |
| --- | --- | --- | --- | --- |
| $$ | 49 lbs | 10 x 10 x 11.1 ft | Steel | No |
If you're not looking for a fancy canopy loaded with features, but rather a simplistic one that'll just get the job done, this the Eurmax Basic Pop Up Canopy will do just that. It says it clearly in its name what it's meant to do and it doesn't disappoint.
It does lack some of the features that other canopies offer, such as the ceiling vents, however, it's still one of the best canopies on the market. There are a couple of extra features, which are not a part of the canopy itself, that make it worth looking into.
Firstly, the canopy comes with a roller bag, so, you'll be able to not only store it but you can actually roll it as well. The wheel is of a decent size and moves quite easily. Secondly, Eurmax sells spare parts online which comes in handy if anything happens to your canopy.
You should also know that the canopy comes with a one-year warranty as well.
The fabric is 300D polyester which is pretty durable, though it's not waterproof. So, you'll need a tarp over it in case there's a chance of rain. It's great for summer use at the beach or in your backyard.
❥Eurmax Canopy is the most trusted & best selling pop up canopy brand based in the USA. We stock all kinds of accessories and parts for the products we are selling and if you have anything about our products, we are ready to help you.
❥10x10 Commercial grade canopy tent frame:(1)Strong full truss structure design(2)Hammertone powder coated finishing,Good looking and rust resistance.(3)The latest thumb lock system,easy to lock and release(4)Three height positions,clearance height from-peak height from 10.5ft,10.8ft to 11.1ft.Set up and take down easily by 1 or 2 person in minutes without any tools …
#2 Abccanopy Kingkong Pop Up Gazebo Tent

Professional Camping Rating: 8.4 / 10
| Price Range | Weight | Dimensions | Frame | Waterproof |
| --- | --- | --- | --- | --- |
| $$$ | 48 lbs | 10 x 10 x 8.1 ft | Steel | Yes |
The AbcCanopy Kingkong canopy tent is quite popular in the camping scene and there's a reason why. It's extremely well-built and for what's included, it's a good deal. It comes in over 30 colors and its structure is of a solid black steel frame with powder-coating for rust protection.
The canopy functions with push-button sliders on all four legs, so you'll be able to adjust the height safely to your desired size. The canopy itself is made of 300D polyester with a PU lining, thus, the fabric is 100% waterproof with tightly sealed seams.
There used to be an issue with stress points where the peak poles meet the canopy, however, AbcCanopy added some extra reinforcements to prevent the canopy collapsing. In addition, the canopy comes with a really great travel bag, that'll allow you to wheel it around without any problems.
You get a great amount of protection from the sun under this canopy and while under it, you feel that you're protected which is the important part. It's a durable canopy that is able to carry out the purpose it's designed for. Plus, it's at an affordable price and you get a high-quality product on top of that.
Canopy coverage: 10x10FT of shade. Cover 4 tables in your garden; cover 3 beach chair on the beach; cover 10 people at the same time for your commercial events.
Heavy duty fabric: Durable PU, UV blocker, UPF 50+, 100% waterproof. Suitable for both sunny and rainy days.
Set up in second: Super easy to set up with only 2 people. Roller bag for easy portability and light transportation. Heavy duty wheels glide smooth. Bonus 4 Canopy Sand Bags, 4 Stakes&Ropes for stable and sturdy use …
#3 Core Instant Shelter Pop Up Canopy Gazebo

Professional Camping Rating: 8.4 / 10
| Price Range | Weight | Dimensions | Frame | Waterproof |
| --- | --- | --- | --- | --- |
| $$$ | 43 lbs | 10 x 10 x 9.3 ft | Steel | Yes |
Core has designed an easy-to-use and affordable canopy that certainly does the job. The Core has a couple of extra features which are always a plus when looking for a canopy.
Firstly, it has ventilation panels on the ceiling which can be opened and closed with velcro straps, giving you control if condensation or humidity develops. The canopy itself is waterproof as it's made of heavy-duty 150D polyester.
The seams are fully-taped and the material is made with CORE H2O Block technology. In addition, it also has 50+ UV protection and reputedly meets CPAI-84 regulations, so when you're under the canopy, you're fully protected.
The tent comes with oversized pinch-free buttons which allow you to adjust the height of your canopy as needed. So, it's a great option if you're needing a canopy for the beach, your backyard, a camping trip or festivals.
For transportation and storage, the canopy comes with a wheeled carry bag, so, you won't' have to strain your shoulders or back trying to carry it. Instead, just wheel it. The canopy is rich in features which make assembling and disassembling it that much easier for you. For what's included, it's a great deal.
Instant 2 minute setup; 100 sq ft of shade; 50+ UV protection
CORE H2O Block technology with fully-taped seams for weather protection; Dual canopy vents for additional circulation; Meets CPAI-84 requirements
Large oversized pinch-free buttons; Heavy-duty 150D polyester canopy and durable steel frame; Perfect for camping, festivals, tailgating, and backyard events …
#4 Punchau Pop Up Canopy Tent

Professional Camping Rating: 8.2 / 10
| Price Range | Weight | Dimensions | Frame | Waterproof |
| --- | --- | --- | --- | --- |
| $$ | 44 lbs | 10 x 10 ft | Steel | Yes |
Not all of us have the budget to invest in a fancy, feature-packed canopy that we're only planning on using through one or two seasons. This is completely understandable but that doesn't mean you have to lower your standards of quality in order to find a canopy that's budget-friendly.
The Panchau Pop Up Tent is a budget-friendly option, includes some useful features, however it doesn't empty the bank. There's even a 2-year manufacturer warranty on the canopy which covers defects. This canopy has a quick release button on all legs which allows you to adjust the height of the canopy as needed.
We found that the release button works smoother than the push-style button. Another great feature is that the canopy is waterproof, so, if some showers suddenly come and surprise you, don't worry, your canopy won't let you down.
Though, it's important to keep your eye on the seams, as they generally tend to be weak spots when it comes to rain. If you're hesitant, then you can always place a tarp over it as well for extra protection.
10' x 10' SIZE - Covers 100 square feet! Plus, settings on canopy legs allow for three different height adjustments.
UV COATED & WATERPROOF - Enjoy your canopy tent rain or shine.
QUICK & EASY ASSEMBLY - This pop up canopy can be assembled in under a minute, providing endless hours of fun for you and your loved ones …
#5 Coleman Instant Sun Shelter

Professional Camping Rating: 7.8 / 10
| Price Range | Weight | Dimensions | Frame | Waterproof |
| --- | --- | --- | --- | --- |
| $ | 35 lbs | 10 x 10 x 7.2 ft | Steel | Yes |
The Coleman Instant Sun Shelter is one of the most popular pop-up gazebos. The style of this gazebo is exceptional and it comes with a couple of features that make it stand out from the rest. This gazebo is built in a classical style, however, the top of the canopy ceiling has two adjustable vents for extra airflow and to prevent condensation.
The deep ceiling and the waterproof vents do an amazing job of keeping the humidity low when you're in the gazebo. The four corners of the gazebo have a long ear which sweeps down, giving it extra stability.
In addition, the four corners also have reinforced guyline tie-outs that are at the top of each corner. This is overall a well-thought-out and designed canopy as it took into consideration many of the minor annoyances which we all experience when using a gazebo. During windy periods, you're well protected under a structure that is sturdy.
Plus, the canopy comes with push-button style adjusters for each of the four legs that allow you to adjust the height as needed. For the features it provides users and the ease of setting up and taking down, this is a great option for anyone looking for a pop-up gazebo.
Fabric - 600mm, 150D
Weight - 0.7kg
Fabric - 600mm, 150D
Weight - 0.75kg
Fabric - 600mm, 150D
#6 E-Z Up Canopy

Professional Camping Rating: 6.8 / 10
| Price Range | Weight | Dimensions | Frame | Waterproof |
| --- | --- | --- | --- | --- |
| $$ | 35 lbs | 10 x 10 x 6.6 ft | Steel | Yes (Water resistant) |
If you're simply looking for an easy-to-use and basic canopy, then this is a great option. The E-Z Up canopy has a lot of things going for it. Firstly, it's extremely portable and is highly reliable. It's considerably lighter than all the other canopies featured on here and is also budget-friendly.
Within a couple of minutes, your canopy will be up and ready to go. The canopy comes in two colors, blue and tan, and is made of a folding steel frame that doesn't require any loose parts to be added onto the frame.
Everything needed is already attached to the frame, so all you need to do is put it together. So, if convenience is an important factor for you, then this canopy serves that purpose. Though, if you're planning on using a canopy during windy weather, then this shouldn't be your first choice.
Of course, it can stand during some wind, however, prolonged wind and rain may do some damage. The canopy itself is water resistant, so a little rain won't ruin it. However, considering what's its worth, it's still not a bad deal. The legs come in two heights which you can adjust and the canopy opens up to a cathedral style.
Lightweight & portable - weighing only 31 pounds This lightweight canopy is one of our lightest and most portable models.
One minute setup - takes only a minute to set up. Folding steel frame with no loose parts. No tools required. Setup and breakdown is quick and easy with the push button toggle Leg adjustments and the oversize easy grab pull Pins at the top corners …
#7 Tangkula Pop Up Tent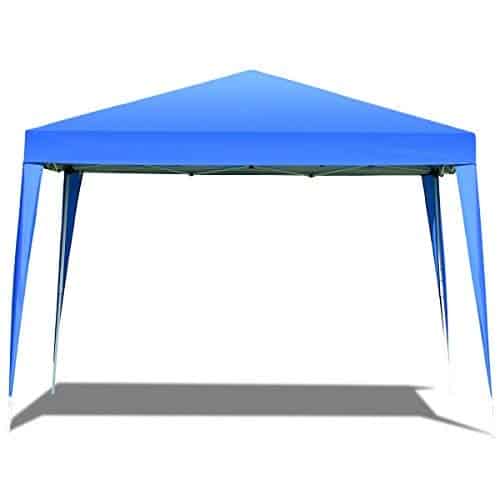 Professional Camping Rating: 8.4 / 10
| Price Range | Weight | Dimensions | Frame | Waterproof |
| --- | --- | --- | --- | --- |
| $$ | 44 lbs | 10 x 10 x 8 ft | Steel | Yes |
Not all of us want to spend hundreds of dollars on a canopy, however, you can still find good canopies on a budget. The Tangkula Pop Up Tent is a budget-friendly option which provides you with all your basics in a canopy. You're not getting anything fancy, but, for the price and what it offers, it covers everything you need.
The frame is steel and coated with white powder to prevent rusting. The canopy fabric itself is made of 210D Oxford fabric which is water resistant, however, after prolonged exposure to rain may see some leakage. The canopy is extremely easy to set up and you'll have it fully assembled in a matter of minutes without the helping hands of more than one other person.
The canopy also comes with ropes and stakes that'll allow your canopy to be fitted firmly to the ground. Of course, during intense winds, like most of these canopies, you may see them become unstable.
For what the canopy is worth, it offers an exceptional amount of protection and is even waterproof which is always a nice feature to have. Thus, it made it on this list because for budget-friendly canopies, it's one of the best.