Planning a camping trip with friends or family? Then you want to make sure you're properly prepared with kitchen necessities such as a portable stove as food is usually the main event when camping.
To make sure everyone on the trip has happy and full tummies, it's time you checked out our list of the best portable stoves.
Looking for other cooking gear? Check out these other popular cooking products:
How to Choose the Best Portable Stove
Weight
You want to choose a stove which suits your needs. If you're backpacking, then you'll be looking for a stove which is lightweight and compactable as you're going to be carrying it in your backpack. If you're camping leisurely with friends or family and you're travelling with a vehicle, then you have more options when considering a portable stove.
Type of Stove
The type of portable stove you choose will also depend on how you wish to use it. For example, there are alternative-fuel stoves which are run by fuel pellets or wood. This type of stove is useful if you're looking for a stove that doesn't require extra features such as propane canisters.
Whereas canister stoves require fuel canisters which mean you need to buy them additionally at stores and transport them alongside the stove.
#1 Snow Peak GigaPower LI Camping Stove

Professional Camping Rating: 9.1 / 10
| Price Range | Fuel | Weight | Dimensions | Category |
| --- | --- | --- | --- | --- |
| $ | Isobutane/propane | 3.7 ounces | 4.2 x 4.2 x 2.6 | Freestanding |
If you're backpacking or looking for a solo-camping stove, then the Snow Peak stove is a great choice for you. This company is well known in the camping world for their craftsmanship which can be seen in the Snow Peak GigaPower LI.
It's inexpensive in price which is a feature all people love, however, this doesn't mean that the camping stove is built cheaply or poorly. In fact, the GigaPower LI is designed with high functionality for campers. It's a powerful single-burner which is designed for one-pot meals.
It has 34,000 BTU which means you'll be able to cook food and boil water within a couple of minutes. Though it's small in size, don't be fooled as it's extremely sturdy and durable, allowing a range of pots to be used on it without any problems.
When you're done using the stove, you simply fold the unit up into a small compact size and can safely and easily store it in your backpack. If you're looking for a smaller stove check out my picks for a firebox stove.
The stove runs on backpacking-style isobutane/propane canisters which do have a shorter burning time than standard propane 5-gallon tanks or bottles.
However, if you're simply looking for a strong single-burner, then you'll be pleased with the GigaPower LI.
Quality Stainless Steel and Aluminum: This lightweight cooker is a mix of elegance and durability
Stable Outdoor Cooking Stove: Includes 4 foldable arms for stability and a rapid boiling time
Essential Outside Cookware: This outdoor gas stove is a necessary part of your camp-cooking set
Outdoor Dining Bliss: Enjoy the outdoors with our products' minimalism and elegance …
#2 Gas One GS-3000 Portable Gas Stove

Professional Camping Rating: 9.0 / 10
| Price Range | Fuel | Weight | Dimensions | Category |
| --- | --- | --- | --- | --- |
| $ | Butane | 4.1 lbs | 14 x 12 x 3.5 | Tabletop |
If you're looking for a mini-camping stove then the Gas One GS-3000 is a stove you need to consider. It's one of the best lightweight camping stoves if you're concerned about the weight and need a stove that provides you with versatility.
Though this butane single-burner isn't the fastest stove as it lacks size and wind protection, it does have amazing simmer control. If you're slow-simmering eggs, meat, or vegetables, it'll do a great job. It also comes with a drip pan which allows you to easily clean the stove.
If you're not a regular camper, this is a great option for you as it provides you everything you need, however, is versatile and inexpensive.
If you're planning on using this stove to camp with a large group of friends or family, then it's best if you opt for a two-burner stove as it'll cut down your cooking time. However, if you're camping with a few people and aren't cooking a seven-course meal, this is a great choice.
For the features provided, though may seem limited in applications, considering the size and lightweight aspects, for the price, you can't beat it.
Fuel Type: 8 oz. Butane canister. Portable, Easy to use, reliable for camping or home emergency kit (fuel sold separately)
CSA (US & Canadian Standards Association) Approved
Piezo type electric starter with safety shut off system; No matches or lighters required
Comes with carrying case in 'Color/Retail Packaging' (Complete with user manual) …
#3 Stansport 2-Burner Portable Camping Stove

Professional Camping Rating: 7.6 / 10
| Price Range | Fuel | Weight | Dimensions | Category |
| --- | --- | --- | --- | --- |
| $ | Propane | 7.2 lbs | 18.5 x 11.8 x 4.8 | Tabletop |
The Stansport 2-Burner is a solid camping stove that has similar features to the Everest. It's a somewhat heavier stove, so, not ideal for backpackers, though, if you're camping with family or a group of friends, this stove will be able to feed every hungry tummy on site.
It comes with 25,000 BTU burners and a Piezo ignitor, which starts the stove with just a push of a button, preventing any safety concerns with match ignition stoves.
It comes with a strong and powerful flame with windscreen ensuring that the flame maintains its strength even against the elements. You'll be able to cook any type of food on this stove as you have great flame control as well.
It's designed with a heavy gauge steel frame with baked-on enamel finish, ensuring that the stove is durable and can handle heavy pots and pans.
Plus, the lid is removable if your pots and pans are oversized, so you have ultimate control of your cooking space and how you will cook your meals. The steel grate is also a convenient feature as it's removable, making it easy to clean after use.
#4 Eureka Spire LX Portable Stove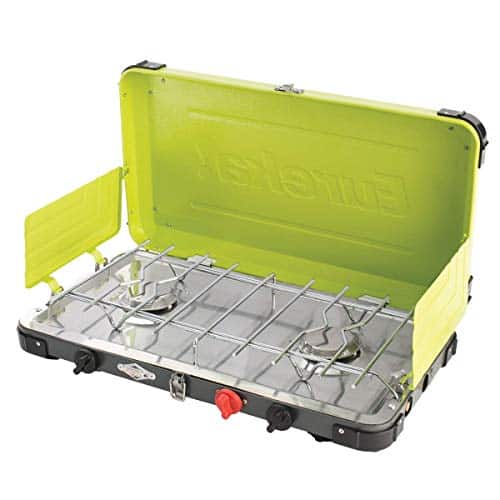 Professional Camping Rating: 7.2 / 10
| Price Range | Fuel | Weight | Dimensions | Category |
| --- | --- | --- | --- | --- |
| $$$ | Propane | 12.4 lbs | 23 x 14 x 6 | Tabletop |
The Eureka Spire LX didn't stand out because of any particular feature, however, overall, it's a strong and reliable tabletop stove which deserves recognition. Though it carries low burner power and is relatively small in size, it's designed is highly adaptable.
You're able to connect it with a JetBoil and another Eureka stove for an expanded edition with extra burners which run off the same fuel source.
Many users of this stove love the Eureka for this feature alone as it adds versatility especially if you're used to camping with mixed sizes of groups.
Though it has low burner power, it comes with good wind resistance, so it won't take you an hour to boil a cup of soup or coffee.
You may think that BTUs are extremely important, however, if it's not wind resistant, BTUs can mean almost nothing.
Though it's a little more expensive in comparison to some of the other camp stoves listed, it does provide you versatility and expandability which if this is something you're looking for, the Eureka is able to provide you with this feature.
#5 Etekcity Ultralight Portable Stove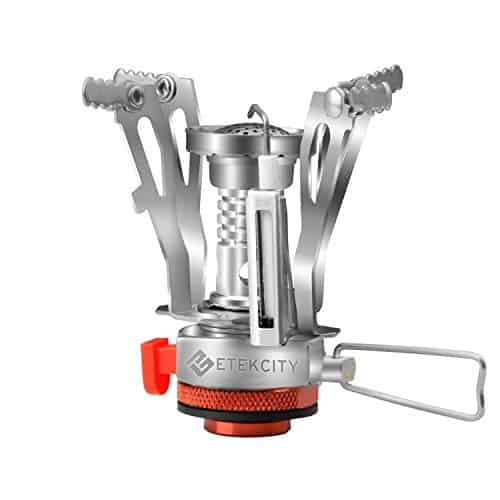 Professional Camping Rating: 8.8 / 10
| Price Range | Fuel | Weight | Dimensions | Category |
| --- | --- | --- | --- | --- |
| $ | Isobutane/propane | 4.8 ounces | 3.5 x 1.8 x 2.3 | Freestanding |
Another ultralight portable the Etekcity Ultralight, this is a great option if you're not only looking for a lightweight camping stove but if you're also on a tight budget.
This budget-friendly stove may be inexpensive, however, it's not cheaply made. Aluminum alloy and stainless steel provide the stove with durability and sturdiness, able to withstand high temperatures and weight.
Its freestanding design allows users to easily collapse and transport the camping stove as it's designed originally for backpackers.
The stove is compatible with any 7/16 thread single butane/butane-propane mixed fuel canisters, thus, you won't have to waste your time looking for a specific fuel canister.
Though it's compact and small in size, it has great flame control with adjustable control valves for fast heat production and simmer control.
The great feature of the Etekcity Ultralight is the "Leave No Traces" principals it follows which was set by the US Forest Service, Bureau of Land Management, and National Park Service.
It burns cleanly, leaving no excess debris or soot behind to damage the environment. So, you'll be able to camping with a clean mind knowing that you're not disrupting the beautiful nature that you came to camp in.
#6 Primus Kinjia Portable Gas Stove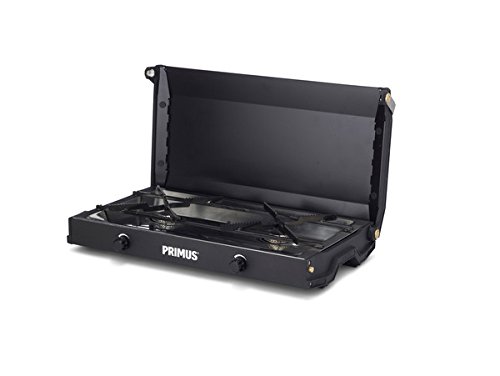 Professional Camping Rating: 7.4 / 10
| Price Range | Fuel | Weight | Dimensions | Category |
| --- | --- | --- | --- | --- |
| $$$ | Propane | 8.1 lbs | 18.5 x 11.75 x 3.5 | Tabletop |
The Primus Kinjia aesthetically looks like the stove that people who are into Instagram camping photos would buy. Now, this doesn't mean it's a bad stove, it made it onto the list so there is value to it.
But when speaking about design, it's very sleek and clean, you could say almost sexy. So, if you want a good looking camping stove, this one, off the bat is a good choice.
In addition to its appearance, there are some great features about the Primus. It's extremely easy to setup and provides exceptional simmering even though it has no windscreen and is designed with two-inch-wide burners.
You probably wouldn't think it can't do much but that's where you're wrong. It's compact design actually made boiling water extremely efficient, even though it has no windscreen.
This stove is great for solo or couples camping, however, if you're going camping with a large group of people, you'll want a stove with larger burners as your cooking ware will most likely be bigger.
But if you and your partner just want to enjoy a cup of coffee while breathing in the clean air, this is a great option.