Bison Rolling Grill – Full Review
Manufacturer: Bison
Product: Rolling Grill
Professional Camping Rating: 9.7
Looking for other cooking gear? Check out these other popular cooking products:
My Verdict
Despite many advances in outdoor technology, many companies seem to be producing the same type of grills over and over again. However, Bison took it upon themselves to create a grill that is actually different from all the others.
Nowadays, people are genuinely looking for a lightweight, compactable and easy-to-use grill that won't take up their entire trunk space to be able to grill a couple of steaks during their weekend camping trip.
If you're looking for an easy-to-use and compact grill to take along with you on camping trips, read on for my full review of the Bison Rolling Grill.
Similar Product
✔ High Quality - This collapsible grill is constructed from durable stainless steel and comes with a lanyard for easy hanging when in storage.
✔ Easy to Clean - Just wipe the rods with a towel and slide back into the convenient carry tube.
✔ Lightweight and Portable - The camping barbecue grill weighs only 12 oz and when packed up its dimensions are an incredibly small (12.4" x 1" x 1"). All grill parts are stored inside the tube and easily slide into your backpack …
Features
The idea and design behind the Bison Rolling Grill are simple: to create a lightweight and compact for people who love to outdoor BBQ, however, don't want to be burdened with the cleanup, storage and transportation of grills.
Since the team behind the Bison Rolling Grill is made up of engineers, designers and artists they were able to produce a product which is highly innovative, yet, usable in reality. With this being said, the Bison Rolling Grill is designed by Bison Gear, with features to alleviate the hassles which are usually associated with outdoor BBQs.
Now, let's take a closer look at the features included in the Bison Rolling Grill.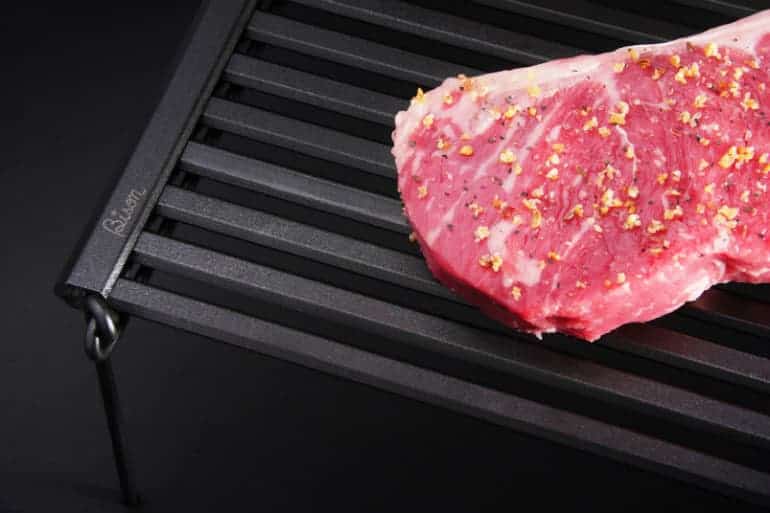 Roll-Up
The main feature of the grill is the grill itself as it's simplistic design is simple yet virtually encompasses everything you need in a BBQ grill. The main reason for inspiring the design was the need to create a grill that was easy to use, easy to clean, easy to cook on and healthier overall.
Thus, the roll-up feature was created. It allows users to have a large grilling space, however, without the bulkiness and weight of regular grills. The roll-up feature literally allows the grill to be rolled up into a compact size for easy storage and transportation.
When users want to use the grill, they remove it out of their storage sack and roll it out. The stake stands allow the grill to hover on top of open flame and users can adjust the height over the fire.
Non-Stick Teflon® Coating
Another crucial feature is the non-stick Teflon® coating over the grill. Like talked about previously, the entire purpose of this grill is to allow people to enjoy BBQ without having to hassle with clean up, bulkiness or weight.
Now, the non-stick Teflon is an important feature as it's directly linked to the hassle-free clean up which Bison Rolling Grill is designed for. You're able to grill whatever you want on it, whether it's steak, corn-on-the-cob, or hot dogs without having to worry about fat drying up on the grill.
On top of all of this, the non-stick Teflon makes this grill dishwasher friendly as well.
Air Fusion Technology by Bison gear
The Grill itself is an air fusion hollowed grill which is another important feature of the Bison Rolling Grill. Each individual grill is hollow allowing cool air to enter into the grills, preventing burning marks on your produce. Neat!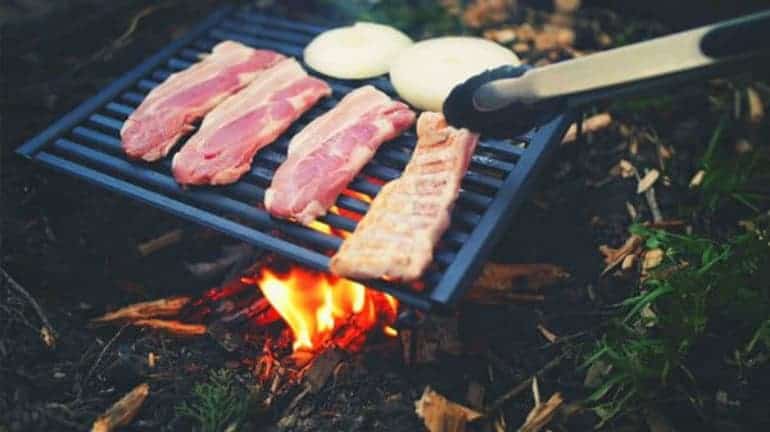 Weight, Size & Build Materials
The Bison Rolling Grill is designed as a lightweight BBQ grill, however, it's highly durable. The skeleton of the grill is made of ultra lightweight aluminium which is highly sturdy and strong. Since the grill itself is hollowed, it's also extremely lightweight and is coated in non-stick Teflon for extra durability, longevity, cleanliness and food safety.
In total, the Bison Rolling Grill weighs less than 1.2 lbs / 0.55 kgs, including the grill, grill guard, four stake stands, and the carrying sac, making it ideal for backpackers but also any camper that just wants to have a lightweight camping trip.
In essence, the Bison Rolling Grill is designed to roll up like a sushi roller making it easy to use and store. The sides of the grill are straight arms, however, slide off, allowing the grill to be rolled up into a compact size, from 250mm x 300mm to 50mm x 300mm.
There are four stake stands which are removable, allowing you to adjust the height of your grill over an open flame, yet when you want to store them, they fit neatly inside the carrying sack.
The materials used for the grill are all specifically selected to ensure lightweight, yet durable and long-lasting quality. At the same time, the non-stick Teflon also creates a clean grilling space while making sure that the food you cook is safe to eat without burning your food.
Overall, for the purpose of the grill, it's very well thought out and each component has a specific and needed role in order for it to function with such simplicity. If you want a more self contained cooking option, have a look at my guide for picking a firebox stove.
List of the Best Portable Compact Grills
Value
The Bison Rolling Grill is compact and easy to transport, reducing the amount of equipment you need to take with you on a camping trip. In addition, if you're a backpacker, you'll love the fact that you'll be able to BBQ your meals over an open flame without having to lug a giant BBQ around – which just wouldn't happen.
Thus, the versatility of this grill is second to none. The material is high-quality and 100% safe, making it one of the safest BBQs on the market. Though, the size of the grill may be too small if you're camping with a large group of people.
As you can see, the features and materials included in the Bison Rolling Grill are very well-designed and take a traditional camping accessory which many campers use and make it simple and easy.
Now, campers will be able to reduce the weight in their cars and backpacks, yet still be able to enjoy the small things in life such as eating a BBQ steak on a summer's day without having to worry about cleaning, transporting or setting up a traditional BBQ.
For such an innovate product, the Bison Rolling Grill provides great value for money.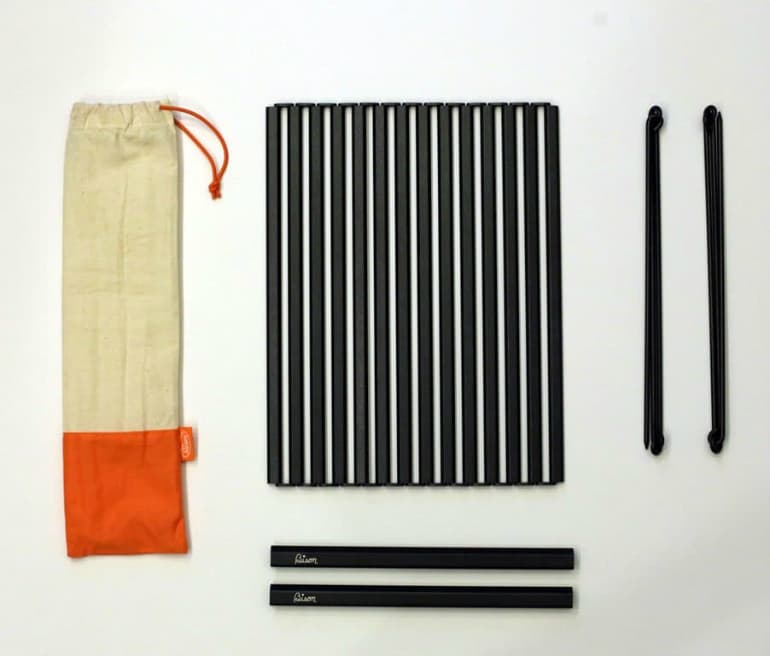 Features & Specs:
250mm x 300mm grilling surface
Rolls down to 55mm x 300mm
Assembled in under 1 minute
Aluminium construction
Non-stick Teflon® coating
1.2 lbs
Dishwasher Safe
Conclusion
Overall, for the product, the features included, the design and price, it's definitely a grill you should consider as it's ideal for solo hikers, backpackers or couples. It provides you everything you need, minus all the hassle that every other grill gives you.
If you're ready to start grilling and rolling, head over to Bison Gears and pick one up for your next camping trip.