The Best Camping in Texas
Texas is one of the best states to visit if you are looking to get a bit of everything into your trip. This area of the country is the perfect blend of country and cosmopolitan, along with a great and rich history and an abundance of species in animals and vegetation.
So if you choose to head here for your next camping trip you can take your pick from glamorous camping in a cabin or hitting the ground hard at a rustic camping ground, which will be a great chance to get back in touch with nature.
The majority of the spots in Texas are not too trampled with tourist boots and so you can enjoy the natural wonders of nature with only your close friends and family by your side. On top of this there is miles of trails and paths for you to follow in order to get a real escape from your everyday life. Check out my list of the best camping in Texas.
Camping in Dallas
Where can I camp in Dallas?
Lake Mineral Wells State Park Campground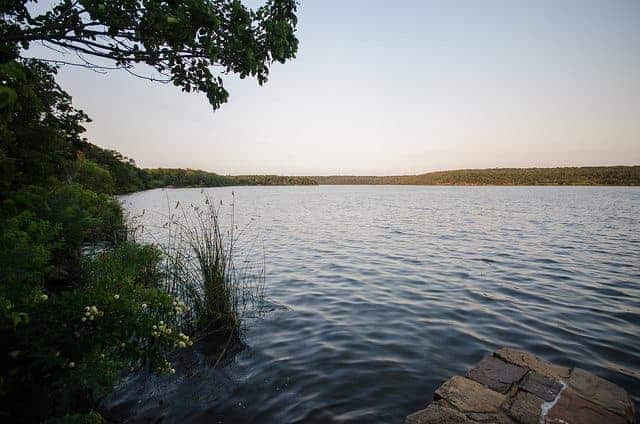 | Accommodation | Campfires | Pets | Drinking Water | Toilets | Showers |
| --- | --- | --- | --- | --- | --- |
| Tents | | | | | |
Rock climbers hail this place as one of the best parks in Texas and so it seemed fitting that it's the one I'd kick off with. It's over 3000 acres of land with sheer rock cliffs at the edges.
But don't worry if you aren't a hiker, there's plenty to do in the area, such as hiking down to the lake or you can bring your fishing pole along for a relaxing afternoon.
It's a great place to introduce your kids to fishing for the first time, as there's an abundance of different fish including catfish and sunfish. There's also a ranger club for a younger crowd, where they can learn about wilderness survival and cowboy history.
Visit Lake Mineral Wells State Park Campground
The Vineyards Campground
| Accommodation | Campfires | Pets | Drinking Water | Toilets | Showers |
| --- | --- | --- | --- | --- | --- |
| RVs | | | | – | – |
If you're looking for a more 'adults only' campground then this one is perfect as it kind of resembles a resort. It's a nationally acclaimed site which is known for the lakefront views and peaceful atmosphere.
The site is designed mainly for RVs and includes on on-site store and plenty of amenities such as kayak rentals, volleyball courts, Wi-Fi and complimentary coffees – so what's not to love?
Visit The Vineyards Campground
Traders Village RV Park
| Accommodation | Campfires | Pets | Drinking Water | Toilets | Showers |
| --- | --- | --- | --- | --- | --- |
| Rvs | | | | | |
This is the ultimate camping convenience as it's only a short drive from the city centre so you can pick up anything you need along the way. The campsite has all the modern amenities you'll need including a Sunday church service.
There's also a regular flea market just around the corner which puts on local festivals and special events throughout the year, so there's lots of things to entertain you on your trip!
Then as an added perk, there's even a pool onsite for you to cool off after a long day of adventuring.
What's there to do in Dallas?
There's an abundance of things to do in and around Dallas, including a visit to the lakeside botanical garden filled with beautiful colours and bespoke plants to serve as inspiration to get on your gardening gloves and do up your own garden.
Then there's the Dallas world aquarium which gives you the chance to see exotic animals in replica habitats. Then, on a more sombre tone, there's a selection of JFK related museums and history top spots, including the Dealey Plaza and the sixth floor museum where you can find out all about what happened on that day.
Then when you've had your fill of the city head out to Cedar Hill state park for mountain biking and bird-watching or even to Cedar Ridge Preserve, where you'll discover over nine miles of hiking trails over and under the surrounding hills.
Camping in Houston
Where can I camp in Houston?
Galveston Island State Park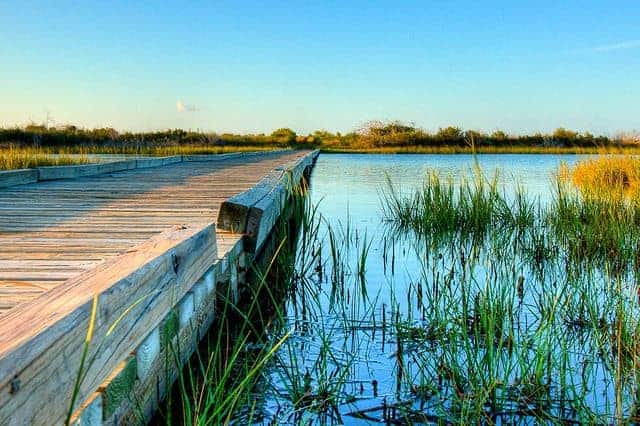 | Accommodation | Campfires | Pets | Drinking Water | Toilets | Showers |
| --- | --- | --- | --- | --- | --- |
| Tents | | | | | |
For a complete escape from your normal day-to-day routine, head over to this state park as it is actually a complete island! It's an option where you can't really go wrong as it has everything that you'll need to have a relaxing yet exciting holiday break.
There's lots of paddle trails around the island for you and your friends or family to explore – but remember to bring your own kayak or canoe as you can't rent these there.
There are also a variety of kids activities around the area and plenty of interesting places for any nature lovers to discover during your stay on the island.
Visit Galveston Island State Park Campground
Brazos Bend Campground
| Accommodation | Campfires | Pets | Drinking Water | Toilets | Showers |
| --- | --- | --- | --- | --- | --- |
| Tents & Rvs | | | | | |
The best thing to do on a trip to this area is simply enjoy the magnificent nature all around you. Be sure to bring your binoculars, your camera and your hiking boots in order to make the most of the beautiful area. You can also bike, fish and picnic there so you'll be all set for a long weekend with your friends or family.
It's worth noting that alligators are present in some areas of this park so watch out for these and don't pester them.
On top of this there's lots of trails to explore, including a fully paved trail for anyone who struggles walking, hiking and biking trails along with over 13 miles of horse riding trails.
Sea Rim State Park, Cabine Pass
| Accommodation | Campfires | Pets | Drinking Water | Toilets | Showers |
| --- | --- | --- | --- | --- | --- |
| Tents | | | | | |
If you are coming from afar then be sure to check out this campsites virtual trails tour for a real life example of what you can expect from your trip. There's over 4000 acres of marsh and boardwalk in this area for you to explore without having to get your feet wet.
You'll be free to fish or explore the area with your kayak during your trip – and you can rent these there if you don't have one of your own. Again, alligators live here so be wary of where you're paddling and be sure to take note of the local signs and warnings.
Visit Sea Rim State Park Campground
What is there to do in Houston?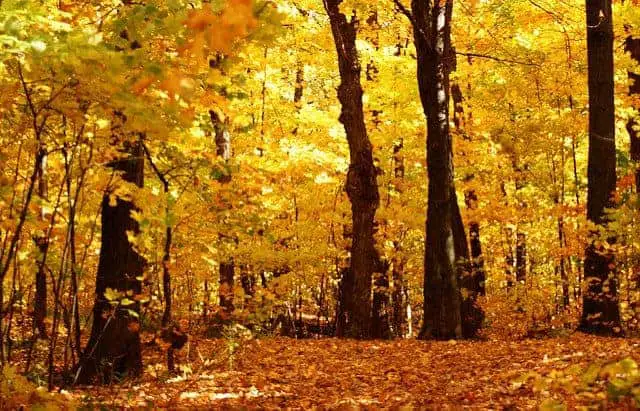 So for any space enthusiasts coming along on the trip be sure to take a visit to the Space Centre where you can get up close and personal to the US space program and hopefully inspire a future generation of astronauts.
Then there's the museum of fine arts which boasts a complex and renowned art collection for you to browse over a cultural afternoon out with the family. Then, for the animal lovers among you, head to the Houston Zoo or to the downtown aquarium which are great for getting to know both local and exotic animals.
Big Bend National Park
Where can I camp in Big Bend National Park?
Chisos Basin Campground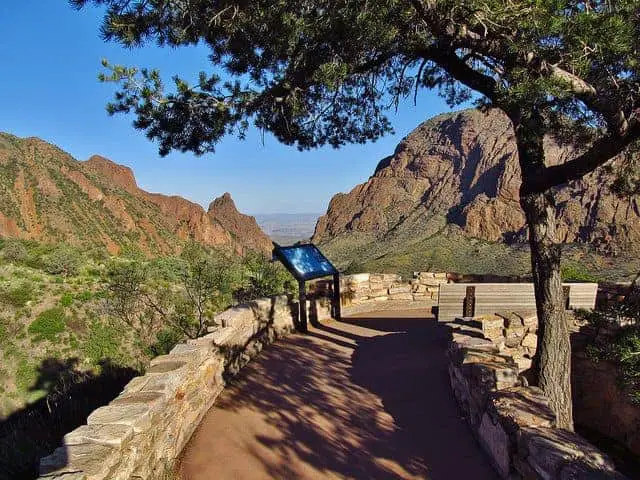 | Accommodation | Campfires | Pets | Drinking Water | Toilets | Showers |
| --- | --- | --- | --- | --- | --- |
| Tents | | | | | |
Right up in the rugged mountains you will find one of the most sought-after campgrounds in this national park. It's got seven different camping grounds insite which are all for different sized groups.
If you decide to camp in this spot you'll awake surrounded by the tall and rocky cliffs from every angle. It is also located along one of the most popular trails in the area and the Rio Grande river is only a short drive away so there's plenty to get up at the crack of dawn for every morning.
Rio Grande Village Campground
| Accommodation | Campfires | Pets | Drinking Water | Toilets | Showers |
| --- | --- | --- | --- | --- | --- |
| Tents & Rvs | | | | | |
You guessed it, this campsite is right on the banks of this infamous river. It lies on the boundary between the US and Mexico so it's a great spot for anyone wanting to visit both countries.
It's one of the most popular camping grounds in the state as it's only a short drive from both the Boquillas Canyon and the infamous hot springs – perfect for a romantic afternoon!
The campground itself enjoys brilliant views from the Sierra del Carmen mountains in the distance which provide a magnificent sunset.
Visit Rio Grande Village Campground
Cottonwood Campground
| Accommodation | Campfires | Pets | Drinking Water | Toilets | Showers |
| --- | --- | --- | --- | --- | --- |
| Tents | | | | | |
This campground is located in a different environment than the other campgrounds in the region, as it's located in a quiet desert oasis in the south west corner of the park.
The relatively small campsite only holds 25 spots and it's tent only and is first-come first-serve, so be sure to turn up early to make sure you get yourself a spot for the night. As the name suggests, the cottonwood trees provide you with shade during the day and there's also a general store and a visitor centre nearby to help you plan your days.
What is there to do in Big Bend?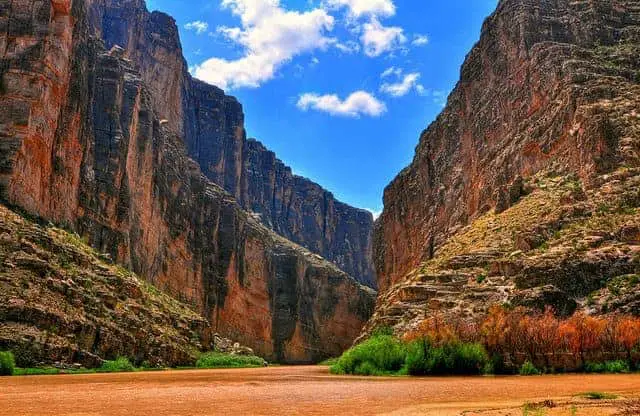 This is really a place where you'll get the wow factor everywhere you turn, from endless desert scenes to sea fossils and dinosaur bones there's plenty to see and do, so much so that you have trouble getting everyone to leave no doubt! The area is bordered by the Rio Grande river which leads into Mexico which are tourists spots that you should check out on their own.
The different areas of the park are often highly contrasting as there is desert, a vegetarian belt around the creeks and canyons along with the river zone where you'll find a large amount of plants and animal species – so don't forget your camera!