The Best Cold Weather Sleeping Bags
Looking for other sleeping gear? Check out these other popular sleeping products:
How to Choose the Best Sleeping Bag For Cold Weather
Weight and Size
As usual you need to be looking at the weights and sizes of the sleeping bags, depending on what they're made from you may find that some weigh substantially more than others.
Then look at size, you might think you want plenty of material to snuggle up in but in most cases you want the sleeping bag to be snug around you in order to pack in more warmth during the colder nights.
Price
Don't be scrimping on your winter sleeping bag as we bet you'll be regretting that one come 2am, half the way up a cliff and with a freezing cold draft coming through your zipper. Again, more often than not you pay for the pleasure of a sound night's sleep so be sure to look for sealed seams and draft tubes to stop you from catching a cold.
#1 Sleepingo Double Sleeping Bag

Professional Camping Rating: 9.7 / 10
| Price Range | Weight | Color | Material | Temperature Rating |
| --- | --- | --- | --- | --- |
| $ | 3lbs | Green | Tetron and Cotton | 32°F |
This sleeping bag is not only warm and comfortable but there's enough room inside for two! There's no need to suffer through a cold and damp night in the forest with your significant other, snuggle down together and share heat with this super soft sleeping bag.
It's specifically designed for colder temperatures so you won't be left shivering in the winter cold. It's easy to pack up and with it's impressive fold-out size, this is a feat in itself.
Once it's unfolded and placed in your tent, you'll bound to be impressed with the size of this and even if it's not two adults, and it's a bunch of children, there's plenty of room for everyone. And as an added little perk, it comes with two pillows for a super comfy night's sleep.
SUPER WARM AND MOST COMFORTABLE! YOU WILL LOVE THIS SLEEPING BAG! Want to sleep comfortably, anywhere? No need to suffer with a cheap, cold, tight sleeping bag! This quality, portable bag is perfect. Super sturdy and extremely comfortable.
THIS SUPER SOFT, HUGE, WARM & COMFY SLEEPING BAG FEATURES A LIFETIME WARRANTY! – Economically and practically efficient; With an impressive size of 87" X 59" This sleeping bag sleeps two adults in ample and comfort …
#2 Hyke and Byke Quandary Down Sleeping Bag

Professional Camping Rating: 8.8 / 10
| Price Range | Weight | Color | Material | Temperature Rating |
| --- | --- | --- | --- | --- |
| $$ | 3lbs | Black | Down | 15°F |
With a lifetime guarantee this sleeping bag for cold weather is perfect for the campers who like to get out in the wilderness at least a few times a year, and want to be able to get a lifetime of adventures out of their camping gear.
It's a little bit more pricey than the alternative options but you can really tell this when it comes to looking at the high-quality materials that both the outer shell and the inner lining are made of. This one is super lightweight as it's made from down – which is both kind on the shoulders but without compromising on the level of heat retention.
It truly will last you a lifetime, as when we looked into the finer details, there's ripstop fabric, double zippers, snag-free velcro and a compression stuff sack…to name but a few.
15 Degree Sleeping Bag for Camping: Perfect cold weather sleeping bag features WR 650 fill power duck down insulation with a revolutionary microscopic ClusterLoft base to keep you warm from 15 - 50 F
Hiking Gear: Designed for thru-hiking, backpacking and camping, this ultralight sleeping bag boasts superior weight-to-warmth ratio at only 2.71 lbs for Regular; Sleeping bag stuff sack included …
#3 Fundango Oversize Extreme Sleeping Bag

Professional Camping Rating: 8.2 / 10
| Price Range | Weight | Color | Material | Temperature Rating |
| --- | --- | --- | --- | --- |
| $ | 4lbs | Blue | 190T Polyester | 20°F to -6°F |
This sleeping bag packs in way more than the others at the moment in more than one way. The first is that this sleeping bag is huge – so you will be able to sleep with ample room and in the comfort that you are used to at home, all after a long day of trekking or biking around the countryside.
The bag uses high-loft hollow fibre as the filling which gives you better insulation by more effective heat retention but without adding on the extra pounds, into your backpack.
The design rolls up easily into the handy compression sack and features many innovative features such as an extra zipper at the bottom so your feet won't get too hot, along with insulated draft tubes down the zippers to prevent any cold drafts getting in through the night.
【Big Tall Sleeping Bag】The dimension of the XL sleeping bag is 87 x 31.5 in.Allow you move around in side.Gives you large and comfortable sleep environment.Ideal for big and tall guys or active sleepers who like to move around. Unzip bottom for extra ventilation on warmer nights.One convenient outer pocket with zipper to hold your flashlight, wallet,keys ,watch and other valuables …
#4 Farland Camping Sleeping Bag

Professional Camping Rating: 7.8 / 10
| Price Range | Weight | Color | Material | Temperature Rating |
| --- | --- | --- | --- | --- |
| $ | 2.5lbs | Multi | 290T Nylon | 62°F to 20°F |
You'll be sure to feel the difference with this super comfy sleeping bag from Farland. These sleeping bags are designed to give you the best night's sleep after a tiring day or trekking and hiking in the outdoors. They are designed in an envelope shape which is most suitable for the majority of campers and fits them each comfortably.
The fabric is high-quality while also being very breathable to prevent you from getting overly stuffy during the night. So if you are looking for a compact bag that won't take up too much room in your backpack – as we know there are much more important things – then this one is a perfect choice for you, and all at a very reasonable price.
1.FEEL THE DIFFERENCE - Farland Super Comfortable Sleeping Bags are designed to ensure that after a tiring day of trekking, hiking, travel or any other exploration you can get a good and relaxing night's sleep.Roll Control Design makes folding quick and easy ,Zip two together for double the room.
2.DESIGNED FOR COOL/COLD WEATHER – Our sleeping bags are designed for 20-62℉/-7-17℃. Moreover, these bags also have a waterproof, weather-resistant design to keep you warm even in extreme conditions and prevent you from any dampness - this is achieved through double-filled technology …
#5 Terra Hiker Winter Sleeping Bag

Professional Camping Rating: 7.4 / 10
| Price Range | Weight | Color | Material | Temperature Rating |
| --- | --- | --- | --- | --- |
| $ | 4lbs | Blue and Black | Ripstop shell | 14°F |
This mummy bag is super snug so is perfect for whoever is coming along camping with you, whether it's your entire family, your kids or a bunch of your friends, you'll all sleep soundly with this bag in your backpack.
It's filled with hollow cotton so it's breathable as well as being super insulating, and there's four temperature ranges to choose from so you can pick the one that best suits the conditions of your camping trip. It's super compact to pack up so you won't need to sacrifice the marshmallows in order to fit it into your backpack.
LIGHTWEIGHT: Thanks to its ultra-light down material, the sleeping bag weighs a mere 2.56 lbs (1160 g), equivalent to a 1-liter bottle of water. The shell fabric, zippers, drawstring, and other parts are extremely lightweight and functionally durable
MORE COMFORT: The nylon lining prevents rustling noises. The hood has plenty of loft and stays in place with a drawstring closure, creating a nice air hole without letting cold air in around your neck. The wide footbox provides more space and comfort for your feet …
#6 US Military Genuine Issue Modular Sleeping Bag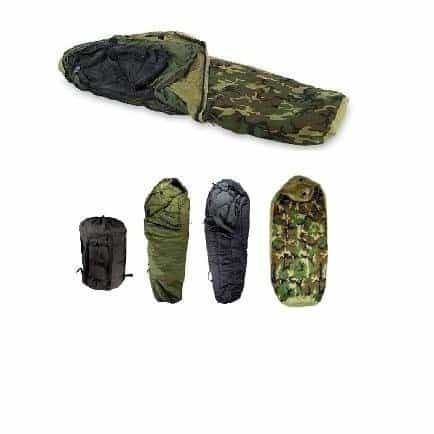 Professional Camping Rating: 7.2
| Price Range | Weight | Color | Material | Temperature Rating |
| --- | --- | --- | --- | --- |
| $$$ | 22lbs | Green | Polyester | 0°F |
Finally, who knows more about keeping warm in whatever wilderness you're faced with than the military themselves? You can get your hands on a genuine military four piece sleeping bag which is brilliant for all weather camping, especially camping in colder climates.
As it is modular, it means you can adapt the temperature and level of layers according to your conditions so for a great all-rounder, this one's a great choice.