Patagonia Atom Sling – Full Review
I got my hands on the Atom Sling Bag from Patagonia and took it on a test trek to fully test out this great bag.
My Verdict
Professional Camping Rating
Comfort Score
Weight & Size Score
Durability Score
Build Quality Score
9.1

★

★

★

★

★

★

★

★

★

☆

★

★

★

★

★

★

★

★

★

★

The Patagonia Atom Sling is the most useful addition to my stash of camping equipment. It is light, comfortable and has multiple pockets for storage of an array of equipment. When comparing it to its competitors, the Atom Sling comes out on top. The durable nylon outer protects all my belongings from the elements, even on a stormy day and the high build quality means that it's made to last.
I would suggest that this is not the bag for a prolonged trip. At 8 litres, it isn't the largest on the market but the small size, single strap and light weight means that its perfect when scrambling up a hill or traversing a cliff side.
This is the ideal bag for a camper or a hiker who's always on the move, needing a safe place to store their equipment and belongings.
If you are wanting for some more carrying space and looking for a sling bag for men then why not try the Under Armour Compel Sling?
Features of the Patagonia atom sling 8l
Atom Sling 8L
Day Packs
Patagonia
sporty and resistant clothing
48261-Blk
My favourite feature of the Patagonia Atom Sling bag is the multitude of pockets and sections. I love not having to search into the depths of my bag to find my equipment. With the Atom Sling, I know exactly where my torch or my water bottle is. There are small pockets, straps and sections to sort and hold all of your equipment.
The single sling strap has a hook that is perfect for holding my keys and a zip pocket which fits my phone. That's my key valuables somewhere safe that I can see them and ensure that they're safe and snug. The strap also features a detachable clip for quick release and a good length of adjustable strap for the larger campers amongst us. There's also a thoughtful cord tidy to stop the excess swinging in your way.
On the main body of the bag, two straps with quick release clips allow for easy storage of my lantern or water bottle. Again these straps have cord tidies. Under these straps is a zipped side pocket which has space inside for my camera. It also has a helpful hook inside for you to clip your valuables to. I know i'm not going to lose my camera. From now on at least.
Finally we get to the main pocket of the bag. It is accessible from a side zip and features a divider halfway down to separate and help sort your items. I was able to fit my torch, lunch, climbing equipment and rain jacket inside comfortably.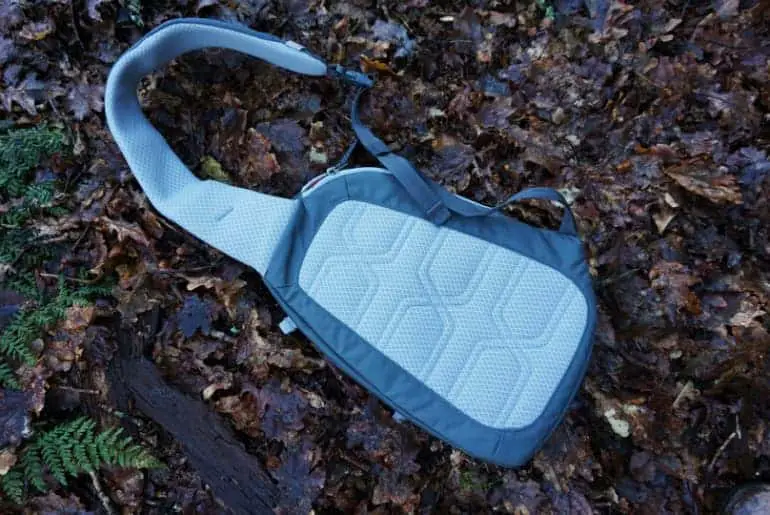 Comfort
Comfort in a backpack is essential. If you are going to be carrying it around all day, up hills, down mountains, the you're going to want it to be light, well padded and well designed to ensure comfort. Let's start with weight. Empty, the Patagonia Atom Sling is a mere 251g. That's like carrying two sticks of butter. That's nothing.
The Atom Sling then compliments this minimal weight with some well placed padding. Across the back of the bag, there is a patterned padding which, on our test trek we found to be superbly comfortable even when carrying heavier loads for longer distances. The bag has also been well designed to distribute the weight of your load carefully and so, despite the singular strap, the weight is evenly spread across your load-carrying muscles.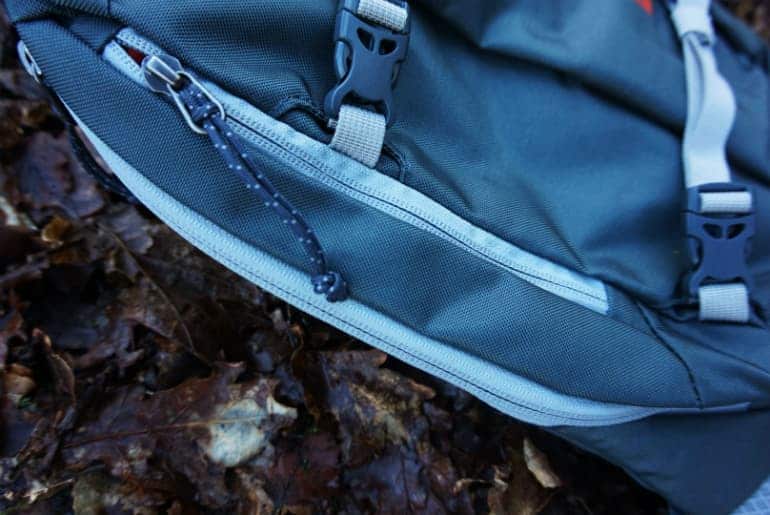 Weight & Size
As explained above, a key feature of the Atom Sling is its weight. At 251g, it's an easy carry. This is perfect for trekking or hiking and doesn't leave you with a sore back at the end of the day.
At 8 litres, the Atom Sling is one of the smaller sling bags on the market. This naturally comes with pros and cons. The main benefit is that carrying this bag is effortless. As part of our test trek, we took it on a 12 mile trek, through woods, across streams and even scaled a small cliff face. At no point did this bag hinder my movement. It was almost as if it wasn't there. It was only when I needed my equipment, did I remember that i had brought it along!
The downside of the small build is that you may struggle to fit all of your equipment in it if you pack heavily for the day. I found that if you make use of the Atom Sling's many hooks, you can hang any extra equipment off of the side if necessary.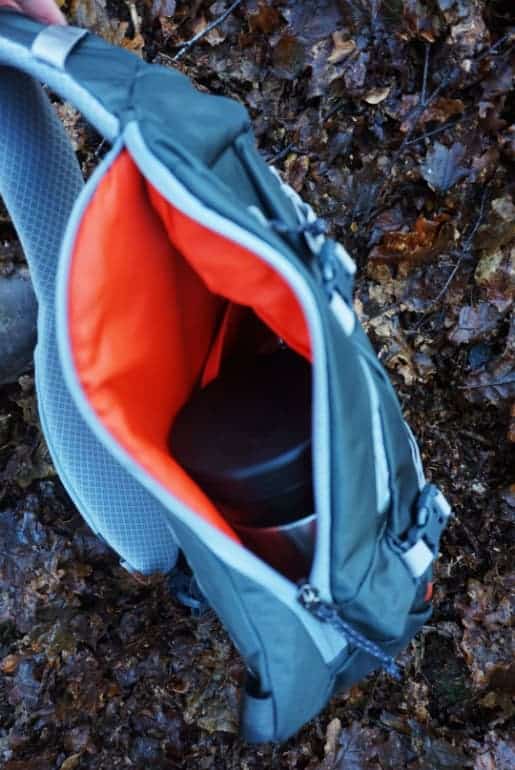 Durability
In our trek tests, I try to fit a whole year of camping experiences into one weekend to fully test these products. Therefore, I wasn't particularly kind to my poor Atom Sling this weekend. I barely took it off all weekend to ensure that it took as much impact as possible and filled it to the brim to ensure that it could take a full load while enduring the test trek.
We found that the bag stood up well to our testing. The bag took the full load with no complaints. There was no stretching of seams of pulling of threads. In fact, the bag looked almost identical (less a little of its cleanliness) at the end of our test trek.
Both the material and the zips seem to be well made as neither showed any size of wear despite a heavy weekend's use. The plastic used for the clips and hooks also seems strong enough to support the weight of my equipment.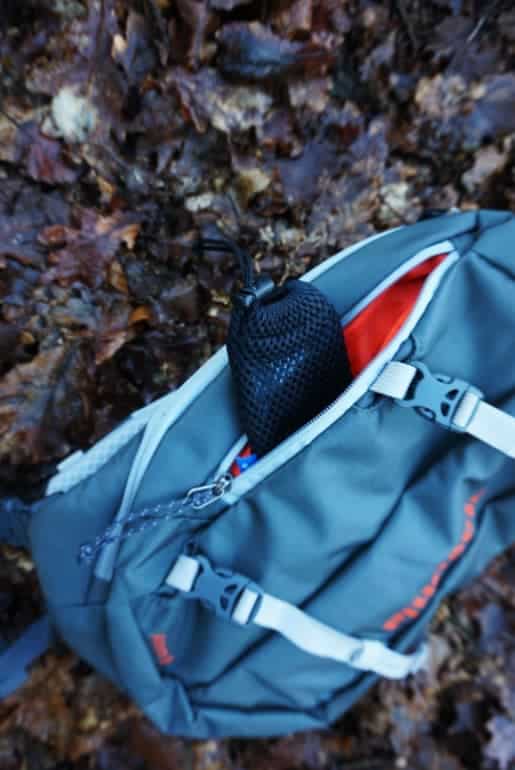 Value
Overall, the Patagonia Atom Sling pack provides good value for money. It is a little pricey for its size but the plentiful features and supreme build quality make this a bag you could use for years to come. I would suggest that the extra cash is well worth the years of camping pleasure you could have from this bag.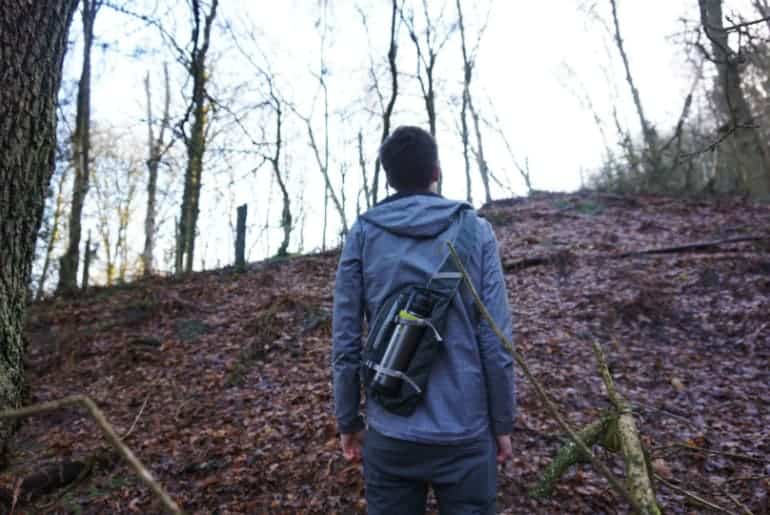 Conclusion
The Patagonia Atom Slin bagg is now my go-to sling backpack for my hikes. It's light, well designed and comfortable and has space for all of my essential equipment. If you are looking for a sling bag with a little more space, try the Under Armour Compel Sling 2.0 or if you are looking to spend a little less, check out the Outdoor Master Sling Bag.