Sawyer mini water filter- Full Review
When I'm out on the trail, carrying the gallons of clean water that I'll need for the trip is a headache. Or arm-ache, really. Is the Sawyer Water Filtration System the solution that will quench my thirst? Check out the full review below.
Looking for other accessories? Check out these other popular camping gear:
Sawyer mini water filter review
Professional Camping Rating
Usability Score
Weight & Size Score
Durability Score
9.8

★

★

★

★

★

★

★

★

★

★

★

★

★

★

★
When we're travelling, whether it be camping, backpacking or going overseas, clean water is always a concern. You want to be able to know that regardless of where you are, you'll be able to access clean water even when it's not accessible.
But what does this mean exactly? How can you have access to clean whatever if the local water isn't drinkable?
Good question. Well, there's an answer for that. The Sawyer Mini Water Filter is your answer to clean water. This filtration device will ensure that you're supplied with clean water so that you can travel with a worry-free mind.

Features
The Sawyer Mini Water filter is designed to provide users with 0.1-micron absolute filtration. The guys over at Sawyer say that this process removes 99.99999% of all bacteria, including cholera, E.coli, salmonella and also removes 99.99999% of all protozoa, including cryptosporidium and giardia.
With this outstanding level of filtration, it's an award-winning water filtration device which can filter up to 100,000 gallons of water. Let's take a closer look at why the Sawyer Mini Water Filter is one of the best filtration systems on the market.
0.1 Micron Absolute Filtration
The water filter itself contains and a large number of small 'U' shaped hollow fiber micro-tubes which trap particles and allow the decontaminated water to filter through the system at a high flow rate. Through this system, it prevents water from storing, thus, reduces the chance of contamination.
The Sawyer Mini Water Filter is certified with 0.1 filtration, meaning that the pore size is not larger than 0.1 micron. With a pore size this small, the filter is reputed to be able to block bacteria such as salmonella, leptospirosis, E.coli, and Vibrio cholerae from passing through the filter.
With the filtration system, it's passed the Environmental Protection Agency (EPA) recommended rates. You can read more about water filtation at the EPA.
100,000 Gallon filter
The Sawyer Mini Water Filter has a filter which is able to process 100,000 gallons of water. After use, you must backwash it with filtered water and the syringe that's included with the filter.
The filtration systems membrane is strong enough to hold up against backwashing and restore up to 98.5% of the filter's flow rate. The filter can be cleaned and reused without an expiration date as it can take up to 100,000 gallons.
By backwashing and sanitizing the filter, you don't need to replace use disposable cartridges, saving you money and time.
Extremely versatile
The Sawyer Mini Water Filter is an extremely versatile filtration device as you're able to use it for backpacking, camping, international travel and emergency situations as the device supports various options for accessing clean water.
In order to use the device, you simply fill up the reusable water pouch from any source of water. Once that's completed, you screw the cap onto the filter and drink it directly from the filter or squeeze the water out into a bottle or cup. The filter also comes with a straw which is included.
If you're looking for even more versatility, you can also screw the filter onto almost any disposable plastic bottle or attach it to a hydration pack. In addition, the filtration device also comes with a collapsible mylar pouch for easy transportation and storage.
Exceptional filtration
The Sawyer Mini Water Filter supplies users with an outstanding level of water filtration, allowing them to drink any water, regardless of the water source.
All the filters that are manufactured by Sawyer are air tested three times prior to leaving the facility, ensuring that each filtration device is fully functioning without the leakage of pathogens through fibers.
Weight, Size & Build Materials
The Sawyer Mini Water Filter is the lightest and most versatile water filtration system that Sawyer produces. It only weighs 2 ounces and is able to fit directly in the palm of your hand.
This is essential, as you'll be able to take it along with you on camping and backpacking trips without having to worry about it weighing you down. In addition, the size is perfect as it reduces the amount of space it takes up wherever it's stored. It's even small enough to fit into a sling bag like my patagonia atom sling that I recently reviewed.
It's made with a hollow-fiber membrane which offers users a high flow rate when filtering the water. The water isn't stored in the membrane which prevents the contamination of sitting water.
The filter membrane is a reusable pouch that you'll also be able to use in a 16 fl. oz. Sawyer water filtration system as well. The syringe that comes with the filter is used to backflush the filter in order to maintain a high flow rate and prevent further contamination.
The size is 1 x 5 inches in dimensions which means it fits in the palm of your hand. So whether you're backpacking or travelling overseas, you'll be able to pack it in any size of backpack or suitcase. This is what's great about the Sawyer Mini is that it's compact in size so it doesn't take a lot of effort to carry it with you.

Value
When you're in the outdoors, you want to be well prepared. Of course, you'll have a tent with you, sleeping bag, camping stove, but what you really need is much more basic than that: clean water.
You may be able to carry gallons of clean water with you and have the bottles stored in your car, however, it's not convenient. In fact, it's a huge hassle and takes up a lot of space in your vehicle – if you have one, that is. This is why the Sawyer Mini Water Filter is a necessity.
It provides you with the most basic need which is clean water. You no longer have to invest in gallons of water for your camping trip or having to boil water in order to clean it. The amount of time we invest in making sure our water is clean and drinkable is unnecessary, especially when we have a filtration device which will clean up to 100,000 gallons of water.
So, when you compare it to buying water and the time spent in boiling water, the Sawyer Mini Water Filter is a steal just on that aspect. Not to mention all the features that come with it and the fact that you'll be able to take it with you on any trip, regardless of where you're going.
If you're backpacking or camping, you'll love this filtration system because of its compact size and usability. If you're travelling domestically or internationally, you'll be able to have clean water in places where you're unsure about the levels of bacteria and pathogens.
And, lastly, if you're in an emergency situation, such as a flood, earthquake or drought, having a filtration system will ease your mind when needing the most basic essentials such as clean water.
So, the value of the Sawyer Mini Water Filter far exceeds the price and in the long run, will save you time and money since the filter is reusable for up to 100,000 gallons.
In addition, the Sawyer Mini Water Filter is made in the USA so you know it's a high-quality and reliable product. Whether you're an outdoorsman or not, this filtration system is something everyone should have in their home.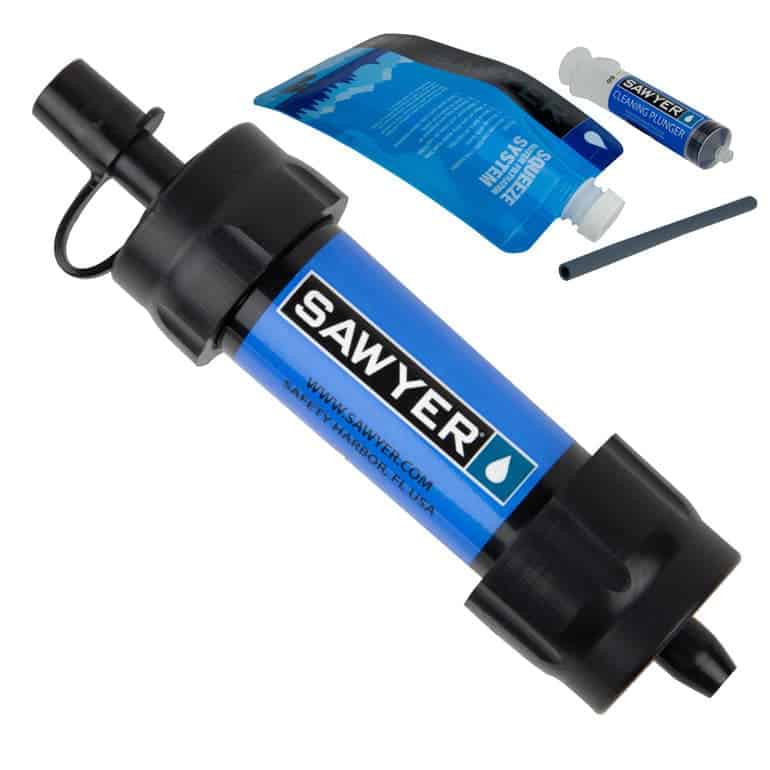 Features & Specs:
Weight: 2 ounces
Longevity: Up to 100,000 gallons
Filter Material: Hollow Fiber
Comes with 16 ounce pouch, drinking straw and cleaning plunger
Conclusion
If you're worried about the cleanliness of your water, you shouldn't be. Why? Because you have the Sawyer Mini Water Filter which will be able to ensure you of clean water from dangerous bacteria and pathogens. As campers, hikers, backpackers and people who want to be prepared for an emergency, this is an essential item you need in your backpack or your emergency kit.
It's lightweight, highly versatile, and is reputed to ensure that your water is decontaminated from 99.99999% of all bacteria, protozoa, and pathogens. The last thing you want is not to be able to trust the water you're drinking. So, ease your mind with a proper filtration system that'll do the job of cleaning the water for you.
If this is the outdoor tool for you, head over to SAWYER and pick one up for your next adventure.
Ideal for outdoor recreation, hiking, camping, scouting, domestic and International travel, and emergency preparedness
High-performance 0.1 Micron absolute inline filter fits in the palm of your hand and weighs just 2 ounces; 100% of MINI units individually tested three times to performance standards by Sawyer …