The Definitive Guide to Wild Camping
When you go camping, the whole purpose is to immerse in nature and remove yourself from the daily grind of work, responsibilities, kids soccer games, and social media. Camping gives you the opportunity to put your daily life on pause and just sit back and relax.
But sometimes, the campground you go to is almost like being at home. There are children everywhere, people drinking, loud music, basically, everything but peace and tranquillity.
This is where wild camping becomes highly attractive and it's literally you and the wilderness. If you're not sure what wild camping is, well, don't worry. In this guide, we're going to tell you everything you need to know about it.
What is wild camping?
You may be asking yourself, "what is wild camping and how is it different from regular camping?" It's a good question. Wild camping is actually quite a broad definition as it covers various types of camping.Essentially, wild camping essentially means camping away from campground facilities and right in nature.
Now, it varies for each camper. Some people take up wild camping by going into the mountains or woods for a selected period of time, away from all civilization, including laundry and restroom facilities. While, for others, wild camping is pitching their tent in the wild, however, close enough to restroom facilities – however, still at a distance from other people.
You can wild camp with a tent, portable hammock, caravan, SUV tent, just a sleeping bag. There aren't any rules to how you should camp in the wild, however, the rule of thumb is that you're actually camping in the wild rather than a government or private campground.
Wild camping gives you the privacy and ability to connect with nature that many campgrounds cannot provide. Think of it as your own private getaway.
Is it legal?
Now, wild camping sounds amazing right about now. You're in your very own oasis, away from other people and fully immersed in nature and your surroundings. You may be thinking that this might sound too good to be true. If wild camping was allowed, then why would people use campgrounds, right? Well, the laws surrounding wild camping differ from country to country.
In Scotland, for example, a major loophole in the Land Reform Act which allows wild camping. However, there are some guidelines that wild campers must follow. In Scotland, if you wish to camp in the wild, public hill land is permitted, you must camp within 100m from a road, and you must take all your garbage with you when leaving. Other than that, if you follow these rules, you're able to freely camp in Scotland.
So, in other words, wild camping can be legal or illegal, it simply depends on what state you're planning on camping in. If you're unsure, it's best to contact the local government of the area you're wishing to camp in. That way, you know ahead of time what the rules and regulations are regarding wild camping. Of course, that doesn't stop many people from doing it anyway.
Wild Camping Etiquette: Dos and Donts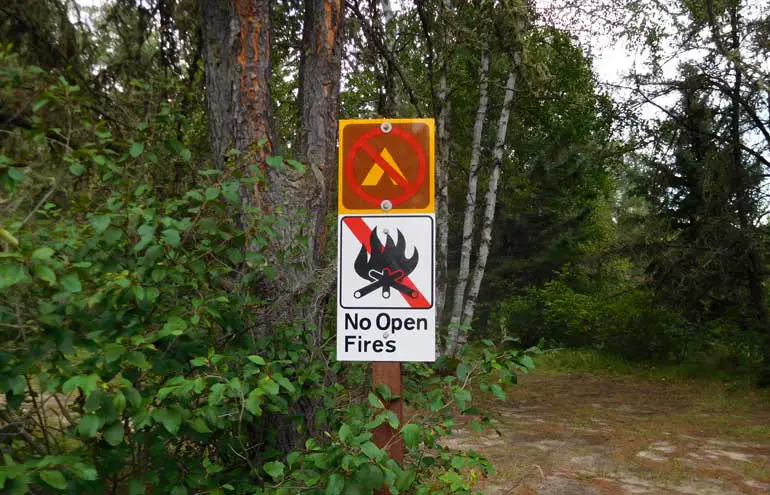 Though you may have already been camping, going to a campground is a little different than wild camping. There are some etiquette which will be needed for wild camping that you would never think of if you're at a campground.
Of course, you don't have to follow this etiquette to a T, however, by taking them into consideration when you're wild camping, you're proving to the people against wild camping that you're capable of handling the responsibilities that come with the privilege.
Here are some important etiquette dos and donts when wild camping.
Never leave an open fire
This is paramount. When you're camping at a state or private campground, the facilities provided for you are designed to keep you and the environment safe. For example, lighting a fire at a campground, you're usually supplied with a fire ring which contains the flame.
However, when wild camping, you're not provided with a fire ring, instead, you're camping in the middle of nowhere. This means the risk of having a fire uncontained, resulting in it spreading is very high. The last thing you want is to be held responsible for destroying the ecosystem in which you camped in.
Take everything with you – leave no trace
When you're at a campground, you're responsible for cleaning up after yourself, however, they do have staff which maintains the campsite as well, so if you forget to throw something out, they'll do it for you.
However, when you're wild camping, there's no one to pick up after you. When wild camping, make sure you carry out all the trash you created, leaving the site just as you found it.
Camp away from people's property
Make sure that you pitch your tent away from people's property. They may not feel comfortable knowing the people are camping close to their homes. However, if you're discreet, you shouldn't have any problems.
Choose your toilet
As you should know, you're not going to have a restroom available for you when you're wild camping. The wilderness is your toilet! But, you want to choose the right place to go to the bathroom.
Find a sheltered spot approximately 50 meters away from any water or downstream. Then, you'll want to dig, that's right, dig a 6 to 8-inch hole and cover the hole with earth once you're done.
Be considerate of nature and neighbours
Wild camping comes with its own risks. If you set up camp and locals ask you to leave, you need to respect their privacy and do as they ask. If you need to relocate, move away from main paths.
Leave early and arrive late to the location
Wherever you're choosing to pitch your tent, make sure that you arrive late as they'll be fewer people around. If you're deciding to pack up as early as possible to avoid people.
Basic Kit for Wild Camping
If you're considering going wild camping, then there's a decent chance that you're already someone who enjoys nature. But if you're used to staying at a campground or going on daily half-day hikes, this will be a step up from what you're used to.
In fact, you may be surprised at how challenging it can be at times. We often forget the basics when we're used to using campgrounds and other regular facilities. Though it's great that you've decided to try something new, however, you need to be prepared with the basics.
And since you're going to be wild camping, you'll most likely use a backpack to store all your equipment. So, here are the basics you'll be taking along with you on your wild camping trip.
Think light
You need to change your mentality. When you used to camp at a campground, weight was not that much of a concern, you were more worried about the trunk space. Well, now, you have two things to keep in mind: space and weight.
If you're wild camping, you're going to be backpacking which means everything you need will literally be on your back. So, you no longer get to think about the little extra gizmos and gadgets to bring along with you.
What you need to think about are the basics, the true essentials that you absolutely need with you. The rest of this list will comprise of things that are essential in your backpack. Keep in mind that if they're not on the list, you most likely don't need it.
Safety first
You're wild camping, of course, your friends and family know where you're going to be going, but if something happens it'll be a little harder to locate you. But, you can prepare yourself with the right safety gear.
Having knowledge of how to use a compass and map will be a huge asset if you happen to get lost. Of course, having a GPS with you and a cellphone are crucial, however, don't rely solely on technology to get you out of a sticky situation.
You'll also want to make sure that you have proper clothing which is reflective, as that can help you be easily spotted if needed. A flashlight is also required as well on these backcountry trips as you won't have any light when night comes.
Go by the weather
You need to always check the weather at least a day or two before your trip. Knowing what the general weather will be like will help you decide on the clothing you'll need to pack along with you.
If the weather will be harsh, then you'll need warmer clothes rather than if it was to be warm and sunny. Though, conditions can change quite quickly, so you should always have some warmer clothes with you just in case, regardless of the season.
If it's your first-time wild camping, then choose a period where the weather is generally better. You want your first time to be a good experience.
Lightweight Shelter
You may be thinking that you just need a tent, but you need a specific tent: a lightweight one. When you were camping at a campground, the weight of the tent didn't matter since it was being transported by car. However, now, the tent is going to be in your backpack, so remember, weight is everything.
Though you don't have to choose a tent, you can opt for a hammock as well, depending on what you feel would be comfortable for you. If you're choosing a tent though, you'll want either a one-person or two-person tent. Try to limit the weight of your shelter, tent or hammock, between 1.5kg and 2kg. Anything weighing more will be too heavy for you to carry.
When it comes to choosing a tent, there are a variety of tents which offer the budget-friendly appeal but also offer you a lightweight design. Of course, you do get what you pay for, so, don't pick the cheapest shelter there is.
Sleeping gear
Though you have your shelter, you're going to need something to keep you warm when you're inside of it. Choose a sleeping bag which suits the season and general weather conditions you'll be camping in.
Of course, you'll want the sleeping bag to be lightweight and compactable. A three-season sleeping bag covers all your bases, so, if you're planning on wild camping throughout the year, opt for that. You have two types of sleeping bags: down and synthetic. Though down is known to be warmer, synthetic is lighter and will be able to keep you warm if it gets damp.
In addition, to a sleeping bag, you make your nights more enjoyable and remove the direct contact with the ground, you can bring a sleeping pad along with you. It'll insulate you and prevent your sleeping bag from becoming damp. Plus, they'll be less likely of a chance that you'll wake up with a stiff neck if you use a sleeping pad, so it's a great investment. If you want a pillow, you can make some by rolling some clothes together or you can buy a camping pillow.
Cooking gear and food
Now, we can easily get carried away when it comes to cooking gear and food. If you've gone camping before, you know that your trunk is mostly filled up with your kitchen utensils – ones that you never end up using on your trip.
But now that you're backpacking, you need to only carry the bare cooking essentials. You'll want to bring with you a lightweight single burner stove, gas canister, lighter, pot, a spork and a mug. That's it.
By only bringing one pot with you, you'll be able to minimize the weight, however, still be able to cook all your meals. You can opt for dehydrated camping food as well which is a great way to cut down weight, however, this greatly depends on how long you're going to be camping for.
Dehydrated foods only require water for preparation, so they're easy to use. When thinking about meals, choose foods which are high in protein as you're going to be exerting a lot of energy throughout the trip.
Water
Having a source of water is one of the most important necessities you'll be needing. Now, if you're pitching your tent near running water, you'll be able to carry less bottled water with you. You can either boil your water and fill it in your bottle or use a water purification device with you that allows you to drink from almost any water source.
Backpack
You may not have thought about it but the backpack you're going to be carrying also matters. There are a couple things you need to think about when looking for a backpack.
Firstly, you'll want one that's lightweight. Of course, this means that some of the comfort-factor will be removed, but you'll be able to carry more things. Also, consider the size. The large a backpack is, the more things you'll be able to put inside, however, that means the heavier it'll be. This is why you'll want something in the middle.
A "hiking" pack rather than a "running" pack will be able to keep the weight down. However, if you're wild camping for a longer period of time, then you'll need a larger backpack.
Bathroom essentials
You won't have any restrooms around you, unfortunately. This means you're going to have to carry your own restroom tools. Bring along toilet paper, dog poop bags and a trowel. This is all you need in order to dig a hole and go to the bathroom.
Proper hiking clothing
What you're going to wear is extremely important. You don't want to overheat, but you also don't want to be underdressed. This is why layering is crucial.You'll want baselayers, a mid-layer top or softshell/windproof jacket, waterproof pants and jacket, hiking socks, a hat and gloves.
Sanitary products
If you're a female, you're going to want to bring the necessary sanitary items with you. Just remember that you'll need to carry them out of the camp. If you can, avoid going wild camping during menstruation.
The wild camping checklist
Though we listed all your essentials above, it's nice to have everything written in a checklist, right? Here is the wild camping checklist you should follow when preparing your backpack:
Flashlight
Cellphone and charger
Compass
GPS
First-Aid Kit
At least one piece of reflective clothing
Lightweight shelter: hammock or tent
Sleeping Bag
Sleeping Pad
Camping pillow (optional)
Lightweight single burner stove
Gas canister
Lighter
Pot
Spork
Mug
Dehydrated meals
Coffee and/or tea
Water bottle
Water purification device
Lightweight backpack
Toilet paper
Trowel
Dog poop bags (optional)
Hiking clothing: base layers, mid-layer or softshell/Windstopper jacket, waterproof pants and jacket, hiking socks, hat and gloves.
Where can you wild camp?
So now that you know everything there is about wild camping, where can you actually wild camp? Well, here are some of the places where you'll be able to pitch your tent wherever you'd like.
Scotland
Scotland is one of the best places for you to experience wild camping as you have free range to almost camp anywhere. A giant loophole in Scotland's' Land Reform Act allows wild camping on public hill land, just as long as you're 100m from a road and pick up your garbage behind you. Not bad, right?
This means you have a vast amount of options when it comes to where you're going to set up camp. Falls of Falloch is an amazing spot, especially if you're into kayaking. The eastern shores of Loch Lomond are beautiful and secluded while the Hebrides are also a great spot for magnificent views.
England and Wales
In general, you're not able to wild camp unless the landowner gives you permission, however, wild camping is generally accepted above the "intake walls" on mountain areas. Wild campers are typically advised to stay within 100m from a road, travel in small groups and stay for only a short period of time. So, where's a good spot to set up camp?
In south Devon, south-west of England, the best spot for you to wild camp is in Dartmoor. The authorities in Dartmoor have a relatively easy and carefree approach as camping is permitted anywhere on the moor. Dartmoor provides you with endless possibilities when it comes to setting up camp. Other southern areas such as Styhead tarn and the Brecon Beacons are also amazing places to camp wild in.
Is it safe?
Of course, you're wondering if wild camping is safe. You may be thinking that with wild camping, you lack protection, however, compared to driving or walking through a city at night, wild camping is extremely safe. The most important thing you can do is make sure that you're properly prepared and you shouldn't have any problems.
Before going camping, make sure someone knows where you're going and when you'll be back. Also, care with you the proper safety gear and equipment needed in case you get yourself in a sticky situation. Take some time before your trip to get acquainted with how to use a compass and read a map. If you're not feeling comfortable, pack up and leave. If you're no longer having a good time, no one is telling you to stay.
Conclusion
If you're interested in wild camping, this guide will properly prepare you for your journey. You may be unsure if you're going to be able to do it, but as long as you do some research about the area you're wanting to camp in and prepare yourself with all the essentials, there's no reason why you're wild camping trip won't turn out to be a blast.
Follow this guide, take all the time you need to find gear that's right for you and when you're ready go out and enjoy all the amazing things that wild camping has to offer. You'll be able to see sights and experience things that a campground would never let you do.