SUVs are becoming a popular vehicle for many people who enjoy the wild outdoors. They give you the ability to transport everything you need for camping while also giving you that extra comfort while on your road trip.
SUV tents allow your vehicle to become a camper. Though many people love the idea of having a camper, not everyone can afford to travel with one.
How to Choose the a SUV Tent
Size
When choosing an SUV tent, you want a tent that'll give you protection from the elements and comfort. This is when size plays a big role in the choice of your tent. The size of your tent will be limited to the type of vehicle you have.
When it comes to SUVs they're able to accommodate 2 to 3 people comfortably. Of course, there are models which can hold more people, however, the more people it accommodates, the higher the price.
When choosing a tent, a good rule to follow is to choose a tent which can sleep one more than actually needed.
Seasonal use
Tents are typically classified into three categories: 2, 3 or all-season use. This is directly correlated to the materials used and features provided when manufacturing the SUV tent.
Summer SUV tents are typically lightweight with ventilation panels for airflow. While all-season tents are slightly heavier and come with extra poles for support.
When choosing an SUV tent, make sure that you look at when you're going to be using it. This will help you decide what type of SUV tent you need. The last thing you want is to go camping during the late fall with a summer tent.
#1 Napier Backroadz SUV Tent

Professional Camping Rating: 9.6 / 10
| Price Range | Dimensions | Material | Weight | Waterproof |
| --- | --- | --- | --- | --- |
| $ | From 5-feet | Polyester | 14.25 lbs | Yes |
The Napier Backroadz SUV tent is definitely a favorite among campers. It's a no fuss, quick and easy to use tent which allows you to sleep comfortable either on or off of the ground.
You just connect it to your SUV or pickup truck and you're ready to use it. It's simple in design but gives you enough airflow.
There's one main door and four large windows, so, there's no problem with condensation while sleeping. The storm flap on the main door provides you with extra privacy and a full rain fly is included. The bathtub style floor makes sure that water stays out.
This tent is great for those who enjoy camping throughout the year as this tent is a 3-season tent. So, though you're given enough ventilation, the tent is also thick enough to endure harsh rains and winds.
The SUV model of this tent allows you to use your vehicle's cargo area for storage or as an extra sleeping space.
Though this comes in various sizes, the larger tent is 9' x 9' and is able to comfortably sleep 4-5 people.
Napier is quite well-known, thus stand behind their product. Their tents are given a one-year limited manufacturer's warranty.
Spacious 10' x 10' tent providing over 7' of headroom and sleeps 5 adults
The universal vehicle sleeve fits all CUV's, SUV's, and Minivans. The easily adjustable sleeve straps ensure a bug free and watertight fit
Full rainfly with taped seams and built-in storm flaps in the windows and door provide privacy and ultimate weather protection …
#2 Rightline Gear Pickup Tent

Professional Camping Rating: 8.1 / 10
| Price Range | Dimensions | Material | Weight | Waterproof |
| --- | --- | --- | --- | --- |
| $$ | 26.4 x 8.3 inches | Polyester | 21 lbs | Yes |
The Rightline Gear SUV tent is another great tent that allows you to experience the outdoors while bringing with you some of the luxuries from home.
This tent is actually very versatile, as you can adjust it to connect the vehicle sleeve to any SUV, minivan, crossover, Jeep, pickup truck, or wagon. So this tent doesn't limit your options in comparison to some of the other SUV-only tents. You can easily disconnect it from your vehicle as you simply tie up the vehicle sleeve and loop the fasteners. That way, you can explore the wild with your SUV while your tent stands firmly in its camp spot.
The SUV tent itself is packed with features such as two gear pockets, a lantern hanging hook, glow-in-the-dark zipper pulls and a bathtub floor. In addition, it also comes with no-see-um mesh windows, providing you with extra protection and privacy. For extra privacy, the windows and doors come with storm covers which you can close.
This tent is also designed to make sure you stay dry. It's water resistant design will ensure that you're kept dry during stormy nights. Everything you need in a tent is already designed in this one. No need for ground tarps or extra supplies – it's fully packed.
This is another tent made by Napier. They're a well-known outdoor gear company and they make great products such as this one, the Sportz Dome-To-Go SUV tent.
This tent sleep four people comfortably so is ideal for couples or small families. Plus, it allows you extra sleeping space or storage space with your vehicle's cargo area.
You can also convert this tent by unzipping the vehicle sleeve to convert it to a stand alone tent.
Shock-corded fiberglass poles are also included with the tent as they'll assist in helping you set it up faster and easier. It also includes a full length rain fly with taped seams which will give you extra protection from the elements, including a 6' x 6' awning for shade – a feature which many SUV tents do not offer.
The tent itself comes with 2 large entrance doors and 3 no-see-um mesh windows for proper ventilation during the warm summer months. Inside the tent, you're also provided with 2 internal pockets and a gear lost for storing items off of the ground.
All in all, you're given everything you need for a properly designed tent.
Sleep Off The Ground: Nothing Beats The Comfort Of Your Vehicle; Plus The Suv Tent Is Free Standing When You Go About The Day'S Adventures
Country Of Origin : United States
Family Sized: Tent Comfortably Sleeps (4) Adults And Vehicle Cargo Area Sleeps (2) Adults
Quality Weatherproof Construction: Water Resistant Fabric With Tape Sealed Seams (Pu 2000Mm) Protects You From The Elements …
#3 Sportz Footprint SUV Camping Tent

Professional Camping Rating: 8.8 / 10
| Price Range | Dimensions | Material | Weight | Waterproof |
| --- | --- | --- | --- | --- |
| $$$ | 10 x 10 feet | 1200 PU Polyester | 53 lbs | Yes |
If you're on a shoestring budget, then this is the perfect SUV tent for you. This tent allows you to wrap the cargo area of your vehicle, giving you complete access for storage or additional sleeping room.
Surprisingly, for the price, it's an amazing steal.
It's extremely roomy, 10 x 10 feet, and sleeps comfortably 5-6 people. If you're wondering how much headroom you have, don't worry, this tent is pretty big. It comes with over 7 feet of headroom and a 7 x 6 foot floorless screen room.
The sleeve can attach to your vehicle with ease and converts your cargo space into an additional sleeping space as well. You can also transform the SUV tent into a full ground tent by removing the vehicle sleeve completely.
It comes with new steel and fiberglass poles for extra support and is designed as a one-person set-up. The great part about this SUV tent is that it's really designed efficiently, even coming with an expandable carry bag for additional storage.
For price and what it offers, you can't go wrong with this SUV tent. It gives you protection, space and all the features you need.
Roomy 10- by 10-foot tent sleeps 5-6 people with over 7 feet of headroom; 7- by 6-foot floorless screen room
Sleeve attach to your vehicle to convert cargo space into sleeping space
Transform the vehicle tent into a ground tent by fully removing the vehicle sleeve
Features new steel and fiberglass pole structure for one-person set-up …
#4 Sportz Dome-To-Go Truck Tent

Professional Camping Rating: 8.4 / 10
| Price Range | Dimensions | Material | Weight | Waterproof |
| --- | --- | --- | --- | --- |
| $$ | 8.5 x 8.5 feet | Polyester | 25 lbs | Yes |
8.5 (L) x 8.5 (W) ft. tent sleeps 4 people along with the extra sleeping or storage space provided by you vehicle's cargo area
Unzip the removable vehicle sleeve to convert the vehicle tent into a stand alone ground tent
Shock-corded fiber glass poles for a fast and easy set up
Includes a full length rain fly with taped seams for extra protection and 6' x 6' awning for shade …
#5 Explorer 2 SUV Tent

Professional Camping Rating: 7.2 / 10
| Price Range | Dimensions | Material | Weight | Waterproof |
| --- | --- | --- | --- | --- |
| $$$ | – | Polyester | 5 lbs | Yes |
The Explorer 2 SUV Tent is a clever and simple option for a SUV tent. The plastic coated hooks of the bungy cords attach to the vehicle's underframe for a quick and easy setup.
The Explorer 2 SUV Tent includes a no-seeum insect screen to keep out those pesky flies and insects.
The tent itself is made from durable 5-oz polyester and weighs around 5 lbs. It also includes a storage bag for easy storage and transportation
If you're looking for an affordable and simple SUV tent, the Explorer 2 is the choice for you.
EASY SETUP - Bungy cord with plastic coated hooks attach to the vehicle's underframe
Outer door panels fold up and tie back for maximum ventilation, or zip and tie at bottom corners for privacy.
No-seeum insect screen.
Inverted 'T' layout on insect screen and two way zippers provide easy entry into rear of vehicle …
#6 Tentris ArcHaus SUV camping tent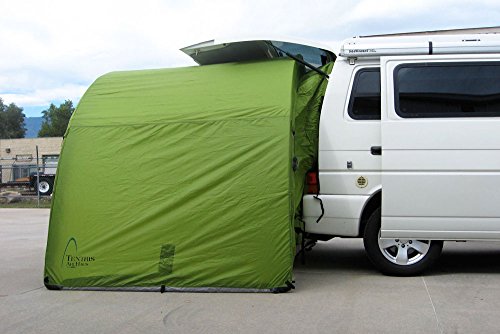 Professional Camping Rating: 7.7 / 10
| Price Range | Dimensions | Material | Weight | Waterproof |
| --- | --- | --- | --- | --- |
| $$$ | 10 x 6 feet | Nylon ripstop | 24 lbs | Yes |
This is another great tent as it offer many features that are simply nice to have.
This tent feature three interchangeable doors which zip on and off to arc dome. It creates a fully enclosed shelter which can stand alone or be connected to the vehicle hatch or side door. There are two solid doors with screens and one tailgate connector that comes with a 6' stretch sleeve for mid-to-large sized SUVs and cars.
The material is made out of high water-resistant and tear-resistant nylon ripstop fabric and 2000mm coated Polyester, so, it'll be able to take a beating that usually happens to tents when you go camping. Thus, this tent is outstanding when pairing it against children and harsh weather conditions.
It's pretty lightweight for an SUV tent, so, it'll fit comfortably in your trunk without taking up too much space.
In addition, it's made with aero patented technology and a sun shade canopy which isn't very common in SUV tents, though, a nice feature to have. This aerodynamic tent is specifically designed to be able to withstand the external elements, so you don't have to worry about it blowing away.