Warmlite Three-Person Tent – Full Review
Looking for a lightweight and durable tent for your next camping trip? Check out my full review of Warmlite Three-Person Tent.
Looking for another size tent? Check out these other popular tents here:
My Verdict
Professional Camping Rating
Usability Score
Weight & Size Score
Durability Score
9.2

★

★

★

★

☆

★

★

★

★

☆

★

★

★

★

★
When it comes to camping and backpacking, there are a couple pieces of equipment which are absolutely necessary for a successful and hassle-free trip. You need a proper sleeping bag, a flashlight and of course, a tent.
Now, when it comes to choosing the right tent, there are endless brands and styles on the market, however, the Warmlite Three-Person Tent may be a great option if you're looking for a lightweight and durable tent.
Features
There are tons of tents on the market, so, you have a lot of options to choose from, however, not all of them are up to standards. Well, the Warmlite Three-Person Tent sets the bar quite high in terms of quality.
The features on this tent are practical yet it's made of high-quality materials which is what makes it above the rest. Let's take a look at some of the features of the Warmlite Three-Person Tent.
Weight
If you're camping, you don't want your car to be filled to the brim with bulky and heavy camping gear. If you're backpacking, you want your backpack to be as light as possible since you're the one carrying everything you need on your own.
The Warmlite Three-Person Tent is one the lightest storm resistant tents that you'll find on the international tent market. The material, silicone-coated ripstop nylon, is lightweight, yet durable, making it easy to carry and store.
Easy set-up
After a long day hiking or a full day of driving to your destination, you just want to unpack and get the tent up as quickly as possible. The less amount of work you have to do when setting it up, the happier the campers are.
The Warmlite tent is fast and easy to set-up as it's designed with two permanent curved poles that slip easily into full-length sleeves. Within a couple of minutes, the tent is completely set-up and standing, regardless of the weather.
It only requires 4 stakes, however, is highly durable against strong winds and rain. So, if you were worried about your tent flying away, don't, as it's aerodynamic design reduces wind load stress to the tent.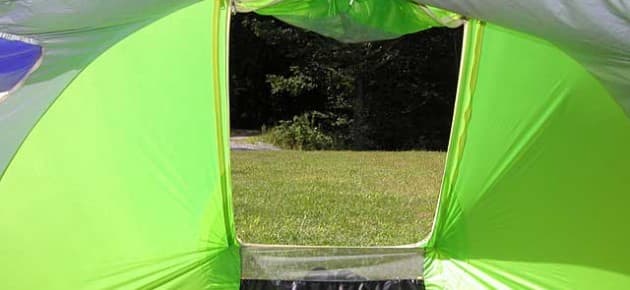 Adjustable Vent System
When you're camping, you want to have control over the ventilation. Sometimes you'll be camping during the summer and other times it'll be during the fall where the weather is already cooling down.
The adjustable vent system allows you complete control of the warmth and humidity of the inside of your tent. A common issue is that people wake up covered in sweat because they lack proper ventilation. However, Warmlite included this feature to prevent that from occurring in this tent.
Optional Side Windows
A common complaint with tent users is the claustrophobic and stuffy feeling that many tents leave them feeling. This is where the optional side windows play a huge part in this tent's features.
With the optional side windows, you'll be able to open them from the inside, once you remove the outer covers, for additional views and proper ventilation.
You'll have full control over them, opening them as wide as you want or keep them tightly closed during harsh weather conditions. Though, they do not have an extra effect on storm resistance.
Color choice
Now, you may not be thinking that the color of the tent is such a big deal, however, depending on what you're using it for it is, in fact important.
Warmlite wanted to create a tent which was not only used for campers and backpackers but also for those who enjoy hunting and biking. The tent comes in either dark or light colors.
Dark Colors: A dark-colored tent is ideal for hunter, bikers or for individuals who are trying not to be spotted in general. They're also ideal for those who are filming or mountaineers as it's much easier to spot a dark tent against the snow in comparison to light colors.
Light Colors: A light-colored tent is generally better for hikers, backpackers, and summiteers as it's brighter and easier to find against dark surroundings such as a forest.
Durable material
When you're looking for a tent, you need one which will be able to handle all types of weather conditions. In addition, you're expecting your tent to last you a couple years, so, you want a tent which will be made of durable and high-quality fabric.
The Warmlite Three-Person Tent is made out of silicone-coated ripstop nylon. This material is not only highly durable, it's also tear-resistant so you won't have to worry about it snagging or tearing on a branch or sharp rock.
The silicone coat creates a waterproof feature and also stretches when wet, thus, can handle harsh weather conditions with ease.
Weight, Size & Build Materials
Of course, weight is always a concern when you're looking for a tent. Though you want a tent that'll be able to handle winds and rain, you don't want a tent that's going to weigh you down, especially if you're backpacking.
The Warmlite Three-Person Tent is a universal tent, ideal for both summer and winter camping, thus, it will be slightly heavier than summer-only tents. It weighs 3.75 lbs (1.70 kilos) which is slightly heavier than your typical summer-only tent.
However, as said before, since it's a universal tent, you'll be able to use it year round. So, if you're a year-round camper, then this is a great option for you as it'll support you through wind, rain, snow, and sun.
Of course, if you wish to reduce the weight of the tent, you can switch the poles and remove specific features that'll shave off a couple grams here and there. So, you're not completely out of options if you like the tent but don't like the weight of it.
The tent itself is made out of silicone-coated ripstop nylon which means that it's tear resistant. The ripstop nylon will be able to handle and support you through tough winds and rain, while the silicone-coat gives the ten extra durability and makes it waterproof.
Sometimes even in the summer, there will be a flash storm, so having a waterproof tent when you forgot your tarp will help you out a great deal.
The tent, when packed, is 5" x 17" making it a perfect size for camping trips as you'll be able to store it neatly in the trunk of your car.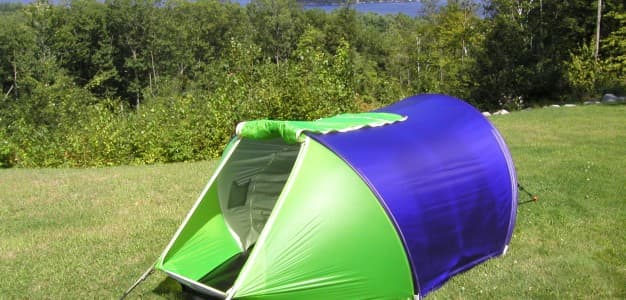 Value
When you're considering purchasing a tent, you're looking for a couple factors. You want a tent that'll be able to withstand weather conditions, a tent that won't make you feel stuffy and claustrophobic and lastly, a tent that'll be long-lasting.
This tent isn't the cheapest tent on the market, however, it's USA-made and customizable, meaning you're not buying just any tent, you're buying a tent which suits you.
You can add a bigger door, choose the colors, add wind stabilizers if necessary and opt for side windows as well. In essence, you're really choosing a tent which you created yourself.
If you're not on a tight budget, then we recommend taking a look at the Warmlite Three-Person Tent as it's a respectable price for the features and quality you're receiving.
Of course, if you're simply looking for a one-time tent for a spontaneous trip with your friends, you definitely don't have to invest so much in a tent. However, for people who are more serious about camping and want a tent that'll last, then this is a tent you should consider seriously.
Features & Specs: Weight: 3.75 lbs Size when packed: 5″ x 17″ High wind security Single-wall and double-wall options Silicone coated fabric Sealed seams
Conclusion
Picking a tent isn't as easy as people think. You're essentially choosing the shelter that's going to protect you through either windy or stormy weather. Thus, you want a tent that's reliable and high-quality.
Whether you're a hiker, hunter, biker, or camper, the Warmlite Three-Person Tent is a great option as it's compatible and customizable for everyone's needs. Though people may think a tent is just a tent, there's a huge difference between a cheap tent and a high-quality one.
The Warmlite tent is a perfect example of what you get when you spend a little bit more on your camping essentials. With this tent in your car, you'll be certain that you can have a relaxing, safe, and secure trip knowing that you have the proper shelter to support you and your family.
The bottom line is, the Warmlite Three-Person Tent won't let you down.
If you're ready to try out this three-person tent, head over to Warmlite and pick one up for your next camping trip.