If you're planning a trip into the mountains or a lovely lakeside break and don't fancy facing another hard floor all night long then you're in luck. There are plenty of camping mats around that are designed specifically for this in mind, no longer will you wake up multiple times or have to suffer with aches the next morning, take a look at our top picks for the best camping mat, perfect for any weather and any surface, and we're sure you'll enjoy a brilliant night's sleep anywhere.
Looking for other sleeping gear? Check out these other popular sleeping products:
How to Choose the Best Camping Mat
Material
Be sure to do your research to make sure that you are investing in a good quality mat. This will ensure that it will last you a good number of years without needing a replacement due to normal wear and tear. If you're planning a few more daring expeditions then perhaps look at mats that have been designed for tougher environments and are more durable.
Price
These don't need to cost the earth, make sure to look around for the best prices as many companies do a few variations on ranges and regularly put on special offers. It's also worth looking at what's included in the price as some often come with pillows, repair kits and carry cases included.
Weight
Finally, the obvious, don't get a sleeping mat that's too big or too heavy to fit into your backpack easily. If you're getting a larger one, consider two that can join together in order to share the load. You don't want to have to take out some of your other camping essentials in your pack in order to be able to fit in your sleeping mat.
#1 TETON Sports Camp Pad

Professional Camping Rating: 9.6 / 10
| Price Range | Weight | Material | Size |
| --- | --- | --- | --- |
| $$$ | 4.3lbs | Brushed Canvas | 75 x 24 x 2 |
This camping pad is suitable for everyone, whatever your age or size. What's great about this one is that it comes with a built-in storage pocket which can hold your phone, your torch or your keys which comes in really handy. There's also an optional zippered pillow pocket to make sure everything stays in place through the night.
It's a great choice if you need an extra mattress around for any guests staying over, or as a stand alone ground pad for when you're out and about.
CAMP COMFORTABLY: Thick, comfortable camping pad feels just like your bed at home; Open-cell foam pad; With this sleeping pad you'll have your most comfortable camping trip yet
EXTRA INSULATION AND COMFORT: Camping pad provides another layer of insulation; Stay warm in your sleeping bag with our camp pad, an extra layer of comfort and warmth …
#2 Lightspeed Outdoors Self-Inflating Sleep and Camp Pad

Professional Camping Rating: 9.0 / 10
| Price Range | Weight | Material | Size |
| --- | --- | --- | --- |
| $$$ | 6lbs | Polyester with TPU lamination | 77″ x 30″ x 3″ |
This sleeping pad is self inflating, which saves a huge hassle once you've arrived at your campsite. This mat also rolls down for compact transport once you're finished with it!
At 3″ thick, this mat will give you a comfy night's sleep. You can also add air yourself through one of the valves to customize the firmness of your night's sleep!
Open size: 77" x 30" x 3" Rolled size: 30" x 7.75" Weight: 6.0 lbs
Maximum R-Value of 9.66 keeps you exceptionally warm; Lightspeed's special non slip stretch material hugs your body, while the 3" thick no bottoming out soft foam offers insulation and support. Non-PVC materials eliminates plastic odors and plastic crinkle noises for a more peaceful night sleep …
#3 Wild Affairs Outdoor Hiking Ultralight Camping Foam Camping Mat

Professional Camping Rating: 8.9 / 10
| Price Range | Weight | Material | Size |
| --- | --- | --- | --- |
| $ | 0.9lbs | Camping foam | 72 x 21 x 0.47 |
This pad is designed with comfort in mind, with a thickened padded section in the middle part of the mat.
This gives an additional layer of comfort to your waist and back. It's quick and easy to fold up and store in your backpack so whatever your plans for your day outdoors you won't waste time hanging around the campsite trying to get everything packed up and ready to go.
It doesn't weigh very much either making it the perfect travel companion, which will ensure you get a great night's sleep.
Advanced Comfort: Thicken padded in middle part, providing extra comfort to waist and back.
Easy to Pack: Folding design, space saving and fast-packing.
Ultralight: Egg cell design, weighted only 14 ounces, easy to take along with tent.
Thickness: 0.47/0.7 inches. Package Size: 21 x 5 x 5 inches. Unfold Size: 72 x 21 x 0.47/0.7 inches …
#4 Sea to Summit Ultralight Mat

Professional Camping Rating: 8.4 / 10
| Price Range | Weight | Material | Size |
| --- | --- | --- | --- |
| $$$ | 1.0lbs | Air sprung cells | 2 x 21.5 x 66 |
This sleeping mat has over 180 individual air sprung cells and so it very supportive all through the night. The multifunction valve integrates both inflation and deflation in one and has a pressure adjustment setting to change to match your comfort.
It comes with a high quality nylon stuff sack and a repair kit so you're all set for your next adventure!
Ultralight air mattress provides a soft and comfortable sleeping surface for warm-season (1.1 R-Value) backpacking, adventure racing, bike touring, and fast and light pursuits
Air Sprung Cell construction mimics a spring mattress, maintaining more body contact area and even dispersion of pressure for restful backcountry slumber …
#5 Durable Ultralight Sleeping Pad by Chameleon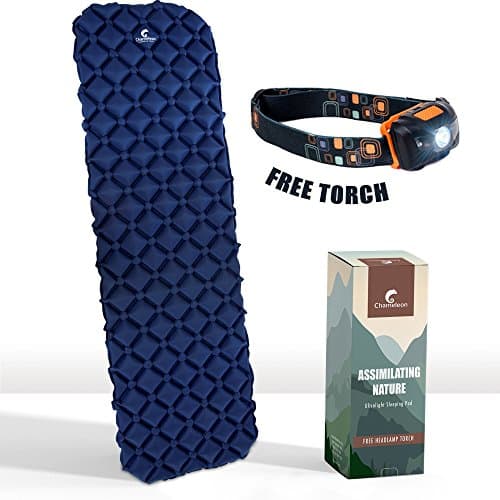 Professional Camping Rating: 7.4 / 10
| Price Range | Weight | Material | Size |
| --- | --- | --- | --- |
| $ | 0.9lbs | Rip stop Fabric | 76 x 22.9 x 2.2 |
This heavy-duty sleeping pad was really made to last, with high-quality materials throughout meaning it's not only durable against any tears but is also soft to the touch. The egg-crate design will keep you comfy all through the night, supporting you no matter which way you sleep.
It's a great balance as it's comfy, warm and also small and compact so it will easily fit into your backpack.
#6 Inflatable Sleeping Pad with Pillow from X-Lounger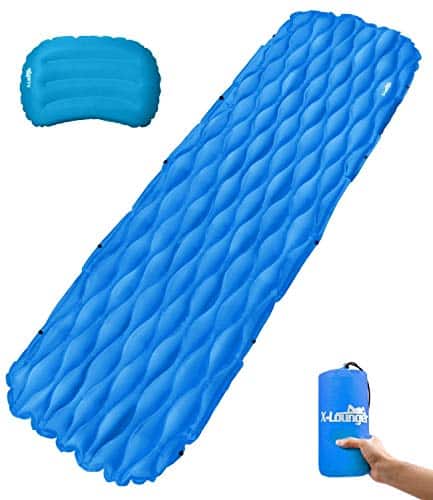 Professional Camping Rating: 9.0 / 10
| Price Range | Weight | Material | Size |
| --- | --- | --- | --- |
| $ | 1.0lbs | 40D Nylon | 75.6 x 22 x 2 |
The stand out feature of this camping sleeping mat is that it has an innovative buckle design which allows you to connect two of these mats together, so perfect for any couples or families going camping together.
It comes with an inflatable pillow which has a U-shape design which is said to relieve your neck of any stress or pressure during the night – so really it's a mat and a massage in one!
It's super easy to inflate and when folded down weighs less than a bottle of water, so it's the perfect travel companion.
#7 Ultralight Sleeping Pad from Top Joy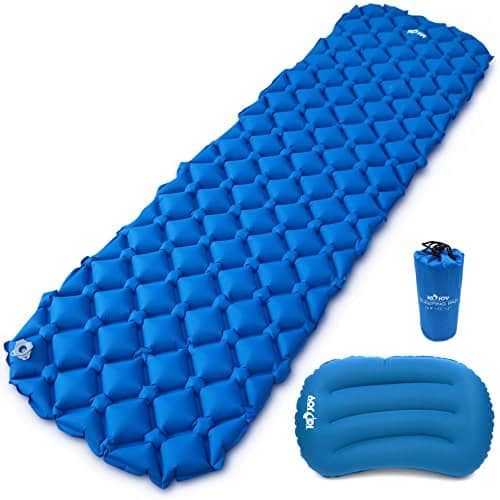 Professional Camping Rating: 8.3 / 10
| Price Range | Weight | Material | Size |
| --- | --- | --- | --- |
| $$ | 1.1lbs | 40D Nylon | 74.8 x 21 x 2 |
Alongside this sleeping pad, should you wish to purchase, you get a free pillow, along with a patch kit. It features a diamond lattice design and can be blown up in just 25 breaths – not much, right?
The quality materials means that it'll be durable against whatever you put it up against. Get ready to explore the outdoors with your trusty Top Joy sleeping mat.