If you've had enough of huffing and puffing trying to assemble a tent in the middle of nowhere then stop right there.
If you ever find yourself up against questionable camping weather and in dire need of getting inside a cosy 4 person tent as soon as possible then you need to make sure you've read our list of the best 4 person tents.
How to Choose the Best 4 Person Tent
Weight
As with all camping gear, don't go all out and buy a super heavy tent as your back definitely won't be thanking you when you reach mile 10. Go for something about 10lbs, this will give you a good quality and enough space whilst being kind to your posture.
Set-Up
Do you want a pop-up tent or are you happy to assemble it yourself? There's good options for both but the ready made ones tend to be a little bulkier than the ones that you have to make-up yourself. So weigh up the pros and cons and decide which one suits your camping needs best.
Height
How tall are you? Do you want to be able to stand up straight inside the tent or are you happy to crawl around? Whichever you decide, be sure to find one that doesn't feel too cramped inside, as there's nothing worse than a stuffy tent where you can't seem to find all your things. And remember, these are four person tents so it won't just be used making house in there.
#1 Coleman Sundome 4 Man Tent
Professional Camping Rating: 9.7 / 10
| Price Range | Weight | Assembly | Peak Height | Floor Area |
| --- | --- | --- | --- | --- |
| $ | 11lbs | Regular | 59″ | 63ft² |
This tent's shape is a 'sun dome' and sleeps four happy campers comfortably. It's got a large for door for easy access and a hooded fly for extra ventilation. The sides are wrapped up, and it has welded seams in order to guard against even the most extreme of weather.
It's quick and easy to put up and take down and even features an electrical access port and interior mesh pockets so there's plenty of storage.
Weatherproof: Welded corners and inverted seams keep water from getting in; Included rainfly offers extra weather protection
Wind and rain tested: Strong frame withstands 35+ mph winds
Great ventilation: Large windows and ground vent for enhanced airflow
Stay connected: E-port makes it easy to bring electrical power inside …
#2 TETON Sports Mountain Ultra Tent
Professional Camping Rating: 9.4 / 10
| Price Range | Weight | Assembly | Peak Height | Floor Area |
| --- | --- | --- | --- | --- |
| $$ | 7.8lbs | Regular | 59″ | 56ft² |
This is an exceptional tent at a relatively affordable price compared to similar products on the market. It gives you a room with a view – on the go! With a full screen tent, which is soft to the touch, it gives you a beautiful view of your surroundings which really, why else are you going camping other than to get back in touch with nature?
There's only three poles so it's easy to set up even with only one person. Finally, it's very lightweight so won't weigh you down too much on your travels.
STAY DRY: Waterproof rainfly with a 360-degree ventilation system for optimal air flow that allows a cool, comfortable night's sleep; 1 to 4 person camping tents available
ROOM WITH A VIEW: Get away from the city lights and enjoy a full view of the Milky Way; Full dome mesh top allows for an amazing stargazing experience …
#3 Gazelle T4 Camping Hub Tent
Professional Camping Rating: 8.7 / 10
| Price Range | Weight | Assembly | Peak Height | Floor Area |
| --- | --- | --- | --- | --- |
| $$ | 30lbs | Pop-Up | 78″ | 61ft² |
This is the ultimate pop-up tent, as it comes ready assembled and so you can pitch your tent in under 90 seconds. It's made from durable polyester so it'll last through any camping conditions. It's got six mesh windows to let in both light and air to prevent your tent from getting stuffy through the night.
Inside you'll find it spacious, with over 60 square foot of floor space meaning it won't be a tight squeeze, whether you're off to a festival or to a camping trip with the family, it's quick and easy to use with no additional fuss.
4 PERSON: It's a lovely little tent for 4 people with 61 square feet of floor space, a 78 inch center height, and 1 door to enter and exit.
INCLUDES: This sent sets up in a whopping 90 seconds, includes a rain fly, gear loft, ground stakes, and tie down ropes to ensure it stands up against the elements …
#4 Eureka! Timberline SQ 4XT Tent
Professional Camping Rating: 8.4 / 10
| Price Range | Weight | Assembly | Peak Height | Floor Area |
| --- | --- | --- | --- | --- |
| $$$ | 8.8lbs | Regular | 56″ | 57ft² |
This tent has a bathtub style floor to prevent any damp from the sides by wrapping up the sides. It is designed to be quick and simple to set-up with minimal fuss and sleeps four people comfortably. There's a tough exterior frame which the brand has likened to the durability of the Sequoia tree which influenced the name!
It's an improved take on the regular tent with a closeable door window and large roof vents for extra ventilation, with cool air coming in from the bottom and warm air escaping through the top you'll be fresh all night!
Providing unmatched strength, stability, and ease of entry, the three-season, four-person Timberline SQ 4XT backpacking tent features a large 60.8 square foot interior.
Utilizing DAC DA17 aluminum alloy poles and our proprietary SQ Frame design, the Timberline SQ tents are built to be dependently durable with spacious interiors in an A-frame style …
#5 ALPS Mountaineering Taurus 4 Oufitter Tent
Professional Camping Rating: 7.1 / 10
| Price Range | Weight | Assembly | Peak Height | Floor Area |
| --- | --- | --- | --- | --- |
| $$$ | 11lbs | Regular | 52″ | 64ft² |
This tent has oversized door zippers and a heavy duty nylon floor so it is definitely durable for all users. It promises to give a lifetime of smooth operation and is very spacious inside, with a tough interior that will withstand all weather.
Assembly is quick and easy compared to other regular tents as the clips snap into place over the poles so there's no need to spend hours trying to figure out what goes where. There's two doors so it's easy to get in and out along with two vestibules which means you've got extra rooms for your gear or for additional storage.
Easy assembly with free-standing two-pole design, aluminum poles and pole clips that snap over tent poles
Polyester tent fly resists water and UV damage while adding two vestibules for extra storage space
Great ventilation and easy entry with mesh roof and two doors with zippered mesh windows
Our Taurus Outfitter Series has 2 key upgrades: oversized #10 door zippers and a heavy duty nylon oxford floor …
#6 Kelty Salida 4 Man Tent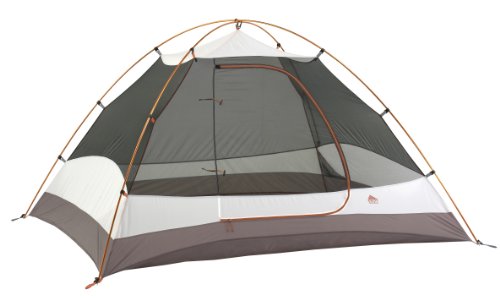 Professional Camping Rating: 7.3 / 10
| Price Range | Weight | Assembly | Peak Height | Floor Area |
| --- | --- | --- | --- | --- |
| $$$ | 7lbs | Regular | 56″ | 54ft² |
A tent with a freestanding design is great as it's pitched quickly and easily, as this tent shows. Even during bigger storms this tent promises not to leak, and if any parts give you any trouble the brand can repair it for you, often at no extra cost. This tent is great for the amount of room you get inside for a light and easy to carry tent.