Everyone knows the importance of having proper shelter when you're on a camping trip or a multi-day hike. This is where a bivy tent comes in. While full-sized tents are more comfortable and versatile, if you're travelling light, a bivy tent is a great alternative. We've rounded up the best bivy tents that'll give you a lightweight shelter for your outdoor adventures.
Looking for another size tent? Check out these other popular tents here:
How to Choose the Best Bivy Tent
Weight and Size
If you're looking for the best bivy tent, then you're looking for it to be small and lightweight. The reason why outdoor enthusiasts opt for a bivy tent is that they offer a lightweight and portable alternative to a traditional tent. If you're on a solo trip or multi-day hike, lugging something bigger like a 4 person tent is a hassle.
On average, a high-quality bivy tent is twice as light and around 30% smaller than a regular two-person tent. Aside from the fact that they're lightweight and compactable, they're also quick to assemble, so, if a sudden storm hits you, you're not going to be let out in the cold.
Warmth
Back in the day, bivy tents were literally a tent shell which was why people weren't fans of them – they didn't provide any warmth and could only be used during the hot summer months. However, nowadays, the bivy tent can provide the temperature range of a sleeping bag. So, bivy tents are not just a summer tent alternative, but rather, can be used throughout all four seasons.
Though, since bivys sometimes come with breathable fabric on the top, unless covered, they're not great for rain. But, like I said, if you place a tarp over top of the bivy, you'll be well covered.
#1 Snugpack Bivy

Professional Camping Rating: 9.6 / 10
| Price Range | Weight | Packed Size | Material | All-Weather Protection |
| --- | --- | --- | --- | --- |
| $$ | 42.3 oz. / 1199 grams | 3 cm x 10 cm | Paratex Dry | Yes |
If you're going to be hiking or camping in areas that are known for rain, then you'll want a bivy which will protect you from evaporative heat loss and, of course, the rain itself.
It's lightweight, waterproof and windproof, ideal to protect you from all the elements year round. Though, it's still small enough to throw into your backpack without having to weigh you down. What's great about this bivy is that it's usable all year round, rather than just spring and summer.
The fabric is made of Paratex Dry which is highly breathable and allows the moisture to escape, preventing any condensation from occurring. The 5000mm Hydrostatic Head ensures that you stay dry and wind-free while you're enclosed inside.
It also maintains humidity which maintains your body temperature.
This bivy also comes with a stuff sack, so you can neatly store your bivy and reduce the volume, giving yourself extra space in your backpack. The bivy is shaped to match any mummy-style sleeping bag, as it's tapered at the bottom to minimise unused space.
In terms of price, it's a mid-range bivy that comes with everything you need, so, it's worth the price tag.
Inner tent dimensions are 94 inches long, 35 inches wide, and 28 inches tall; built to accommodate 1 person and their gear, features tape sealed seams
Lightweight and compact pack size is 19 inches long by 5.5 inches wide; trail weight is 2.64 pounds, pack weight is 3.34 pounds
Equipped with DAC Featherlite NSL anodized aluminum poles with press fit connectors; features No-See-Um mesh mosquito net for warmer climates …
#2 Outdoor Research Alpine Bivy

Professional Camping Rating: 9.3 / 10
| Price Range | Weight | Packed Size | Material | All-Weather Protection |
| --- | --- | --- | --- | --- |
| $$$ | 30.3 oz / 859 grams | 39 cm x 10 cm | Gore-Tex Fabric | Yes |
Remember when I said some bivys aren't ideal for the rain? Well, not this one. Rain or shine, the Outdoor Research Alpine Bivy withhold up through harsh weather conditions.
On top of everything, it only weigh 2 pounds, so, throwing this in your backpack won't weigh you down.
The Gore-Tex fabric is tear and abrasion resistant, while also providing you breathability at the same time. Condensation issues can typically arise in lower-quality bivys, however, that's not an issue with this bivy. The design allows you to place the fabric above the head, using a pole that's included.
For a bivy it's also well featured as it comes with an internal mesh pocket, insect mesh and sleeping pad straps. It includes everything you're looking for in a bivy. Though, it is slightly more expensive than other bivys, if you're an avid backpacker or mountaineer, this is a good investment. Of course, if you're just starting out, there are other less expensive options which still do the trick.
Color:Steel Blue
Package weight:0.613 kilograms
Package Dimension:10.9 centimeters LX 23.6 centimeters WX44.7 centimeters HX
Product Type:OUTDOOR_RECREATION_PRODUCT
#3 Mountain Warehouse Bivy

Professional Camping Rating: 8.4 / 10
| Price Range | Weight | Packed Size | Material | All-Weather Protection |
| --- | --- | --- | --- | --- |
| $ | 11.9 oz / 340 grams | 225 cm x 75 cm | RipStop and Polyester | Yes |
If you're looking for a bivy, however, not necessary wanting to invest too much into it – maybe you're a beginner hiker or on a budget, this is a great option for you.
It provides you and your sleeping bag the extra protection you need from the elements. It's one of the lighter divy bags in this article, so, it'll help shave off a couple pounds from your backpack.
It's waterproof membrane prevents any water from leaking through the fabric, however, it's probably best if you're using it through harsh conditions, you cover the divy with a light tarp. Of course, it comes with taped seams and ripstop fabric for extra protection, making sure your divy lasts throughout your hiking trip.
It does actually come with extra protection, so you can use the cover to place it over the divy. Since it's really inexpensive, don't expect it to comes with fancy features, there's no face cover to prevent you from being bitten by insects, that is something you'll need to buy additionally.
In comparison to some of the other divys on the list, this one may seem amateur, but it's not. It's great for those on a budget and provides you the same amount of protection as the other divys on this list.
Waterproof & taped seams
Ripstop fabric
Can be used as protective cover
Dimensions - 225cm x 75cm, weight - 340g
Stuff sack - Compact & portable
#4 Black Diamond Big Wall Hooped Bivy

Professional Camping Rating: 8.1 / 10
| Price Range | Weight | Packed Size | Material | All-Weather Protection |
| --- | --- | --- | --- | --- |
| $$$ | 18.24 oz / 517 grams | 88 cm x 25.4 cm | ToddTex Fabric | Yes |
If you love bivys, however, don't want to feel claustrophobic than you'll love the Black Diamond bivy. It's minimalistic in design, which does provide you with lower headspace since it doesn't come with a pole system, however, it's roomier width wise.
The big-wall design incorporates a waterproof tie-in point which helps from water leaking in. If you're worried that the low roof will create condensation, that's not the case. Actually, the sewn-in wire allows for air space inside the bivy since it suspends the material. If there are some heavy winds and you're worried about rolling around in the middle of the night, you can anchor the bivy down with RF welded tie-in points.
The bivy itself is made of Todd-Tex material which is similar to Gore-Tex as it uses PTFE membrane to bond the 3-layer design. Todd-Tex material provides waterproof protection, breathability and durability. The features are minimal, yet, cover the basic necessities. There's a dual zipper, a no-see mesh and taped seams.
If you're not looking for anything fancy but rather a bivy that's lightweight and easy-to-pack that will withstand unpleasant weather conditions, then this is certainly one to keep an eye on.
Sewn-in flexible wire creates air space
Dual-sided zipper and mesh covered opening
RF welded tie-in point for secure anchoring
ToddTex single-wall fabric
Taped seams
#5 Outdoor Research Helium Bivy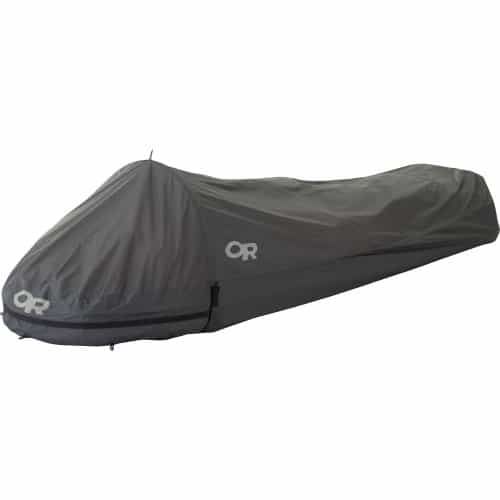 Professional Camping Rating: 7.2 / 10
| Price Range | Weight | Packed Size | Material | All-Weather Protection |
| --- | --- | --- | --- | --- |
| $$ | 18 oz. / 510 grams | 23.8 pounds | Nylon | Yes |
If you're looking for a minimalist bivy in the truest sense, then the Helium Bivy is the lightest one on the market.
On top of it being lightweight, it's also waterproof. It comes with a Delrin pole which holds the head area up, preventing condensation with mesh fabric to prevent insects from getting inside. The floor is 70D with TPU lamination floor meaning it can hold up to a little roughage.
The Outdoor Research Helium Bivy comes with Pertex Shield material rather than Gore-Tex which shaves off more weight from the bivy. Though the issue with Pertex is that it's not as breathable as Gore-Tex which causes some condensation issues. However, it still provides adequate breathability and if you're focusing on reducing weight and having a minimalist shelter, then this one will keep your backpack light and your body dry.
Though, it's not ideal for all four seasons. This is great for spring and summer, but, you'll want a bivy that's a little heavier for the winter and fall seasons. That, or opt for a heavy-duty winter sleeping bag if you're going to use a bivy during the fall and winter.
#6 Rab Alpine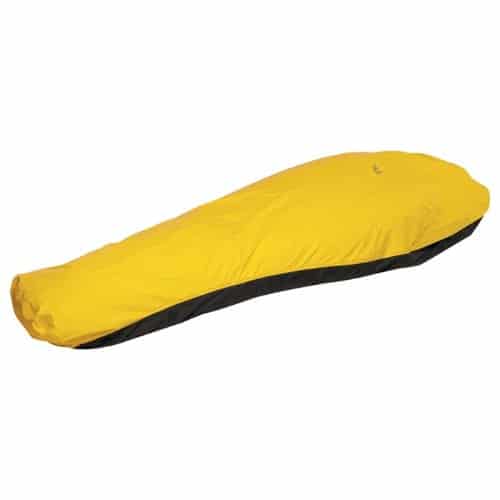 Professional Camping Rating: 8.8 / 10
| Price Range | Weight | Packed Size | Material | All-Weather Protection |
| --- | --- | --- | --- | --- |
| $$$ | 18 oz / 492 grams | 30 x 10 cm | 70D Coated Nylon | Yes |
The Rab Alpine is a high-quality minimalist bivy which won't empty out your wallet – that is, if you're someone that's actually going to use it.
Whether you're on solo trips or multi-day hiking adventures, you're going to need a bivy that's lightweight and reliable. This is why the Rab Alpine is on the list. It's the smallest and lightest product that I'm reviewing, so if weight is a major concern, then look no further.
It's made of a 3-layer e-Vent material which provides ample breathability and weather protection. If you're looking for a pole system to suspend the fabric around the head area, this bivy doesn't have it. Staying true to the minimalistic design, however, it is designed to fit mummy-style sleeping bags.
The bivy itself isn't very roomy, but if you're thinking condensation will be an issue, it won't as the e-Vent fabric opts for excellent breathability. Ideally, this bivy is great for mountaineers and alpinists, as it's designed to tackle difficult weather while making sure you're kept safe and warm.
If you're a beginner hiker, there's no need to buy a professional bivy. You can find another bivy that won't cost you as much as they're mentioned on this list.