If you're going camping then you're going to need not only a solid tent but also a solid tent support system as well. Though you may not realize it, tent stakes are an extremely important accessory for your tent.
Of course your tent comes with stakes, however, they may not be of the best quality. Let's look at the best tent stakes on the market.
How to Choose the Best Tent Stakes
Type of stake
The stakes you choose will greatly depend on the type of terrain you're going to be camping on. Most tents come with aluminium hook stakes which are lightweight and have decent holding power, however, there are a variety of stakes which differ in material and holding power. The types of stakes available are utility stakes, v-stakes, nail stakes, Y-stakes, and snow stakes.
Quality, not price
It's easy to choose an item based on the appeal of its low price. However, you do not necessarily want to choose stakes based on their price as, like stated above, it depends greatly on the terrain you're camping on. So, a set of stakes may be expensive, but it doesn't mean that they're going to be useful for you. Instead, focus on the terrain and then choose the stakes from there.
#1 All One Tech Aluminum Ground Stakes

Professional Camping Rating: 9.8 / 10
| Price Range | Weight | Dimensions | Material | Stakes per set |
| --- | --- | --- | --- | --- |
| $ | 0.5 ounces | 7 inches | Aluminum | 12 |
If you think that these tent stakes don't look like the ones that came with your tent, you'd be right.
The All One Tech stakes are angled to provide the best grip in the ground to anchor your tent firmly.
I spent a very windy weekend testing these pegs out and the next mornning, not one had moved an inch. Super tough.
Plus, as these tent stakes are aluminium, they are super light to just chuck in your tent bag.
These tent stakes are great value for money. Be safe in the knowledge that the All One Tech stakes are the ones I trust to hold down my own tent!
Ultra Light - An ultra-light, three-sided, high-strength 7075 aluminum tent stakes that securely anchors your tent without adding unnecessary weight to your pack, you won't even feel the them in your pack. Tent stakes lightweight are easy to carry with you.
Suitable Size - Camping stakes are used to help maintain the tent's shape, and to hold the tent in place against wind. Our 7 inches long metal stakes - Enough to make your tent firmly grasp the length of the ground …
#2 SE 9NRC10 Galvanized Tent Stakes

Professional Camping Rating: 9.5 / 10
| Price Range | Weight | Dimensions | Material | Stakes per set |
| --- | --- | --- | --- | --- |
| $ | 3 ounces | 10 inches | Galvanized Steel | 10 |
The SE 9NRC10 are a sturdy set of stakes.
Made from galvanized steel for rust-prevention, these stakes have yet to let me down.
Recently, I took a set on a very windy weekend trip out into the backcountry and they held firm despite some heavy weather conditions.
Again, simplicity is key to the design of these stakes. They're both strong and reliable.
If you want a simple, rust-resistant set of tent stakes, the SE 9NRC10s won't let you down.
Made of galvanized steel for corrosion resistance
Essential tool for anchoring canopies, landscape trims, patio/garden structures, tents, and more
Milled points prod easily into hard soil with large head for mallet driving
Heavy-duty set of 10-1/2" long peg stakes
Tough PVC green stoppers features both hook and rope-stringing eyelet for anchoring versatility …
#3 Vargo Ti Shepards Stakes

Professional Camping Rating: 9.0 / 10
| Price Range | Weight | Dimensions | Material | Stakes per set |
| --- | --- | --- | --- | --- |
| $$ | 1.8 ounces | 6 x 0.2 x 0.2 inches | Titanium | 6 |
The Vargo Titanium Shepards Stake made it towards the top of our list for a reason: they're amazing. It's extremely hard to find a better stake when the Vargo stake is made of titanium and weighs a mere 0.3oz per stake. So, if weight and size is an issue for you, then you'll love this stake.
Though you may not realize it, it's ultra lightweight design is crucial if you're trying to shave off the ounces from your backpack as in total, a set weighs 1.8 oz. This is one of the reasons why Vargo deserves the spot it has.
Though in order to have its lightweight design, they had to thin down the stakes themselves, thus, you need to be mindful when using them. So, though they're lightweight, you do not want to be banging them with a hammer, rock or trying to force them into hard soil. Through these actions, you will damage them. When using them, you'll want to place them into the soil at an angle and push them all the way into the ground so that they don't pull out.
Of course, since these stakes are much thinner than the others, you won't have as much holding power, so if you're looking for sturdier stakes, then this may not be the right choice for you.
Ti shepherds hook Stake orange
Category name: camping-survival
Made in USA or imported
Classic tent stake design
Great for most staking applications
Fluorescent orange coating
#4 Coghland's ABS Tent Pegs

Professional Camping Rating: 9.7 / 10
| Price Range | Weight | Dimensions | Material | Stakes per set |
| --- | --- | --- | --- | --- |
| $ | 1.6 ounces | 12 inches | ABS Plastic | 12 |
Sometimes in life, simplicity prevails. This is the case with these great tent stakes from Coghlan's.
Mamnufactured from a solid ABS plastic, these tent pegs gripped well into evert surface that I rammed them into.
The stake shape is a classic. Again simple, but reliable.
They may not look fancy, but these pegs will anchor your tent firmly against the elements.
I keep a handful of these great Coghlan's stakes in my kit bag at all times.
Rugged design with great holding power
Large no-slip hook
Bright yellow and easy to see
#5 MSR Groundhog Tent Stakes

Professional Camping Rating: 9.0 / 10
| Price Range | Weight | Dimensions | Material | Stakes per set |
| --- | --- | --- | --- | --- |
| $$ | 2.9 ounces | 11 x 4 x 1 inch | Aluminum | 6 |
These stakes are one of the most popular tent stakes currently on the market and they're well-liked for a reason. MSR has been designing these stakes for years, thus, the camping community has become well acquainted with their product.
Though they're not ultralight stakes, they're definitely lightweight and won't add too much additional weight to your tent sac.
The design of the stakes is simple and come with a triangle-shaped cross-section which is made of fins that curve slightly. The cross-section and tapered aluminium allow it to easily go into the soil. The loop pull-cord make it easy to pull out the stake from the soil as well.
Through this design, it has incredible holding power and can withstand almost any harsh weather conditions. In addition, the stakes are made of durable, and high-quality aluminium, thus, they'll be able to handle being pounded with anything that's not a rock or hammer.
Considering the price, holding power, weight and use, they're easily one of the best stakes on the market, as they provide you with a good bang for your buck.
6-pack of lightweight, durable, and versatile camping and backpacking tent stakes that stay put
Three-sided Y-beam design offers superior penetration and holding power in a variety of soil types
Notch at top for securing guy lines; attached reflective pull loop allows for easy removal
Constructed from 7000-series aluminum; stakes are lightweight, yet rugged …
#6 MSR Carbon Core Stakes

Professional Camping Rating: 8.2 / 10
| Price Range | Weight | Dimensions | Material | Stakes per set |
| --- | --- | --- | --- | --- |
| $$ | 0.8 ounces | 11.0 x 3.9 x 7.9 inches | Carbon fiber | 4 |
The MSR Carbon Core Stakes have the best of both worlds. They're beefy and able to hold their ground while also being lightweight. On the price range of tent stakes, these are more expensive than some of the others, however, they're priced this way for a reason.
The core of the stake is made of carbon fibre with an aluminium casing and a plastic head. The carbon fibre design gives the stakes their lightweight appeal and durability. However, though they're lightweight, they are quite bulky in comparison to some of the others.
Thus, if space is a concern for you, then the MSR stakes may not be the best choice. But their size does come at an advantage as they're able to hold much better in soft soil.
If the stakes were thinner, there would be less resistance, thus, they wouldn't be able to withstand windy conditions. However, since the MSR stakes are bulkier, they're able to buckle down and handle anything that comes their way.
Thus, if you're someone who likes camping outside of the summer season or you mountaineer, then you definitely should consider bulkier stakes for your tent support.
Lightweight, full strength carbon core tent stakes
Utilizes a carbon fiber core for strength and rigidity, and an aluminum covering for durability
Sold as a pack of four stakes
Each stake measures 6-inches and weighs 0.2 ounces
Made in the USA
#7 TNH Outdoors Tent Stakes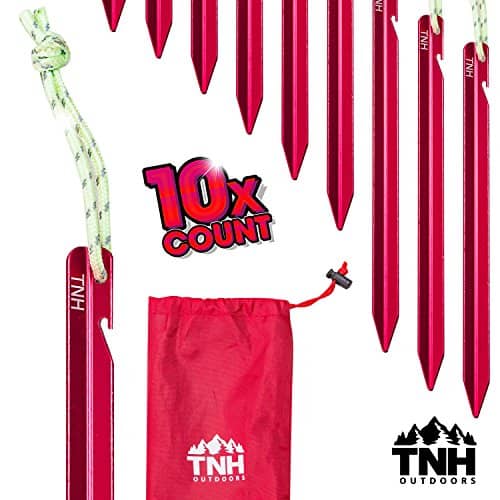 Professional Camping Rating: 9.2 / 10
| Price Range | Weight | Dimensions | Material | Stakes per set |
| --- | --- | --- | --- | --- |
| $ | 0.2 grams | 11.8″ x 0.5 | Aluminum | 10 |
The TNH Outdoors Aluminum Tent stakes are pretty decent and are similar to the other stakes in this list, however, without the price tag. So, if you're looking for stakes which are more budget-friendly, then this is a good option for you.
The heads of the stakes feature one hooked attachment point for holding down your guylines from the tarp or tent. Now, this is fine, however, it does lack the 360-degree attachment option which some other stakes offer. This design does limit the versatility and ease when using the stakes.
The cross-section is a straight triangle shape and is lacking the recurved design which other stakes offer, so there is slightly less holding power in comparison to some of the others, however, the high visibility color and the reflective pull loops are great.
Now, though this stake isn't ideal for heavy duty camping trips where weather conditions are extreme, that doesn't mean this stake is bad. In fact, though this may not be the stake you want during a mountaineering trip, however, for summer and spring camping, this stake will be able to hold down your tent and tarp during mild windy weather conditions usually seen in late spring, summer and early fall.