If you're planning on going camping for a couple of days or even longer, packing a portable camping shower is great and an essential for your bag. In some cases, you won't be near water and that's when you wished you had a portable shower handy. If you also have children, a portable camping shower will help provide you with a more enjoyable camping experience for your family. Check out my guide to the best camping showers.
Looking for other accessories? Check out these other popular camping gear:
How to Choose the Best Camping Shower
Size
The size of your camping shower will rely heavily on your needs, thus, you'll need to really focus on how many people and the length of your shower. This is because the size of your camping shower means not only will you have more water in place in the reservoir, you'll also have a larger camping shower to carry with you.
So, if it's for one or two person use, focus on looking for a smaller, more compact shower.
Heating
Most camping showers are simply reservoirs with a spray spout which holds and releases water. Now, if you're looking for something more advanced and prefer your water heated, just as you would when you were at home showering, then you'll want to look for a camping shower which offers users a way to heat your water.
Of course, the more advanced your camping shower system becomes, the higher in price it goes.
#1 Advanced Elements 5-Gallon Summer Shower

Professional Camping Rating: 9.2 / 10
| Price Range | Weight | Water Capacity | Heating | Water Flow |
| --- | --- | --- | --- | --- |
| $$ | 1.32 lbs | 5 gallon | Solar | N/A |
If you're looking for a solar powered outdoor camping shower, then the Advanced Elements summer shower is another great option. Not everyone will be able to charge a battery-powered shower, thus, if you're camping during the summer, there will always be sunlight.
This camping shower is designed with a 4-ply construction which contains 4 layers of a reflector panel, insulator panel, solar panel and water reservoir. These layers work together to heat the water up in the reservoir efficiently and quickly.
The easy on/off button allows you to easily control the water flow. In addition, the large screw cap assists in letting you easily fill up the reservoir. There are also some extra features which come with the summer shower that add more ease to the entire experience of showering while camping.
The camping shower is designed with a pocket for soap and shampoo, straps to hold a washcloth and smaller items, a reflective mirror and lastly a water temperature gauge. When you're done using the camping shower, you simply roll it up for compact storage.
When the next camping trip comes by, you simply roll it out and it's good to go.
Construction - 4-ply construction with reflector panel and insulator panel for optimized heat retention and performance
Capacity - This summer shower has a large 5-gallon capacity and is designed to heat water fast in the warm sun
Temperature guage- Easy-to-read temperature gauge to know when your shower is warm. The shower can heat up to 110 degrees in under 3 hours in direct sunlight …
#2 Coghlan's Camp Shower

Professional Camping Rating: 8.2 / 10
| Price Range | Weight | Water Capacity | Heating | Water Flow |
| --- | --- | --- | --- | --- |
| $ | 0.75 lbs | 5 gallons | Solar | N/A |
If you're on a multi-day hike or backpacking through the mountains, then you know how important it is to keep your backpack light, since you're going to be carrying everything you need on your back. For those who want to pack light then this is the perfect camp shower for you.
Though it's simple, it fulfils all your shower needs. Highly affordable, it's extremely lightweight, thus, won't take up any space in your backpack. The water is solar heated and this shower can provide you with 3 to 4 showers.
You just leave the camp shower hanging in the sun and let the sun rays do the rest of the work for you. There's an opening for you to hang it on a branch, giving you a shower-like atmosphere. The cord also allows you to manoeuvre the water flow to where you'd like it, making the entire showering process that much easier.
This camping shower is ideal if you're hiking solo as it only provides you with a limited amount of showers. If you're camping with family, then we recommend you opt for a shower that provides you with the ability to have more showers.
#3 Portable 12V DC Powered Water Pump

Professional Camping Rating: 7.5 / 10
| Price Range | Weight | Water Capacity | Heating | Water Flow |
| --- | --- | --- | --- | --- |
| $$ | 2.2 lbs | Varies | Cigarette Lighter | 6L per minute |
If you're looking for something lightweight and highly portable, this is a great option for you. Whether you're camping, boating, or caravanning, the portable 12V DC powered water pump and shower unit will effortlessly join you on your adventures.
It comes with an on/off button which gives you an even and smooth water flow which you control. Simply mount the showerhead anywhere you like either using the S-hook or suction hook. You may be thinking, how does it work? Well, it's quite simple.
The showerhead is powered by car battery (12V) adapter, thus your car engine must be turned on when it's in use. You then place the end of the hose into any water reservoir you'd like, which means you control the amount of water for the shower. Once the shower unit is attached to both the DC 12V and the water reservoir, you simply turn it on and you're ready to have a shower.
This shower unit comes with the shower head, the power cord, the S-hook and suction mount as well as a handy carry bag to make sure everything stay neat and organized.
Ideal for camping holidays, boating, 4 wheel driving, caravanning or any kinds of outdoor leisure activities
Or simply use it to wash your wellingtons or shower your dog after a muddy walk.
An ideal solution to easily control your waterflow as if you do in your bathroom!
Compact, lightweight, easy to use - just press on/off button, pressurised water is provided in seconds …
#4 Zodi Outback Gear Hot Tap Travel Shower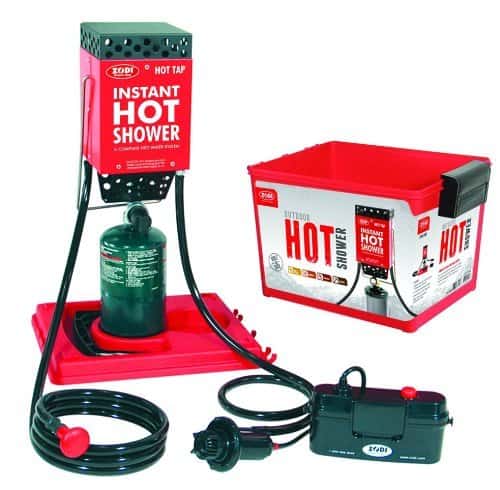 Professional Camping Rating: 7.8 / 10
| Price Range | Weight | Water Capacity | Heating | Water Flow |
| --- | --- | --- | --- | --- |
| $$$ | 11 lbs | 4 gallons | 16-volt pump | 1 gallon per/m |
The Zodi is a little different than the other water heaters mentioned here. It's a self-contained hot water shower which you're able to set up anytime, anywhere. However, the way it functions is what makes it different.
In comparison to the other methods of heating, the Zodi is heated by using either a 16.4-ounce propane cylinder or a 5-gallon propane tank which is included in the kit. It comes with a 6-volt water pump with an on/off push button to ignite and an 8-foot hose with a showerhead.
The stainless steel burner ensures that you'll have an endless amount of hot water within seconds. Thus, if you're camping with friends or family, you'll know that everyone will be able to have a hot shower at the end of the day.
To use it, you simply place four D-cell batteries in the waterproof battery case, connect the propane heat source to the Zodi and submerge the self-contained 6-volt water pump into your water reservoir. From there, you hit the ignition and you're ready to have a shower.
Though it's a little heavy and requires a couple accessories, it's one of the toughest portable shower units on the market.
#5 Ivation Handheld Portable Shower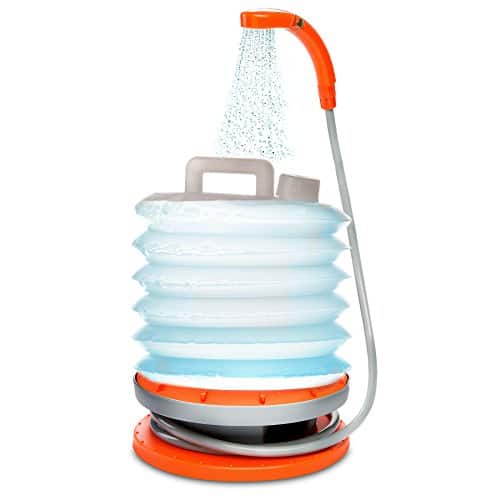 Professional Camping Rating: 9.5 / 10
| Price Range | Weight | Water Capacity | Heating | Water Flow |
| --- | --- | --- | --- | --- |
| $$ | 1.81 lbs | 5 gallon | Battery Powered | 0.66 gal/minute |
If you're okay with carrying a little bit of weight, 1.81 pounds of weight to be exact, then you won't regret bringing the Ivation Handheld Portable Shower with you on your next camping trip. It can be used as either an outdoor or indoor handheld shower which can be used as a sink, bucket of water or shower stream, making it highly versatile.
The showerhead has a simple flow rate which gives users a comfortable steady stream of water which is gentle enough for pets, children and seniors.
Its design is also built with the idea that this will be used for camping, thus, it's highly durable. The showerhead securely sticks to any flat surface with its suction cup support and the S-style hook allows you to hang it safely overhead.
It runs off of battery-power which you're able to recharge in laptops, car adapters and computers via USB. When the battery is fully charged, it provides you with 1 hours of continuous use.
In addition, it's also small and highly portable. Thus, it'll fit neatly in your backpack or car without taking up too much space. Whether you're camping solo or with family, it's a great option.
#6 Briton Portable Outdoor Camping Shower
Professional Camping Rating: 8.9 / 10
| Price Range | Weight | Water Capacity | Heating | Water Flow |
| --- | --- | --- | --- | --- |
| $ | 2 lbs | Varies on reservoir | Battery Powered | 3L per minute |
The Briton Portable Camping shower is a great option for those who are looking for a shower unit without a container. This shower unit allows you to choose the water reservoir, so, you can use whichever water bucket you'd like, you just need to make sure that the bucket mount exceeds 5cm.
It's quite powerful and offers users a strong flow of water. With one battery recharge, this shower will offer you 45-minutes of continuous showering. To recharge the battery, you simply connect it to a car USB charger, so whether it's a Jeep, car, van, SUV, or limo, you'll be able to use it.
The showerhead is simplistic in design, however, allows you to control water flow. Though, it comes with a suction cup and an S-hook, so, you're able to hang it however you see fit such as a tree branch or the side of your car.
The hose is fairly long, providing you with 2 meters in length, so you have the ability to have a shower, wash your dog, or even the car. If you're camping, at the beach or on a hike, you'll be happy to have this shower unit in your car, ready to go as it's extremely versatile to clean off anything you need.
#7 Camp Chef HWD5 Triton Water Heater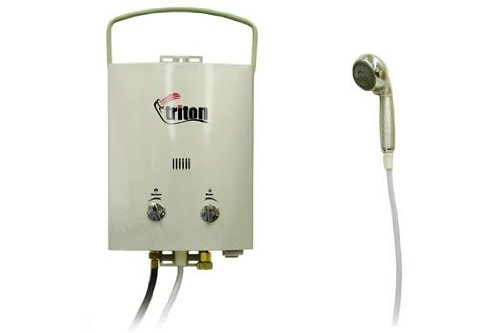 Professional Camping Rating: 8.5 / 10
| Price Range | Weight | Water Capacity | Heating | Water Flow |
| --- | --- | --- | --- | --- |
| $$$ | 15 lbs | 1.5 gallons | Battery Powered | 5L per minute |
For some of you, you're looking for a camping shower that you'll be able to use in your small RV, truck or pop-up camper. If this is the case, then you'll be looking for an inline portable hot water shower. If your campsite has a water hookup, then you'll fall in love with the Triton Water Heater.
It's small, efficient and will work wonders for heating up your water. It's self-supporting but can also be mounted to the side of your camper as well, depending on what you prefer.
The shower head has four different settings and provides users with 1.5 gallons per minute of hot water. Though, there is a catch. In order to operate this water heater, you'll need a minimum of 25 pounds of water pressure which means that a water hookup is essential.
It operated on batteries which are needed to ignite the gas, so make sure you bring extra. This water heater is ideal for campground use, but if you're thinking about going into the backcountry, then this water heater will not be able to support you as it lacks some modern features.
Though, if you have a family and are staying at a campsite, this water heater is a lifesaver and will make your camping trip into a dream.