If you have a large family or are planning to go camping with a group of friends, sometimes it's just easier to get one large tent for everyone to sleep in.
Not to mention, if you're planning on renting a camping site, it's a lot cheaper this way. A 12 person camping tent is a great idea if you're looking for one tent to house a large group of people.
We're going to show you the seven best 12 person tents you can find on the market.
How to Choose the Best 12 Person Tent
Size
If you're planning to squeeze 12 people into a tent, size is one feature that will be key. You don't want to spend your trip squashed into a tight space.
Watch out for floor space and also the peak height of the tent. Even if you're not that tall, you'll appreciate the extra room it provides.
Waterproof Design
Regardless of the season, there's always a chance of rain to occur. When you're in a tent with a large group of people, you want to make sure that the tent has a waterproof design. There won't be much space to readjust the sleeping arrangements so you need to make sure that the tent will not let any water in.
#1 Core Cabin Tent

Professional Camping Rating: 8.4
| Price Range | Weight | Dimensions | Waterproof | Fabric |
| --- | --- | --- | --- | --- |
| $$ | 42.5 lbs | 204 x 144 x 86.4 | Yes | 86D Polyester |
Though this isn't a 12-person tent, it's an 11-person tent, we had to include this tent on our list because it's a great tent that's durable and able to withstand the elements.
The Core cabin tent fits three queen-sized air mattresses and can sleep 11 people. In addition, there are various features of the tent that make it so easy to use. There's a front screen room with closable window panels with full tent floor coverage.
Meaning, when you're not using the front room for sleeping you can unzip the large windows and use it as a sitting space to enjoy your morning coffee. The gear loft with a lantern hook and pockets help you get some light into the tent at night and keep your valuables off of the floor.
There's also an electrical cord access port which is fully closable when it's not in use. If you're worried about ventilation, don't worry. Core thought of these problems way back and with their CORE H20 block technology have designed the tent with proper airflow.
The tent comes with tent poles, rain fly, gear loft, tent stakes and an expandable carry bag so everything is properly organized.
Professional Camping Rating: 7.7
| Price Range | Weight | Dimensions | Waterproof | Fabric |
| --- | --- | --- | --- | --- |
| $ | 47.96 lbs | 20 x 20 x 78 | Yes | Polyester |
If you're actually intending on having 14 people sleep in a tent, then this is definitely a great option. The Ozark Family Cabin tent is huge. The space is split up into 4 rooms with 3-sewn in dividers.
The tie backs allow you to remove the dividers and create one giant room. There's a central room in the middle of the tent which connects each space together. The best feature about this tent is the spaciousness.
You'll be able to comfortably fit up to five queen-sized mattresses in this tent. It also comes with an E-port that provides you with easy access to an extension cord. You may be thinking that a tent of this size must take a lot of manpower to set it up, but you're wrong.
Two people are able to set this tent up in under twenty minutes. The tent is designed with 12 windows which provide you with amazing ventilation and visibility of the great outdoors. The tent is also water resistant with taped fly seams preventing leakage.
You have access points from all sides of the tent, so you'll be able to come and go as you please without disturbing others around you. If you're into stargazing, however, not into having a mouth full of bugs the removable fly will also you to sleep under the stars.
Sleeps 11 people; Fits three queen air mattresses; Center Height: 86"
Features front screen room with closable window panels and full tent floor coverage
CORE H20 Block Technology and adjustable ground vents
Gear loft with lantern hook and pockets keep items organized and off the tent floor; Electrical cord access port (port is fully closable when not in use) …
#2 Eureka Copper Canyon Tent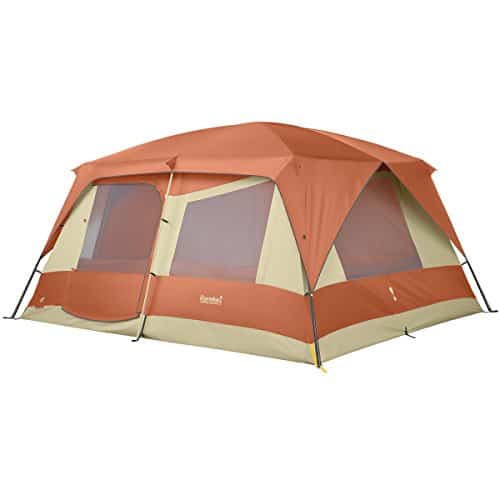 Professional Camping Rating: 7.0
| Price Range | Weight | Dimensions | Waterproof | Fabric |
| --- | --- | --- | --- | --- |
| $$$ | 17.11 lbs | 15 x 31 x 13 | Yes | Polyester |
The Eureka Canyon Tent is pretty big. It gives you 168 square feet of sleeping space which means it should be able to hold four queen-sized mattresses inside the tent itself. Though, it's important to remember that if there are four queen-sized mattresses in the tent, you won't have much space for anything else.
Your backpacks, clothing and other personal items will have to be kept somewhere else, however, what's important is that all twelve people will be able to sleep comfortably. There are nine poles which hold the tent erect and seven hubs that are built into the tent so you can easily attach the poles, reducing the number of long poles and making the whole set-up that much easier.
It's a cabin style tent which means it gives you plenty of space inside with 7-foot ceilings, so if you have taller people, they'll love the spaciousness the tent gives them. The removable divider curtain creates two rooms and gives extra privacy or can be removed to create one giant room.
The two large D-style doors with half windows also provide you with extra ventilation, as well as the wall windows on each side of the tent. The full mesh roof gives you spectacular views from your bed while it provides proper circulation and air flow.
#3 Tahoe Gear Prescott Family Cabin Tent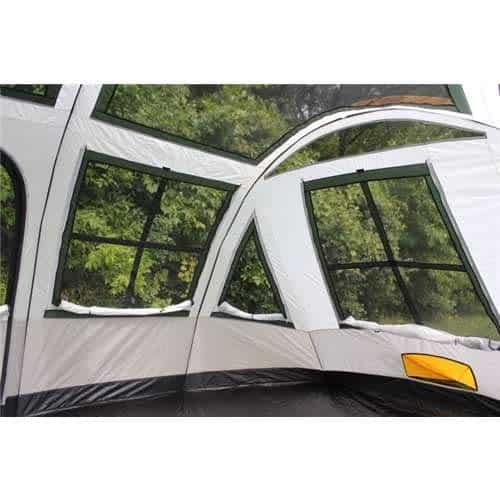 Professional Camping Rating: 8.9
| Price Range | Weight | Dimensions | Waterproof | Fabric |
| --- | --- | --- | --- | --- |
| $ | 31 lbs | 28.5 x 12 x 11 | Yes | 1200mm polyester |
They're highly practical and simple in design which is what makes the Tahoe Gear Prescott Family Cabin Tent so great. For the value, you really get your money's worth out of it. Typically, top quality tents are very expensive, however, this tent is budget friendly while still retaining it's high-quality features.
This tent is perfect for those that would like a large-size tent, however, aren't interested in spending hundreds of dollars. The tent comes with great features that you'll appreciate while camping such as a full-mesh roof for stargazing without being attacked by insects and six and a half feet of height which every tall person will love as they can move around comfortably inside the tent.
It's very easy to assemble as it comes with shock-corded fiberglass poles that are put up in no time. The taped fly seams helps to protect campers from the elements while the fly with guy ropes makes sure that the tent is properly secured during stormy and windy weather.
There aren't multiple chambers in this tent, however, if you're looking to sleep twelve people then this will do the trick.
#4 Tahoe Gear Gateway Family Cabin Tent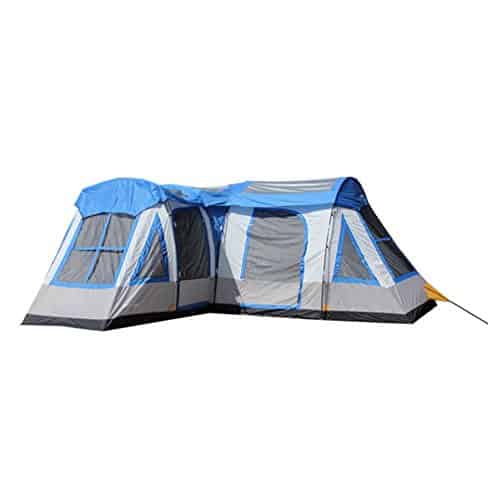 Professional Camping Rating: 7.2
| Price Range | Weight | Dimensions | Waterproof | Fabric |
| --- | --- | --- | --- | --- |
| $$ | 39.5 lbs | 12 x 31.5 x 12 | Yes | Polyester |
If you're looking for a big, yet practical tent then this is the way to go. The Tahoe Gateway is an ideal option for those with large families or groups of friends since it's adaptable to both daytime and nighttime use.
This tent is designed in an L-shape which features two large D-shaped doors that both open to the same area. These two entrances are great since this allows you to properly set up what each entrance will be used for.
For example, one entrance can keep dirty and wet shoes. In addition, since they both open at different ends of the tent, people are able to exit the tent with the door closest to them rather than walking over everyone. The tent is dome-shaped which means it provides you with ample headroom as the ceiling height is 7-feet.
The fully mesh roof allows you the chance to lay in bed while looking up at the starry sky without having to fight off insects. The mesh roof also provides you with the fresh night air and prevent condensation. If it starts to rain, not to worry, you can pull the partial fly over the roof and be fully protected as well.