Eurohike Deluxe Moon Chair Test Trek Review
I got my hands on the Deluxe Moon Chair from Eurohike and took it on a test trek over the weekend to test it out fully.
Looking for other accessories? Check out these other popular camping gear:
My Verdict
Professional Camping Rating
Comfort Score
Weight & Size Score
Durability Score
Build Quality Score
9.3

★

★

★

★

★

★

★

★

★

☆

★

★

★

★

☆

★

★

★

★

☆
The Eurohike Deluxe Moon Chair is one of the best camping chairs that I've ever taken on a test trek. It is a great example of the brilliant invention of the folding moon chair. It is only beaten by the King Camp Moon Saucer in terms of durability and build quality.
Moon chairs in general provide much more comfort than the regular folding chair but it is hard to find a camping chair that is both supremely comfortable but also portable. The Deluxe Moon Chair is lighter than its rivals and folds down to a smaller size making this the ideal hiking chair. It pairs well with some of the more portable camping tables i've reviewed.
This is the perfect camping chair for campers who also appreciate the comforts of home. You'll still get to enjoy the scenery and the ambience of camping but without the discomfort of a rigid, inflexible regular camp chair.
If you want a more rugged moon chair to take on a rougher trek, why not try the King Camp Moon Saucer?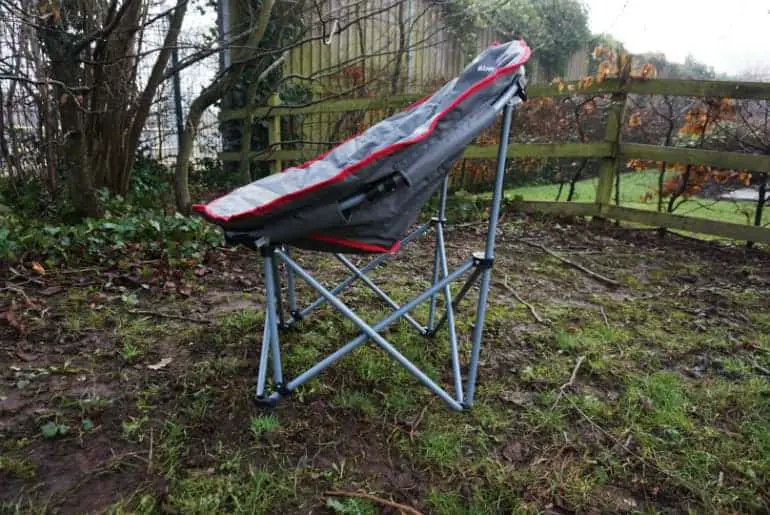 Features
The main feature of the Deluxe Moon Chair is clearly the curved seat and sides. This brings a new level of comfort to camping chairs that I fear I will never want to return from. On our test trek, I spent as much time as possible sat in my Moon Chair. The padded side walls enabled me to turn comfortable in my seat. If I needed to tend the fire or turn to speak to a friend, there was no problem. I could turn through at least 180 degrees while still being supported by the chair.
The chair folds down as most camping chairs do into a carryable size. The chair also comes with a durable carry bag included for easy carrying to the campsite. I found on the test trek that I could carry it comfortably either with the carry handle or strapped onto the top of my backpack.
One feature that I was saddened to realize was missing is the classic cup holder. It doesn't seem like the greatest problem that mankind has ever faced but when you are camping halfway up a hill, a flat surface to rest your drink upon is often in short supply.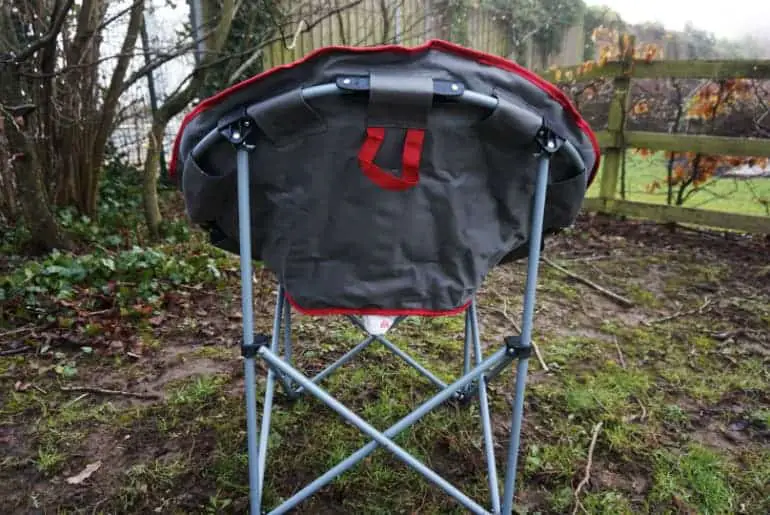 Comfort
Let's be honest. The biggest influencing factor when buying any kind of chair is the comfort. Otherwise you'd be sat on the ground. The main idea behind the moon chair is comfort. Instead of being supported by two surfaces in a regular camp chair, you are surrounded by a curved surface.
In our test trek, I spent the better part of a day sat in the Deluxe Moon Chair. I found that the main benefit of the curved seat was prolonged comfort. Instead of one upright sitting position as in a normal camp chair, I could move around in the Deluxe Moon Chair and this led to consistent comfort. I even went as far as curling up into it. A pretty impressive feat seeing as I am over 6 foot tall.
Sadly, all of this extra leaning space comes at a cost. There are many poles, elaborately joined together to create this curved seating arrangement. On occasion I found that these poles dug into my back. Despite this, it was easy enough to wriggle back onto a different part of the canvas.
Another comfortable feature of this chair is the padding. The whole curved seat and sides of the Deluxe Moon Chair are heavily padded and this makes for a great all-day sitting experience.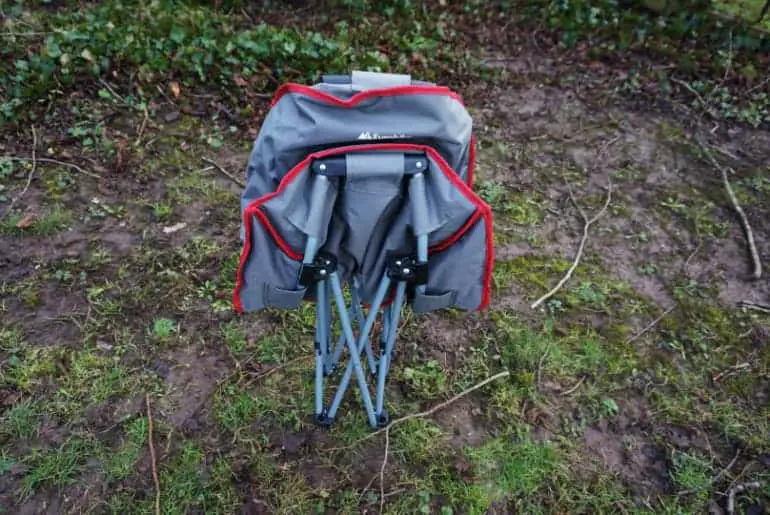 Weight & Size
An important feature of any piece of camping equipment are the dimensions and the weight. You don't want to spend the entirety of your trip lugging around a heavy camping chair or wishing you had chosen one that folds down to a smaller size.
The Eurohike Deluxe Moon Chair weighs 9.2lbs. That's around the weight of two bags of sugar or a standard house cat. On our test trek, we walked three miles from our truck to our campground. I carried the tent, the tent heater and two Deluxe Moon Chairs in their handy carry cases. The load was very manageable and the carry handle on the cases meant that I was free to hold the chairs at a comfortable position as I trekked to the campground.
When folded, the Deluxe Moon Chair doesn't shrink quite as small as other regular camp chairs. This is due to its larger surface area. Despite this, the case folds down to a very reasonable 37 x 11 x 8 inches and fit easily into the back of our truck alongside the rest of our equipment. Plus, if you're slightly on the heavier side, not to worry. The Deluxe Moon Chair can support up to 220lbs!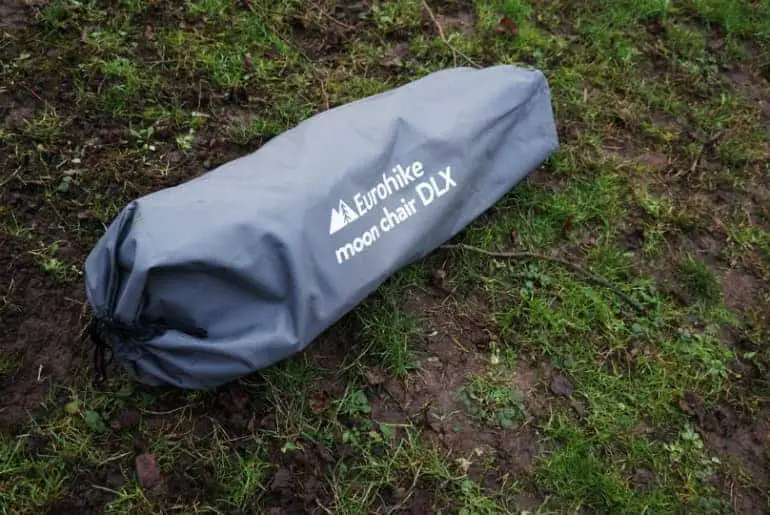 Durability
In our trek tests, I try to fit a whole year of camping experiences into one weekend to fully test these products. Therefore I spent a morning throwing this chair around the campground, handling it roughly and setting it out on a range of abrasive surfaces.
I found that the 100% Polyester of the seat was very durable. Despite my lengthy, careless handling through the test trek, no marks, rips or tears appeared on the fabric nor did the seams widen or tear.
The steel frame also stood up to a fair ordeal during the test trek. To ensure a full test, I often say heavily onto the chair and roughly chucked it into the back of the truck. None of the poles bent or buckled but I am mildly concerned that if one did, then it would stop the chair from folding due to the complex folding nature of the chair. If you are planning on a rough, tough camping experience, a regular folding chair may be more suited to your needs.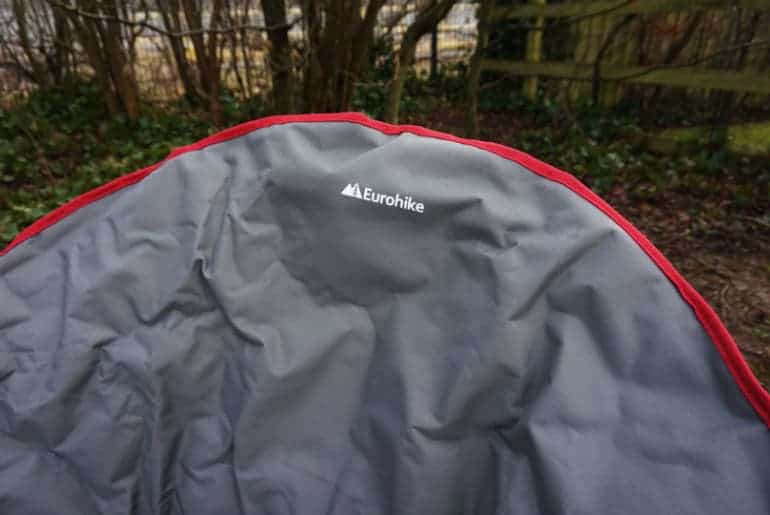 Value
Overall, the Eurohike Deluxe Moon Chair provides good value for money. It can be found for cheaper than many of its competitors but still provides good durability and comfort. Moon chairs in general are more expensive than their regular folding counterparts but I personally believe the increase in comfort is well worth the extra cash.
Conclusion
The Eurohike Deluxe Moon Chair made for one of the most comfortable camping experiences that I have ever had. It allowed me to sit back and relax for hours on end but it still folded up small enough to carry throughout our test trek. The Moon Chair is built with good quality materials and is well designed for both comfort and portability.