The Coleman Weathermaster 10 Person Tent Review
The Coleman Weathermaster 10 is my go-to recommendation for a great family tent. Read on to discover my full review.
Looking for another size tent? Check out these other popular tents here: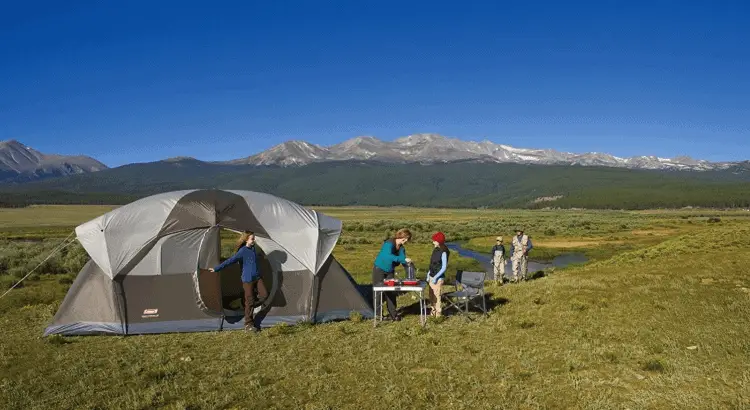 If you, like us, have spent hours researching good tents that have enough room for the entire friendship group or the whole family, dogs and all, then stop right there, we have found a great all-rounder when it comes to tents fit for over eight people.
The Coleman Weathermaster 10 is suitable for all weather environments, is relatively quick and simple to assemble and has plenty of room inside to give every camper their own bit of space to themselves.
If you are looking for not just a place to sleep but a cosy tent which has enough rooms for bags and beds then this one is a great fit, there are separate rooms and areas which can be opened out or separated depending on each camping situation that you find yourself in.
Brand
Coleman is an experienced and reliable brand when it comes to making tents that are both durable and comfortable, blending together the necessary features that every tent needs, quality materials and tall centers, and the beneficial features that just make your night in the tent that much easier, such as pockets in the walls, easily changeable layouts and zipped entrances that are easy and quick to open and close.
Coleman are a great choice to go with if you are initially unsure about what tent brand to go with, as they have years of experience in the industry and regularly get rave reviews from experienced campers. Look at features such as set up times, heights and weight before you invest in your tent to make sure that it doesn't weigh you down too much on your hike, and will last you a few years, even if you get stuck outside in a storm.
Comfort
With enough room for not one, not two but three queen size air beds there's plenty of room for the whole family for this year's camping trip. Inside, the tent is set up like a cabin so there's separate areas for living and sleeping, to give people privacy and space when inside.
It can get a little cold around the edges of the tent so make sure you pack some additional blankets to keep everyone warm, especially those sleeping on the outer edges.
Materials & Build Quality
The Coleman Weathermaster 10 is made from quality materials throughout, from polyester taffeta at 75T with a 450mm PU coating, for extra warmth and weather-proofing for those colder, rainy winter nights. Then, to help you out when you're struggling to assemble the tent as the sun goes down, each set of poles are colour coordinated in order to give you a smooth and easy set up, on top of this there are continuous pole sleeves for a quick assemble – so you'll be tucked up and cosy before you know it.
If you are worried about the set up timings, why not try it out first in your garden at home, we gave it a go and it took us around 20 minutes, which is a great start – as you'll undoubtedly get better and quicker the more times you set it up, and get used to all the different bits and pieces. As an added perk, it's even easier to break down than it is to set-up and all the various parts are easy to fit back into the carry case, so you won't find yourselves huffing and puffing trying to squeeze muddy poles into the pack.
The only downside to this is the tent stakes. They are pretty flimsy metals ones for the tent itself and they are quite cheap and plastic ones for the rain fly, so they can easily bend out of shape if you aren't careful where you place them. You'll need around 10 for the tent to keep it stable and 6 for the rainfly, so if you want parts that are slightly more durable, we would suggest investing in some good quality tent stakes that will last you a few more years than the ones provided would do.
Weather Resistance
This ten person tent features a WeatherTec system which offers users a patented welded flooring throughout which also benefits from inverted seams in order to keep you dry. The roof is completely screened and there are huge windows on each side so there is a good airflow throughout the tent when the rainfly is off. We can imagine it may get a little stuffy in hot weather, but what else can you expect camping in a tent during summer, we would recommend making sure you have the rainfly off during these hotter periods.
If you would like to add another layer of waterproofing, we suggest spraying with a water-guard to make sure no water or condensation makes its way into your snug space. Most tents, if the rain is heavy enough, will leak a little bit, this one is set up to cope with a light amount of rain but we would recommend adding an extra layer of weather proofing on the outside, be it an extra rain fly, or spray, especially if you have valuable items inside that would be damaged by a small amount of water.

Size and Weight
At just 35.6 pounds when shipped it is relatively light compared to other similar tents of the same size, so if you are heading on a hiking trip it's not too big to carry on your back. It is 30.3 x 10.2 x 10.2 inches when packed up, so compact enough to fit into your backpack. When set up, it measures 17×9 feet with a 6 foot 8 center height – so you'll be able to stand up straight whilst you are inside and no more neck or back aches. If you wanted slightly more space you might consider a 12 person tent.
Extra Features
The tent features a hinged door which is a great addition to a larger tent, many tents catch in the zipper when you are opening and closing the doors but this one was great, especially when you are carrying in more bulky items such as bags, mattresses and food supplies.
Final Thoughts
Overall this is a good choice of tent if you are looking for lots of room inside, and want to be able to change your layout dependant on your needs. However, be careful if you are planning a camping trip during the extreme winter as you may find the edges to be slightly damp. To be on the safe side, invest in a good quality rainfly to fix over the top or spray your tent with weather proofing spray before you head out on your trip, just to be on the safe side and to make sure that you and your family remain dry throughout the night.
Cabin-like 10-person tent has enough room for 3 queen size air beds
WeatherTec system with patented welded floors and inverted seams to keep you dry
Hinged front door for easy entry and room divider for extra privacy
Sets up easily in 20 minutes
Measures 17 x 9 feet with 6-foot 8-inch center height